Denver's 10 most experimental taprooms
In the animal kingdom of craft-brew drinkers, you've got your pitbulls, so fiercely loyal that they're practically chained to the taprooms in their own backyards. You've got your butterflies, barely touching down to suck the nectar as they flit aimlessly from one (beer) garden to the next. You've got your downright feral swine — picking fights with random cattle and ending up as roadkill (Google it, and let that be a lesson to you). And then you've got your hardcore guinea pigs, willing subjects in the great, experimental lab that is Colorado's beer scene.
If you're forever sniffing for funky firkins, wild one-offs, and other small-batch surprises, these Front Range breweries are for you.
CAUTION Brewing Co.
Lakewood
Caution's the name, but it's the exact opposite of the game at this two-branch outfit — especially on Thursdays, when head brewer Danny Wang usually unveils his latest ExBeeriment in firkin. We're talking Gose made with black pepper to play on the style's salty character. And saison fermented with Cabernet Sauvignon grape must, underscoring the appeal that the fruity farmhouse ale has for wine drinkers. And Matrimony, Wang's signature honey brown ale with cocoa and mint thrown in — because every marriage needs a little spicing up now and then, right?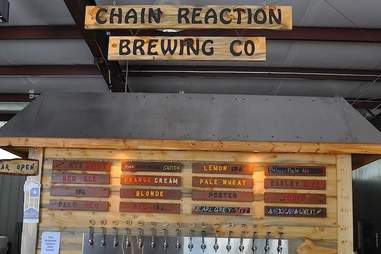 Ruth Tobias
Athmar Park
At this few-month-old neighborhood hideout, cousins Zack and Chad Christofferson are still hammering out the details of their firkin program, but the ultimate plan is to release a new cask-conditioned beer every Thursday or Saturday. They're a playful pair as it is, so you can bet Zack's on the level when he says, "the options for pushing the limits are endless". Think English mild aged with habañeros, mint-infused Belgian rye stout, or dark saison with coconut & peppercorns.
Coda Brewing Co.
Aurora
It's located on the Anschutz Medical Campus, run by an actual chemist named Luke Smith, and stocked with lab beakers and apothecary jars instead of pint glasses and snifters. Coda, in short, is all about experimentation; but it really ups the ante on Fridays, when the experimental elixirs flow in the form of dandelion saison with raspberry-blossom honey, rum barrel-aged peach Kölsch or — get this — a Reishi mushroom beer that will be released if and when Smith gets the government's go-ahead.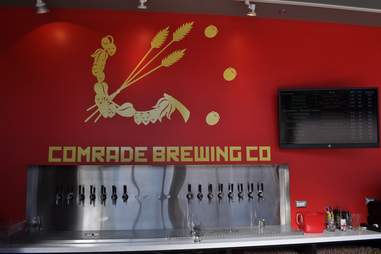 Ruth Tobias
Southeast Denver
Perish the thought of borscht Baltic or cabbage Kölsch: "Chairman" David Lin and his crew aren't that committed to Soviet tropes. On the contrary, the firkins they tap on a weekly basis will make you proud to be an American, loaded as they are with all the stuff that makes this country great — from Cocoa Puffs and Cinnamon Toast Crunch to glazed doughnuts and, yes, apple pie. (The release schedule's in flux right now; watch Comrade's Facebook or Twitter for announcements). 
Ruth Tobias
Southeast
Speaking of Americana, you've got to salute the monthly themes these guys have come up with to celebrate the holidays. Every Wednesday in October, they tapped a different pumpkin beer; this month, in honor of Thanksgiving, their cask-turned-cornucopia has been spilling forth pecan pie brown ale, spiced cranberry golden ale, sweet-potato casserole porter, and the like. For December, they'll switch things up to bring you the 12 Firkins of Christmas in succession, and come January — when you need it most — they're picking everyone up with a series of coffee brews.
Ruth Tobias
Multiple locations
With two taprooms, dozens of prestigious awards, and immeasurable goodwill from the community at large, Kevin DeLange, Michelle Reding, and their merry band of brewers have earned the right to do what DeLange calls "every crazy thing we can think of" on Firkin Fridays at South Dock and Saturdays at North Dock. That includes adding kumquats to wheat beer and black currants to IPA, tossing Sriracha-roasted pecans into their HMS Bounty Old Ale — and, once, spiking rice ale with wasabi just for sinus-clearing kicks.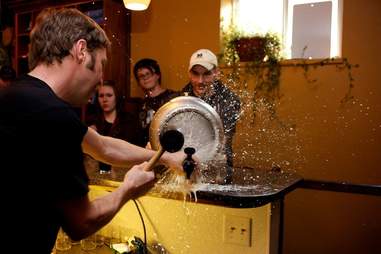 Brian Lackey
Fort Collins
Up in Fort Collins, Colin Westcott and his team work with farmers, spice merchants, and other local purveyors to score the goods for their Thursday firkin tappings, each cooler than the last. One week it might be Rauchbier (smoked lager) conditioned with roasted chestnuts, the next could yield an IPA-gone-exotic with cardamom and grains of paradise. Best of all is Mushroom March, when Equinox showcases Hazel Dell's finest in creations like porcini porter and red ale with chanterelles.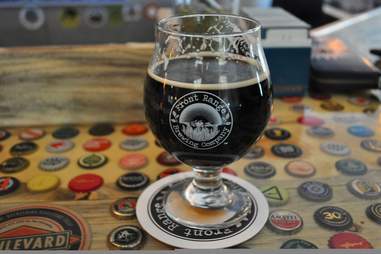 Ruth Tobias
Lafayette
Good things come in small-batch packages at this hidden gem tucked in the back of a suburban strip mall, which warrants discovery for its Wednesday series of one-offs: a cider or hibiscus saison here, a jasmine rice-laced IPA or brown ale inspired by Mississippi Mud Pie there.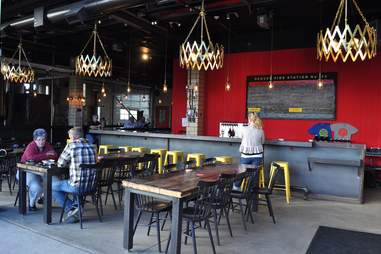 Ruth Tobias
Park Hill
When you're hot, you're hot — and this place, fittingly located in a former fire station, keeps fanning the flames of its instant success with Thursday firkin tappings that reveal creativity to spare... be it a brown porter with maple syrup & pecans, or a fruitcake dubbel aged on brandied oak chips. But S26 will be really turning up the metaphorical heat on Black Friday with the release of a whopping 11 different variations on its Imperial Stout — including one brewed with Kopi Luwak, the notorious Indonesian civet coffee you can more read about here (though you're hereby warned that ignorance is bliss).
Ruth Tobias
Lincoln Park
Close your eyes on One-Barrel Wednesdays, and you may as well be sitting in a farmhouse kitchen as an industrial strip center in the shadow of I-25. Zucchini bread cream ale, sweet potato-green chile pale ale, blackberry-bergamot golden ale — it's like someone just burst through the door with an entire farmers market.
Sign up here for our daily Denver email and be the first to get all the food/drink/fun in town.