Barnes & Noble meets a wine cellar
While it can be difficult to read a woman's body language when you're hitting on her in a bar (what does it mean when they're constantly looking at their phone and ignoring you?), reading gets a lot easier/more fun in BookBar, a Tennyson lounge with shelves of hand-selected books for purchase, plus wine, beer, and food, also for purchase.
Big comfy chairs and tables to set down glasses of wine or beer make this an ideal spot to take in a good book. Or just take a book off the shelf that makes you look smart, and pretend to read it.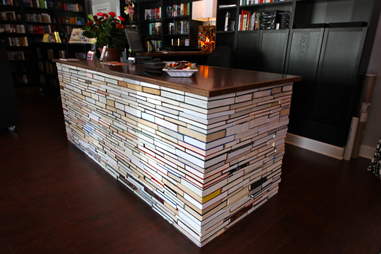 This incredible desk is made up of over 1000 books, and was painstakingly crafted for BookBar.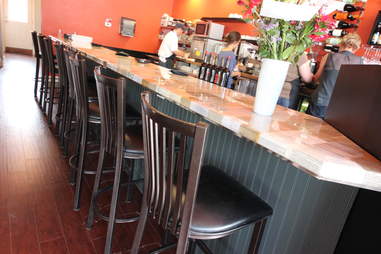 Embedded with pages, the bar is something you'll definitely want to scan.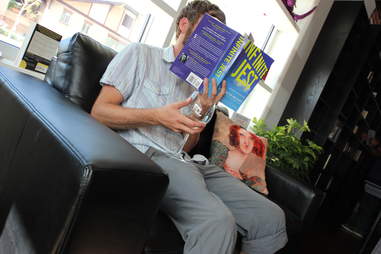 Each book was hand-selected by the owner, and the collection ranges from classics to the latest bestsellers. There's also a bunch of Calvin and Hobbes, which falls into both categories.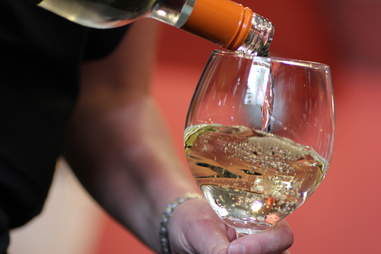 A focused list of 12 wines features whites from as far away as New Zealand, and a red from practically down the street -- the urban winery Bonacquisti based outta Sunnyside. The booze is rounded out with two taps from Denver Beer Co and Our Mutual Friend, as well as seven CO cans/bottles.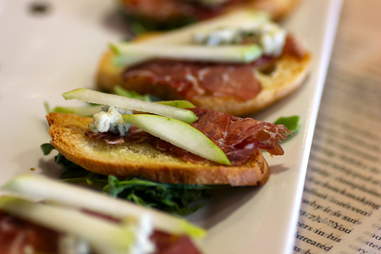 Finger food is the only food found on the menu, making it super-easy to eat and hold open your book at the same time. The crostini is stacked with truffle bresaola, Gorgonzola, and matchstick pears, and is called the Hemingway, meaning it's the only thing on the menu male depressives who went to liberal arts school will want to experience.
One of four pizzettas on the menu, the Dante has a pine nut pesto sauce, tomato, and mozz.
The Steinbeck pizzetta shockingly contains no grapes or mice, but it is topped by truffle and garlic sauce, red potato, and crumbled bacon.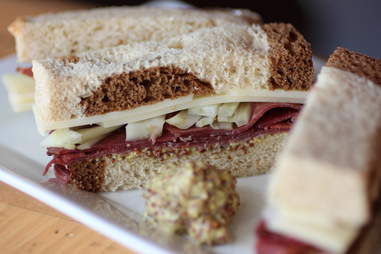 For something a little more substantial, order up a tea sandwich like the corned-beef-and-Swiss-on-marble-rye James Joyce -- unlike his 600+ page Ulysses, this is something you'll actually want to finish.