Denver For once, April means something other than figuring out the best prank to play on your co-workers, then spending the rest of the month dealing with their resentment. Instead of putting their staplers in JELL-O, go the classy route and introduce them to one of the most underrated cocktails during the Tour di Negroni, Denver's month-long celebration of the gin-based Italian classic. Here are five of the top Negronis that are being featured by some of the city's best watering holes: Williams & Graham (info and address)
Highlands
The classic cocktail joint, conveniently hidden behind a bookshelf, is contributing to the tour by offering a Negroni that features equal parts Bombay Dry Gin, Campari, and Carpano Antica Formula sweet vermouth. After downing one (or more) of those, check out their own unique variation, a white Negroni.
Recommended Video
Thrillist's Best (and the Rest): What You Actually Need to Know About Natural Wine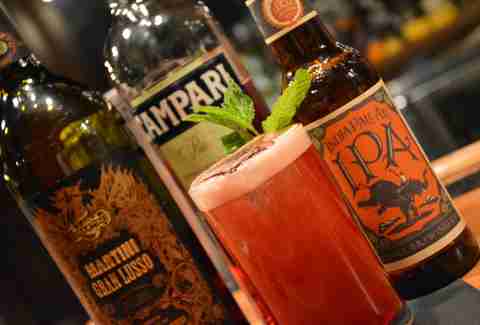 Green Russell (info and address)
Larimer Square
LoDo's favorite classic cocktail lounge is definitely not missing out on the action. Walk through the pie shop and have them stir you up their classic Negroni featuring Oxley Gin, Cocchi Rosa, and of course, Campari. After that, get down with something new, their variation that gives a nod to another classic, the Americano. Continue Reading
Ace (info and address)
Uptown
Offering much more than amazing Brussels sprouts and a wicked game of ping pong, the bar staff at Ace is spinning up a 'groni that features limited-edition Martini Gran Lusso sweet vermouth as well as Bombay London Dry Gin. Their house variation, however, is the one not to miss -- Count to Three features Bols Genever as well as house-made Ace Bitter Lemon Soda. Knock a few back and then test out that gnarly backhand serve that you think you totally have down.


Colt & Gray (info and address)
Platte St
The Platt St bar and eatery is going crazy for the Tour by dreaming up their ode to the classic with their own house-blended sweet vermouth. They continue to go pazzesco (crazy) with their signature twist that features house ginger beer, pilsner, and a whole lot more. Definitely not one to miss.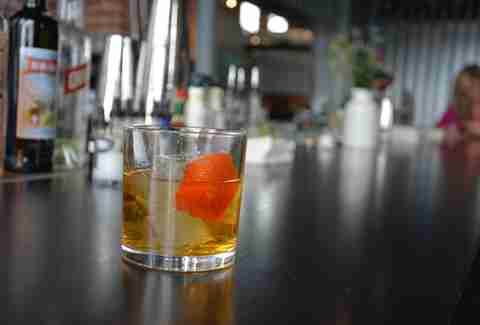 Acorn (info and address)
The Source
Everyone's favorite resto in The Source is stirring up the classic with Sapphire East gin, but the one to order is their earth, wind, and fire-inspired Piemento Rose made with Dimmi and Lillet Rose. Drink first, ask questions later.

Although we featured five, there are many, many more Negronis to be had. Get all the info on the month-long celebration here. You'll be happy you did.