Mile High's finest, most insane Bloody Mary
A good Bloody Mary has a few key ingredients: house-made Bloody mix, hot sauce, and vodka. A superior Bloody Mary is made with infused pepper vodka, and is topped with a bison chimichanga, chorizo-stuffed olives, pickled cactus, prosciutto skewers, and way more awesome fixins. Let Southwestern resto Kachina show you why they put all other Mile High Bloodies to shame.
The Bloody bar at Westminster's Kachina (available only on Sundays) has plenty of great fixin's to add to your Bloody, but in order to make the ultimate Bloody, you'll also need to order a sampling of cuisine from their Southwestern-inspired menu, that you will then shove into your drink like a madman. Trust us.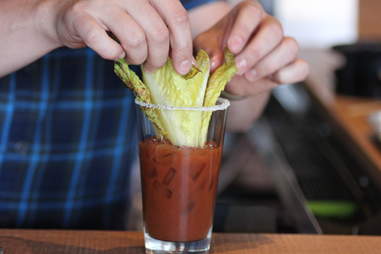 Their house-made mix is quite spicy, as it has been infused with peppers for 48hrs. But it's not enough! Add either a house-infused chile pepper vodka or pepper tequila. Either way, you'll be feeling it. Celery is already available in the Bloody bar, but the first step in making the ultimate is ordering grilled romaine. And that's the drink! We're done here! OK, not really.
Another menu item not in the Bloody bar is the bison chimichangas. An order of those'll run you $14. Don't worry, we're keeping track of how much cash you'll have to fork out.
Cram a jalapeno blue corn waffle in the glass. This waffle's part of another dish you'll see in a moment.
Every delicious ingredient on this skewer comes when you buy a bottomless (or just one) Bloody, so open wide for pork chicharrones, roasted green/ red jalapenos, chorizo-stuffed olives, and shrimp escabeche.
No need to open your wallet to buy a skewer's worth of prosciutto and Manchego. This is already on the Bloody bar.
A straw alone will not do to stir a Bloody this massive, but an ancho-bacon stir stick should do the trick quite nicely. And it's already on the Bloody bar, so it costs $0 extra.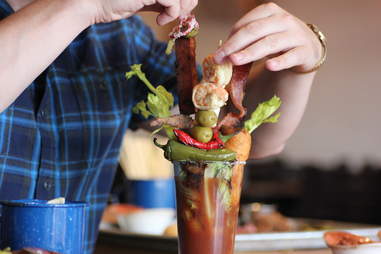 Remember that waffle from earlier? Be sure to order the fried quail/ jalapeno waffle dish for $17 (it comes with four waffles and seven quail legs), along with pickled cactus and candied Fresno chile, and skewer it all up.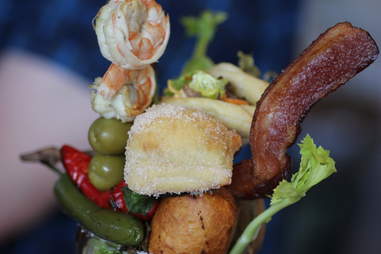 Order five chocolate chile beignets off the menu for $7, and plop the tastiest looking one atop the Bloody.
They're famous for their fry bread tacos, so this definitely needs a $5 Texan Navajo Taco on top. It's stuffed with epazote braised beef, pico de gallo, and black beans + chorizo.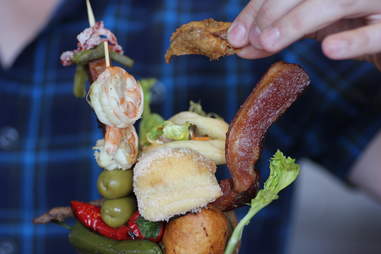 Finally, make this thing gluttonous by adding crispy duck skin. It's not on the menu, so you'll have to order it from the kitchen.
It's getting kinda hard to find room in here for something else, but it's worth raiding the Bloody bar for a skewer's worth of complimentary gherkins, Kalamata olives, a lime wedge, green olives, and pickled jicama.
Found room! Let's hope the glass does not break into a million pieces.
Add some class to this spicy bad boy by garnishing it with radish, green onions, and heirloom cherry tomatoes.
Bar manager Nick Tarsi enjoys a bite of the ancho-bacon stir stick. Get your butt there any Sunday and order the best Bloody you've ever had for just $45. And the booze part of the drink itself is bottomless for that price, so stay a while!