Ruth Tobias/Thrillist
Ruth Tobias/Thrillist
Sure, everyone knows Abe Froman is the Sausage King of Chicago, but who holds that crown in Denver? LA-based company Wurstküche is throwing its hat (or meat?) in the ring, joining the homegrown ranks of Biker Jim's, Euclid Hall, The Über Sausage, Prost, and others with its own brand of Cali-Germanic cool (possibly the only brand of Cali-Germanic cool?), serving up a slew of brews and links in an ingeniously renovated space at the edge of Five Points. Here are eight reasons to check it out sooner rather than later.
1. The party starts at the entrance
The gleaming order-counter up front is outfitted with taps, which means you'll have your first beer in-hand before you even grab a seat. In fact, Co-Owner Joseph Pitruzzelli promises that drink service will start while you're waiting in line at the door. (And yes, if the Denver outpost does anything like its California siblings' bang-up business, there will be a line.)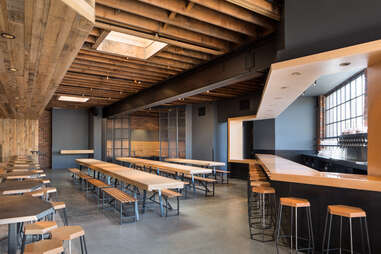 2. Going with the flow is easy
From the foyer, a long hallway leads you to the airy, sleek, 200-seat bierhalle, flanked by a turntable for house DJs Thursday-Saturday nights; head past the main bar to exit onto the fire pit-graced patio and up to the 40-seat rooftop deck. Whatever the German term for feng shui is (probably "feng shui"?), this place is built on it, and you can feel the good energy moving through.
3. The imported suds are seriously serious. Seriously.
About that beer you've already got: Belgium and Germany's greatest hits make up the selection of nearly 50 -- half on draft, half in bottle -- which runs the stylistic gamut from witbiers to schwarzbiers and kölschs to quadrupels, all served in the proper branded glassware (check out the wooden-handled Kwak contraptions). If for some incomprehensible reason you're abstaining, there's a pretty sweet array of craft sodas, too.
4. You can start with a classic…
Bratwurst, kielbasa, Italian sausages, Louisiana-style hot links: they're the litmus tests of tube-meats, so try them first. Made from Berkshire pork and traditionally spiced with nutmeg, the brats in particular pass with ease, showing all the juicy-sweet savor that begs for a sharp hit of sauerkraut and a crisp-edged brew.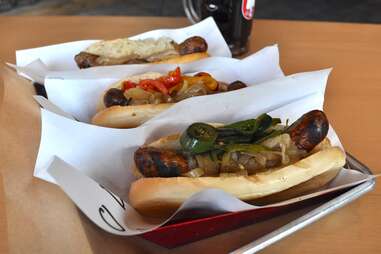 5. ...And work your way up to the wildest wursts
Pitruzzelli and his partner Tyler Wilson work with specialty grinders from around the country to produce the more-creative sausages that have become their signature, including the almost creamy-delicate rabbit with leeks and carrots and the rich, zingy duck-bacon with jalapeños. Down the line, Pitruzzelli says, they may add some local flavor to the lineup with elk or venison. Meanwhile, even the vegetarian versions aren't chopped liver (literally and figuratively), fashioned from eggplant, potatoes, fennel, apples, and other good stuff.
6. So much mustard!
To keep the focus on the flavor of the meat, topping options are limited to caramelized onions, sautéed peppers (sweet or hot), and of course, sauerkraut. But you can knock yourself out when it comes to mustard, what with foot-tall bottles of five different kinds on all the tables.
7. The Belgian-style spuds live up to the brews
Though they're tasty on their own, the thick-cut, twice-fried frites come with your choice of 10 dipping sauces, from curry ketchup to pesto mayo to blue cheese with walnut and bacon -- which is called a dip but is actually the jam.
8. You can eat dessert, or you can drink it
In addition to apple pie ice cream sandwiches on oatmeal-raisin cookies, the bar dispenses some really fine schnapps -- and no, that is not a contradiction in terms. The real deal is clean and invigorating and, most importantly, designed to help you digest the load of meat and potatoes you just shoveled down.
Finally, here's a bonus reason to hang around: Pitruzzelli and Wilson are converting their basement into a separate cocktail lounge. Details are in the works; stay tuned.

Wurstküche, located at 2036 Broadway, is open from 11am to 12am daily (closing time may eventually be extended to 2am).
Sign up here for our daily Denver email and be the first to get all the food/drink/fun in town.