Thrillist's Patio Power Rank: The Seven finest outdoor drinking spots in Denver
Deciding which Mile High patios are the best in town is no easy task, but the decision to spend your Summer inhaling the Rocky Mountain air (and beer) at an outdoor bar certainly is, which is why you should leave the tough choices to us and consult this unimpeachable list of the best patios, which will free up so much more drinking time!
7. Gary Lee's Motor Club & Grub
176 S Broadway; Southwest; 303.282.4782
It's a bit of a hike down South Broadway, but the journey's worth it to soak up the sun Sheryl Crow-style (except less annoying) and inhale their beloved BBQ. While the beer list is nothing to sneeze at, 'tails like the Whiskey Lavender Sage make for a refreshing pick when the patio calls your name.
6. Ignite!
2124 Larimer St; Five Points; 303.296.2600
A bumping rooftop above Larimer provides Ballpark crowds with plenty to love, including Giant Summer Pitchers of margaritas or mojitos, 12 taps, and their beloved house-made sweet/ spicy bacon called man candy (tasty!). The music and the people who frequent the place can get quite loud, if you care about that sort of thing/have a sensitive hearing aid.
Joey Jene
5. Viewhouse
2015 Market St; Five Points; 720.878.2015
Right around the corner from Coors Field, ViewHouse's multi-level rooftops offer 360-degree views of the city, and street-level AstroTurf on which to play bocce ball. Claustrophobics need not go, as this place packs in the Ballpark faithful.
4. Denver Beer Company
1695 Platte St; Highland; 303.433.2739
Cafeteria-style seating outside on Platte St make it a bustling, fun hangout on any nice day or night, and the award-winning beers don't hurt either. Rotating food trucks stationed outside make for great pairings, but if you're a creature of comfort, the constantly changing beers and trucks make decisions tough.
3. Ale House at Amato's
2501 16th St; Highland; 303.623.2738
You simply cannot beat the skyline views at night from this enduring Highland hotspot (on the rooftop, or at the urinal... seriously), packed with 42 taps from Breck/ Wynkoop and other top locals. Pub food's middle of the road, but the beers and 'tails keep people coming back.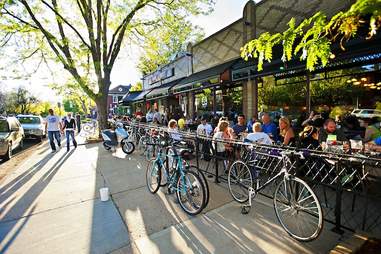 Rich Vossler
2. Vine Street Pub & Brewery
1700 Vine St; Northeast; 303.388.2337
A low-key crowd sitting on comfortable outdoor wire-chair seating, some of the better microbrews in CO on tap, hearty pub eats, cornhole matches, and the ability to relax in a welcoming neighborhood spot makes Vine St a can't miss. One minor qualm is that if you don't like Mountain Sun's brews, there's not a whole lot else. If you do like them, you're set!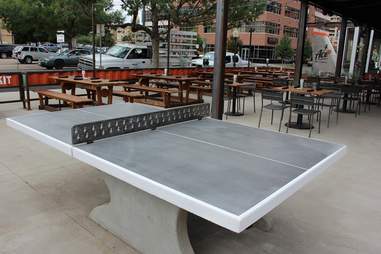 1. Ace
501 E 17th Ave; Northwest; 303.800.7705
Nothing beats Ace's patio scene, as its 17th Ave location offers prime people-watching, cocktails with house-made sodas, killer Asian cuisine, and outdoor ping pong tables for nerds to show they can play "sports" too.