Rebecca Feder
Rebecca Feder
When breweries collab, it usually means an interesting one-off brew, but Breckenridge and Wynkoop have forever upped the ante on such joint ventures with Session Kitchen, a stunning art-laden temple of shareable plates with everything from beer to wine to cocktails on tap, plus a hidden stage for live music.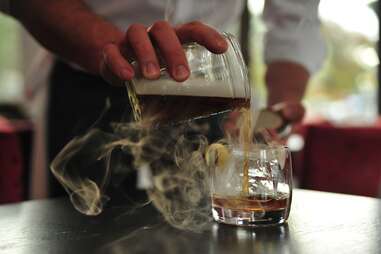 They aren't messing around with the cocktails. Try the Smokey & the European, a Fall-inspired cocktail (bourbon, Green Chartreuse, amaro, smoked-applewood) that comes with the bonus of making you look like a damn sorcerer when you pour it out and unleash the steam trapped inside the jar in which it's served.
They're big on shareable munchies served in cast iron, which is why this Green Chili Frito Pie eschews the Fritos bag of its ancestors, allowing more real estate for all that pulled pork.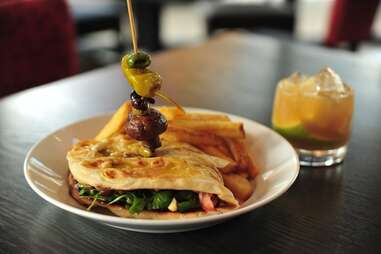 This massive Piadina is stuffed with cottage ham, salami, jardinere, and Gorgonzola. If you (or more likely your table) finishes one "session" off and decides it's time to order it again, it's a bit cheaper the second time around. Same policy goes for goodness like brisket bacon burgers, waffled cubanos, belly-on pork chops with cheddar gratin, Taleggio cornbread with kombucha hot sauce... yeah, probably just unbuckle your belt when you sit down.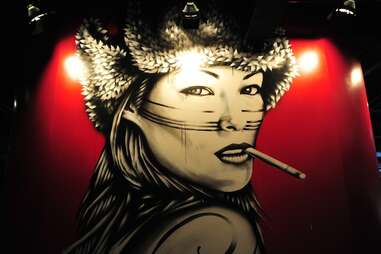 Thirteen artists from all over the world have contributed original art installations, which can be found in every corner of the place. From smoking-hot paintings on the walls to song lyrics on the bathroom ceilings to a massive collection of color-changing fluorescent tube lighting, the food is far from the only feast for your eyes. Note: please do not eat the art installations.