Hey you. Can you keep a secret? Well, we absolutely can't. So after you're done ingesting Denver's best cheap food, take your extra cash and show off your newfound knowledge of the city's best and most secret(ish) bars...
Recommended Video
It's Worth Getting Sloppy For This Grilled Cheese Taco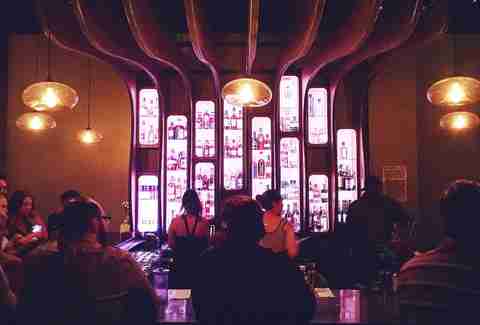 North Capitol Hill
When you want a drink, an ice cream shop usually isn't the first place you'd think to head into. But most ice cream shops don't have an unmarked door that leads to a cozy '60s throwback bar. Now Denver's got one that does. Skip the "cup or cone" conundrum and go for a glass instead -- one filled with a craft cocktail like the Concentrated Dark Matter with rye, rock candy, and orange bitters.

How to get in: Head to Frozen Matter and walk through the freezer door. Then head through the swinging metal doors to enter Retrograde.
Cherry Creek
Retro is a description that gets thrown around a lot, but B&GC is a true Mad Men-style step back in time. Sleek design, martini service, shrimp cocktail and caviar? That's exactly what you're getting here.

How to get in: B&GC is located in the the Halcyon, a hotel in Cherry Creek. But to find the entrance to the bar, you'll need to head down the alley between Second and Third Ave. Look for a sign that says "Stair 3" and a golden doorbell. Finding it is only the beginning, though. Hotel guests may be able to garner admission, but otherwise the bar is members-only, and the process of becoming a member remains under wraps.
Theatre District
Pair your cocktail with a view of the Rocky Mountains and the city lights from 27 stories up. The Peaks Lounge may be a pretty typical hotel bar where you'll find mostly out-of-town visitors, but the floor-to-ceiling windows make for a sunset cocktail hour that's enough to impress even the most jaded native.

How to get in: Head into the Hyatt Regency Denver's main lobby and take an elevator to the 27th floor.
LODO
Come bathe in the red lights of post-Prohibition Denver at this historic spot that was the first bar to open the day after Prohibition's repeal (although rumor has it there are secret panels and underground tunnels left over from its lesser-known moonshine history). Not much has changed at the Cruise Room since then -- the popular martinis and Art Deco style remain intact making this spot a true throwback experience.

How to get in: Head into the main lobby of the Oxford Hotel. Go past McCormick's Fish House & Bar and you'll find the Cruise Room on your right.
Speer
When you head to movie night at the Mayan Theatre, expect more than just the standard popcorn-scented experience. With screenings of independent films as well as regular midnight showings of classics like Rocky Horror Picture Show, this historic building's got its original Art Deco charm intact. But the real draw is the full bar, so make sure to show up early for those pre-show cocktails.

How to get in: Once inside the Mayan Theatre, head upstairs to find the bar.
LODO
In 2014, Denver's historic Union Station got a major makeover, transforming the space from a quiet, forgotten corner of Downtown into one of the most popular destinations for dining and shopping. Though many have already discovered this elegant spot to grab a drink, its upstairs location keeps much of the typical Union Station crowds away.

How to get in: Look for the Cooper Lounge desk on the South side of the main floor of Union Station's Great Hall (near Amtrak). If there's space, you'll be escorted past a velvet rope to the lounge upstairs.
LOHI
What do you get when you hide a bar with only seven tables behind a moving bookshelf? Apparently a lot of success. Williams & Graham has racked up local and national accolades so while it's not really a well-kept secret at this point, you shouldn't pass up the chance to use a real-life secret passageway -- especially one that leads to such classy cocktails.

How to get in: Head inside the "bookstore" and give the staff your name to add to the list. Eventually, one of the bookcases will swing open and you'll be taken to your spot inside the bar.
LODO
Get a dose of culture and booze when you visit the Denver's Museum of Contemporary Art's rooftop café. Offering light food options along with a full bar, the MCA Café offers city views from its balcony and a quiet, relaxed vibe in the middle of Downtown.

How to get in: You'll have to pay the museum admission price ($8 for adults, $5 if you're visitng after 5pm). Once inside, take the elevator to the top floor.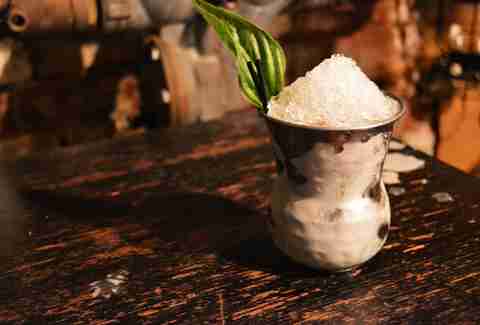 Larimer Square
This 1920s-style speakeasy owned by Denver restaurateur Frank Bonanno encourages you to embrace the past with rules that include no cell phones allowed (except inside the telephone booth). As a chef-owned bar, expect bar food that goes above the norm and updated takes on classic cocktails.

How to get in: Follow the signs that point you down a set of stairs to a door that says, "Wednesday's Pies." Head into the (fully functional) pie shop, tell the hostess you're looking for Green Russell, and you'll be escorted through another door that leads to the bar.
Highland
This sister bar to Colt & Gray may have a chic edge, but it's not meant to be exclusive. Sure, you can get oysters and beef tartare, but you can also just wander in for one of the best burgers in town. And make sure to always try to grab a seat at the bar at this subterranean lounge so you can watch the skilled bartenders crafting cocktails.

How to get in: Head through the inconspicuous glass door to the right of Colt & Gray's entrance and take the stairs down to the basement.
Sign up here for our daily Denver email and be the first to get all the food/drink/fun in town.