Summer suds from beery studs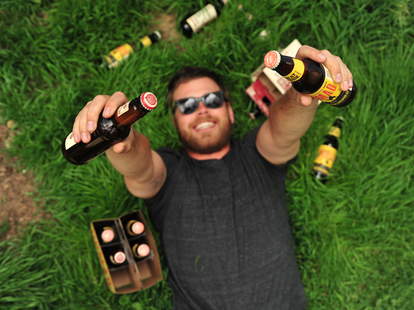 Ahh, Summertime in Denver. Sitting outdoors, enjoying a cold beer in the warm weather, and looking at the beautiful scenery until the beautiful scenery tells you to stop staring at her butt. To help you maximize your beer-drinking potential this Summer, we've surveyed five beer experts based in this fine state to learn about their top Summer brews
Jonathan Shikes, Westword Beer ManUpslope Belgian Style Pale Ale (Belgian Pale Ale, 7.5%)Jonathan says: "When I think of Colorado in Summer, I think of canned beers, because you can grab a few and toss them in the cooler wherever you go. Then, once you crush the contents, you crush the cans.
Dry Dock Apricot Blonde (Fruit Beer, 5.3%)Jonathan says: "It has a lighter mouthfeel and full, bright Summery flavors for hot days.
Dave Butler, Fermentedly ChallengedCrabtree Brewing Company's Berliner Weisse (Berliner Weissbier, 4.3%)Dave says: "One of my go-to beer styles for the Summer is a Berliner Weisse, and there are a couple of local examples that I enjoy. Back in 2011, they won a Gold medal for this beer at the Great American Beer Festival. It's light, refreshing, with a distinctive sour tartness that Berliner Weisses are known for.
Avery's White Rascal (Witbier, 5.6%)Dave says: "My other Summer go-to style is a Belgian Wheat or Wit. It's a lower ABV, sessionable Belgian wheat beer that even comes in cans so you can port them to places a bottle can't go. It's light, sometimes fruity, spicy with a bit of funk from the yeast.
Patrick Crawford, Brewer/Co-Owner - Denver Beer Co.New Belgium Rolle Bolle (Belgian Pale Ale, 5.5%)Patrick says: "I had one of these the other day. What a fun beer -- hints of crazy fruits, subtle hops and still a seasonable ale.
Cannonball Creek Solid Gold Belgian Golden (Belgian Strong Ale, 7.2%)Patrick says: "A great beer for sipping on a Summer evening. Bold flavors with a nice malty backbone this guy would go great with turkey burgers on the grill.
Billy Broas, BillyBrew.com, Founder of @HomebrewAcademyProst Pils, Prost Brewing Company (German Pilsener, 5.2%)Billy says: "Mass-market American 'pilsners' bill themselves as crisp and refreshing, attributes I look for in a good Summer beer. What they are missing, however, is that all-important third component -- flavor. Prost Pils has no such deficiencies. It'll cool you off and satisfy your taste buds with its spicy German hops and rich pilsner malt. This beer shows that there is hope for American-made pilsners after all.
Funkwerks Saison (Saison, 6.8%)Billy says: "This brewery lives and breathes saisons, so do you really think their flagship beer, fittingly named 'Saison', would disappoint? Well, it doesn't, and it's the perfect Summer beer. It's fruity, peppery, and bone-dry. At 6.8% ABV, the beer is getting up there, but it stays in that drinkable range for multiple pints.
Eric Gorski, Denver PostAvery Brewing 3.5 Percent Pale Ale (Pale Ale, 3.5%)Eric says: "This flavorful pale that clocks in with a supermarket-level alcohol content marks a real shift for the Boulder brewery known for high-octane beers. So far it's only been available at festivals, the taproom and other select locations. But Avery is planning wider distribution this Summer and plans to put it in cans, too - the perfect Summer container. " Breckenridge SummerCab Ride (American Pale Wheat Ale, 4.5%)Eric says: "This is a rarity worth seeking out. Breckenridge takes its SummerBright golden ale and ages it in cabernet wine barrels for a crisp, clean, cloudy Summer treat. Easy drinking at just 4.5 percent ABV. Last year, Breckenridge released just 264 hand-numbered 750ml cork-and-cage bottles in August and sold them exclusively at its Kalamath Street brewery in Denver.
Photo by EatDrinkRun.com