Let's get one thing straight: a wine bar is a bar that serves wine. You see, a loose definition is a dangerous thing. Once you start calling a place that has a full-fledged dining room, floor staff, and complete menu a "wine bar" instead of a "restaurant with a wine emphasis," you're on a slippery slope to anarchy where words don't mean anything, and chaos ensues. So does the fact that we set out to find Denver's best actual wine bars make us heroes? You tell us.
Recommended Video
Send Foodz: New York City Wine & Food Festival
Berkeley
Literature's great and all, but wait'll you read the wine list at this groovy little bookstore. It packs more action into just a couple of pages than many of its restaurant counterparts do, whisking you around the world to meet such characters like Bardolino in the Veneto and Furmint from Tokaj, Hungary. And while it isn't profound by any stretch -- these aren't what they call wines of contemplation -- it's way more eclectic than any casual bookstore browser has the right to expect.
South Denver
Want a place that feels like home? How about an actual old home with sofas and armchairs and fireplaces and relatives that keep asking why you're single? Owned by a married couple who launched their super-convivial neighborhood magnet more as a labor of love than a business (both of them still have day jobs), Cana will set you up with a one-page list that's neither too basic nor too challenging -- a Finger Lakes riesling here, a Uruguayan Tannat or Portuguese red blend there -- plus happy hour deals like half-price glasses from any and all opened bottles. And while it's at it, a smart little assortment of spirits too.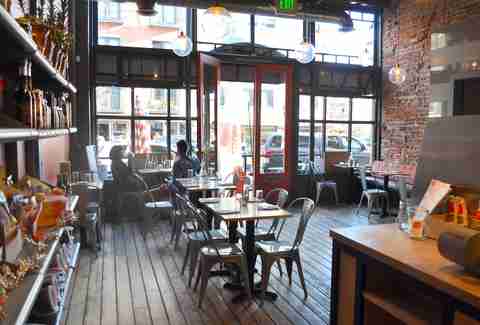 LoHi
The name says it all: everything about this offshoot of an Edwards gourmet shop is refreshingly upfront. Like the space itself, the wine list is tiny, breezy, and easy to navigate, with tasting notes the owner keeps short and sweet; you don't have to know what "Languedocienne Picpoul" is to understand "ocean minerality, starfruit" or be familiar with Schiava and Lagrein from Alto Adige to get "rhubarb, strawberry, delicious." Think of it as your cheat sheet to the grape juice those in the know (including, now, you) are guzzling these days. And here's something equally cool: Tuesdays are "cheap date night," when you can score a select bottle and a cheese plate for $25.
RiNo
If you think winery tasting rooms are uptight and pretentious, then you haven't been to this part art gallery, part music venue, occasional yoga studio, all-party pad. And you haven't pounded rosé out of a can or purchased a growler of merlot to go. And you definitely haven't experienced crazy onsite-only experiments like -- get this -- dry-hopped sauvignon blanc or the white Nebbiolo-Barbera blend IMT's rockstar founder Ben Parsons makes with grapes from Tuscan vineyards owned by, of all people, Snooze's Jon Schlegel.
LoHi
Warning: not recommended for anyone with adult ADD. Between the list of about 70 wines by the bottle and the even longer, sushi bar-style order form for cheeses, we're pretty sure the combinational possibilities could cause seizures in the easily confused. For everyone else, though, a visit is a pleasure. Although there's a ton of selections, they lean toward the familiar (give or take a few curveballs), which makes pairing a little easier -- as does the fact that owner Paula Dick encourages you to browse the retail case with glass in hand, so you can sip and sample cheeses until you find a match that works.
RiNo
The watering hole at the center of The Source is a superb place for cocktails if you aren't paying attention. If you are, you know that one of our favorite first-date spots is also a grape geek's playground. Proprietors McLain Hedges and Mary Allison Wright maintain one of the most intelligent yet impossibly cool selections of wine you've ever seen but have never heard of (the same goes for their onsite booze boutique The Proper Pour). But here's what you might not know: come spring, they'll be adding a seafood bar -- think oysters, crab salad, and shrimp cocktail -- and an array of grower Champagnes by the glass to go with it.
LoHi
If you've been paying attention, you know that one of our favorite first-date spots is also a grape geek's playground... wait... that line feels familiar. Anyways, an outgrowth of much-loved The Truffle Cheese Shop, owners Rob and Karin Lawler's Truffle Table is the consummate wine bar, from the mounted blackboards listing the fromages du jour, to the free bowls of spiced nut mix, to a staff that knows just what to suggest when you look at the list and go, "Uhhh, I don't see any malbec?" This is a great place to be bold and try something unusual. Be it white Colombard from the Côtes de Gascogne, or a Macedonian rosé of Xinomavro, or Nerello Mascalese, a Sicilian red, we guarantee the wine will go in your mouth a lot easier than the names come out.

Sign up here for our daily Denver email and be the first to get all the food/drink/fun in town.

Ruth Tobias will spend every dime she makes for this article on wine. She probably already has. You'll find her slurring her type at @Denveater.