These are Detroit's 14 Bad Decision Bars
It's Saturday night. You have nothing to do the next day (or you do, but don't care). You are up for anything, and you know just where to go: the place where the whiskey pours are generous and the hesitations few. You realize it's highly likely that you'll wake up the next morning in a strange house, missing all of your belongings, with a stack of Keno receipts and something horrible written on your knuckles in Sharpie. And you're OK with that. The next day, evidence surfaces on some form of social media, showing you in a karaoke debacle in which you fought another barfly for the microphone and passionately screamed the lyrics to "Total Eclipse of the Heart" to a group of eager cougars.

We all know that place. Or more accurately, places. Here is Thrillist's homage to the metro Detroit bars that best mark our entrance to the "point of no return": Detroit's Bad Decision Bars.
Downtown
If you find Pier 1 decorations to be classy, imagine an entire bar in Pier 1 motif, circa 1971. It's a great place to have an affair, that is, if your night vision is good enough to recognize the gender of anyone in there. If such a trivial thing doesn't matter to you, you're even better off.
East Lafayette
This is where people of all ages, cultures, and economic stations come to make horrible decisions, and to get their parking validated. If you win, take your loot to one of the remaining bars on this list and further contribute to your delinquency. If you lose, well, you're among peers.
Hamtramck
It all starts with the complimentary "Welcome to Hamtramck" shot of Jezynowka and ends with you attempting to steal a bike you thought was yours even though you don't own one – and with all manner of freak show in between. There is nary a dull moment at the Whiskey, even if it's just you and the bartender.
Ferndale
The chances of leaving Danny's Irish Pub (affectionately known as the DIP) with any remaining motor skills is highly unlikely. The likelihood of getting punched for selecting a lame song on the jukebox, on the other hand, is high. This place is blotto supreme: Leave it to the professionals.
Vernor Hwy
At the risk of generalizing and oversimplifying, Donovan's is the kind of place where all of one's friends seem to go to when they want an evening to... not remember. Tack on the fact that there's not a whole lot of other options in this neighborhood, and you've got a recipe book for all the bad choices you'd ever hope not to make.
Midtown
The bartender may or may not have an eye patch. Bring a bandage should you lose a finger to a bet at the pool table. The wolves are out – and they're hungry. Eat or be eaten.

Midtown
Part VFW hall, part land of misfit toys, Jumbo's is, more often than not, very, very fun. Your White Castle damage is likely to be higher than your bar tab, so drink up and make merry.
Midtown
You're only excused from not hopping on the dance floor if you're missing one or both feet. Even then, you wouldn't be the only person poppin' wheelies in your wheelchair to Madonna. It's a bar where you have to be buzzed in to catch a buzz, and once you've gone to that trouble – you're not likely to leave anytime soon.
Corktown
Maybe it's the sense that the entire building is about to crumble and implode, covering all the bikers and crust punks in more dust than they can cram up their nose – but this place really makes you want to put 'em back.
Ferndale
If you go here sober, you'll need a translator to get past the slurring of your fellow patrons. Bypass the chance of miscommunication and join in, braving the risk of Black Label beer rotgut the next morning.
Royal Oak
There's one bar left in Royal Oak that reminds us of the days before it became Birmingham Jr. Surrounded by bars frequented by stumbling people who could stunt-double for the Kardashians, Gus's is an oasis where the water is beer and the palm tree is a great jukebox.
Hamtramck
Don't worry, no matter what, it's basically guaranteed that you won't be in the WORST shape of anyone in here. Someone always has you beat. And if by sheer statistical anomaly, you are THAT guy, it's guaranteed that the next person who walks through the unlabeled door will have already been at the Whiskey, ready to knock you off your perch.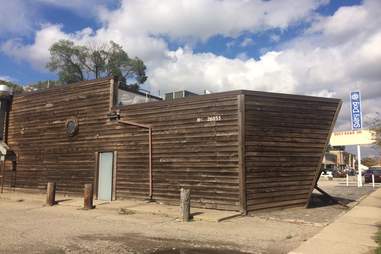 Megan Frye
Madison Heights
You've thought about going here. That's the first bad decision. The second bad decision is walking through the door. This bar is shaped like a pirate ship and the bartenders don't wear anything below the waist. It sounds like a much better idea than it is.
Midtown
Nothing says "let's forget our name and address" like stiff drinks, loud music, and hand-me down sofas from the '70s. Old Miami really has it all. Just try not to fall into the fire pit or get lost in the biggest backyard in the city.
Sign up here for our daily Detroit email and be the first to get all the food/drink/fun Motor City has to offer.