Steve Howcroft
Steve Howcroft
If you're glued to Jeopardy! on the regular and looking for your own trivia fix, metro Detroit has you covered. Metro Detroit's blossoming trivia scene is now home to dozens of pub quizzes where teams of up to six people (sometimes more, depending on how obnoxious your group is) battle it out for bragging rights... not to mention gift cards good for the host venues, pride, and in some cases, actual cash.
Local trivia powerhouse Quizzo runs trivia league play, and teams can win up to $1,000 if they make it through a three-month season victorious. With the arrival of national startup Geeks Who Drink, the city has four major trivia companies vying for dorking/drinking business. There's also Sporcle and My Trivia Live, and the venues that host these evenings offer huge variety -- you get everything from hole-in-the-wall to full-speed hipster (so many pork bellies and craft meads!).
If you have a free weeknight and want to challenge your friends to throw down with Detroit's most lethal trivia geeks, check out these metro area spots.
Rivertown
When: Mondays, 7:30pm
The host of this Quizzo event is really the draw here. Detroit native and Thrillist contributor Aaron Foley, author of How to Live in Detroit Without Being a Jackass, has the questions, answers, and sweet backing tracks that make trivia fun. Atwater boasts a large selection of house-made beers that the brewery describes as "traditional German style lagers, along with unique boutique ales."
Madison Heights
When: Tuesdays, 7pm
Madison Heights' favorite karaoke bar offers a fun twofer for a Tuesday: trivia followed by karaoke. Augie's has a massive dining room, making it one of the few trivia venues in the area where players aren't so close together that you worry about other teams overhearing your answers. The bar offers a huge menu (stick to burgers and bar classics here) and a full bar. When you're done showing off your big brain, you can stick around and show off your big voice. The karaoke here rivals setups in far larger cities with its infinite song selections and real stage.
Bloomfield Township
When: Wednesdays, 7pm
This hybrid gastropub and movie theater is the only place in metro Detroit where Quizzo players can snack on movie popcorn (real butter!). Recent questions included, "Which carmaker produced a special Pikachu-themed vehicle during the height of the Pokemon craze?" We went with Nissan, because our server whispered it to us as she set down a basket of hot poutine. It was, of course, Volkswagen. In addition to poutine, there are pizzas, burgers, and a vast selection of movie-themed cocktails, the best of which may be the Lebowski Brown Russian. We get a little protective of that drink -- enough to say, "Careful man, there's a beverage here," when trivia pals get too close to the glass.
Farmington
When: Mondays, 8pm & 9pm
Farmington Hills' own Basement Burger Bar really is in a basement, but the burgers are penthouse-level. Host to Sporcle Live, the Basement is the only metro Detroit trivia venue where players can wrap the evening with a desert called the frozen pig: premium vanilla ice cream topped with real maple syrup and bourbon-cured bacon. Sporcle has a fun, quick style, and the evening is split into two separate games, so you can come at 8 or at 9 and still get in a full round of play.
Greektown
When: Tuesdays, 6:30pm
The Firebird, hosting Quizzo nights, caters to the Midtown/Campus Martius/Greektown after-work set, and the menu leans on trendier bar fare, with items like poutine and fries with truffle mayo. The hightop tables make for a casual atmosphere, and the drink selections don't disappoint. Our favorite was the Our Fashion, a twist on the Old Fashioned, with Old Forester bourbon, spiced cherry, and the Firebird's own proprietary bitters.
Midtown
When: Wednesdays, 8pm
New national company Geeks Who Drink take over HopCat's second floor, making the Huma Room trivia central. The Geeks format makes for a long evening of bar trivia. There are eight rounds, bonuses, and audio & visual clues. While the night is new and clearly a work in progress, the setting is fun (classic car chassis over the bar helpfully remind you you're in Detroit). HopCat's menu offers many interesting ways to experience melted cheese and "crack" fries.
Midtown
When: Wednesdays, 9:30pm
This Cass Ave mainstay popular in the Wayne State community hosts My Trivia Live on Wednesday nights. The bar, known for its unmistakable inflatable white awning, has a rowdy trivia crowd, sustained by heavy-duty pizzas and unserious mixed drinks you won't find anywhere else in the city, like the Orlando -- a banana martini with amaretto and Rumchata. My Trivia Live is also the go-to in the outer 'burbs, offering pub quizzes in Livonia, Westland, Farmington Hills, Allen Park, and many other venues.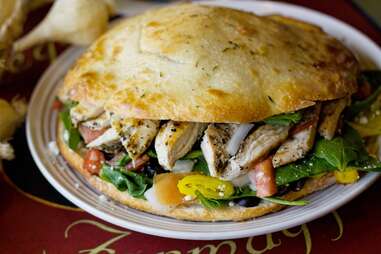 Ypsilanti
When: Tuesdays, 10pm
This Ypsilanti bar and grill puts out enormous burgers of all kinds and a beer list to rival many of Detroit's best craft breweries. This place is a haul, but deserves a mention because the venue is always jam-packed. There's a heavy collection of regulars here, with teams making reservations for the My Trivia Live's late-night show at 10pm on Tuesdays. These questions are a little easier than Quizzo's, but any advantage good players have tends to be undone by the final bet feature of the game (think Final Jeopardy). One last question can be the sole method for determining winners, which may irk more seasoned players, but certainly opens the field to anyone who gets lucky with one right answer.
Ferndale
When: Sundays, 10pm
Ferndale's own bacon paradise hosts Quizzo for one last weekend hurrah before going back to work on Monday. If you'd like bacon with a side of bacon, there's literally… bacon with a side of bacon on the menu. Pork belly, bacon, and a poached egg make trivia even better, as do maple donuts topped by bacon, and one of the area's largest selections of beers, ales, meads, ciders, and whiskeys.
Sign up here for our daily Detroit email and be the first to get all the food/drink/fun the Motor City has to offer.
Rebecca Golden is a writer, editor, and one-day
Jeopardy!
star currently working on a book about Detroit. Follow her at @GoldenReb to see her posing with Alex Trebek.