Detroit's Best Bartenders Want to Pour You a Drink Tonight
Detroit, if you weren't already aware, is in the midst of a cocktail renaissance. We're lucky enough to be served drinks by some of the country's best bartenders. We scoured a city that has no shortage of talent to find the best of the best barmen and women, mixologists, and publicans that impressed us the most this year to bring you the Best Bartenders of 2016. The selection is based a combination of our editorial staff and a peer industry survey. Join us in celebrating the finest talent the city has to offer for 2016.
Nick Britsky/Thrillist
Rookie of the Year: Amas Muhammad
With only two years of bartending under his belt, Muhammad has been constantly impressing the Detroit bar scene with his quick learning, great personality, and unique spin on drinks. When starting his bartending career as a barback at Honest John's, Katrell Thomas, the bartender at Wright & Co, showed him the ropes and let him fly from the nest when he left to its sister bar and restaurant, The Peterboro. There, he moved to a managing role after three months and is already schooling the rest of us with his creative use of Asian-inspired ingredients, like Chinese licorice root, green tea syrup, and milk washed tea rum. Don't miss his Black Bartenders Matter class put on with Tammy's Tastings on February 20, 2017.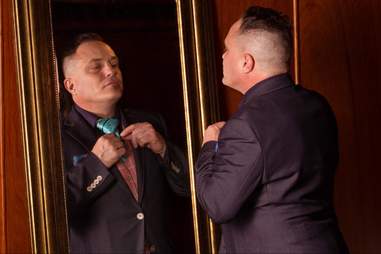 Nick Britsky/Thrillist
Best Dressed Bartender: Joe M. Schubert
Joe M. Schubert proves it's hard to look this good. Being bar manager at The Whisky Parlor, Joe looks the part and is always dressed to the nines. This includes an artfully assembled mixed three-piece suit, a full-Windsor tie, and immaculately groomed features. This ensemble only helps to elevate his authority on all things booze and serve his customers the best drink possible.
Nick Britsky/Thrillist
The Life of the Party: Shane "Bang" McGrath
If you follow Detroit bartenders on social media, there are certain faces that begin to recur. One mug pops up all the time. That face is Shane "Bang" McGarth, bartender at Standby. Ignoring the fact that he's the 2016 President of the US Bartender's guild and holds numerous bartender awards, he still knows how to party hard. If you're lucky enough to be taken under his wing, you'll be shown the best time at any event. He has a few recommendations to get the most out of any gathering: 1) Wear a Fez. It makes any outfit better. 2) Slip the DJ $10 to play "Party Hard" by Andrew W.K. 3) Drink a Bangarang (50/50 Aperol and Silver Tequila).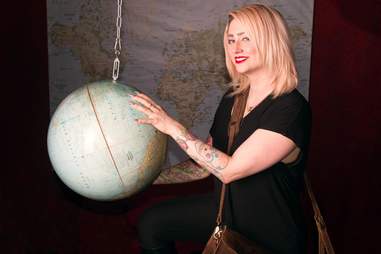 Nick Britsky/Thrillist
Best Traveled: Kat Hawkins
To travel the world is to experience its people and culture. Of all the bartenders in Detroit, Kat Hawkins, General Manager at Wright & Co, is the embodiment of that credo. She's traveled to nearly 10 major US cities and five countries in pursuit of greater boozy knowledge and competitions. She isn't happy with just perfecting her sommelier knowledge; she also mixes an expert cocktail either in Hawaii for Don the Beachcomber's World's Best Mai Tai or at Bacardi Legacy in Chicago.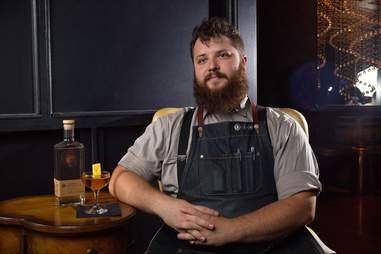 Roger James
Coolest Brand Partnership: Chas Williams
There's nothing new about a spirits brand pairing up with a bartender as a marketing move. But Detroit City Distillery Partnership with Chas Williams for its Summer of Gin 2016 spirits series and competition is one that doesn't feel exploitative or gross. When Williams, head bartender at The Oakland Art & Novelty, won DCD's drink competition in 2015, he was invited to craft his own line of limited edition gin through the distillery. He had free rein to select the ingredients and flavors he wanted to feature in this product and selected a classic style that was grapefruit forward. "I made it so it has versatility and unique," says Williams. To make his winning cocktail, named Lammas:
2 ounce Detroit City Distillery Harvest Moon Gin
1 ounce Michigan Apple cider
0.75 ounce lemon juice
0.75 ounce cinnamon syrup
0.25 ounce Pimm's #1 Liqueur
Top with ginger beer
Shake with ice and strain into a Collins Glass
Garnish with chamomile and rosemary.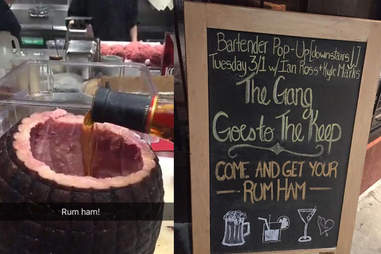 Kyle Marks
Most Outrageous Drink: Rum Ham by Ian Ross & Kyle Marks
One-up-manship is a common occurrence in the bartender community. What is the coolest, craziest, most outrageous cocktail you can make AND get published on a menu? Ian Ross, bartender at the Keep, and Kyle Marks, bartender at Standby, demolished this category by infusing a cocktail with ham, smoked pork, then hollowing out said ham and ladling out the cocktail like a giant protein punch bowl. "It was a good drink," says Marks. "I think it could have used slightly less time infusing but the salinity was really nice in it, and it got ordered a lot." Fans of It's Always Sunny in Philadelphia might get the reference to Rum Hum.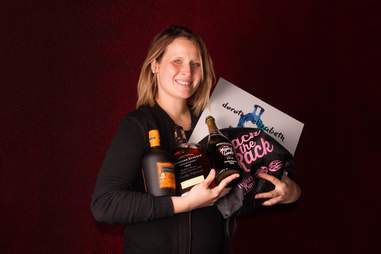 Nick Bristky/Thrillist
Most Competition Wins: Dorothy Elizabeth
Detroit is killing it when it comes to sending our talent to competitions, both in the US and internationally. One of those major champions is Dorothy Elizabeth, bartender at Standby. She has competed in six major competitions -- and won many. Her talents have not gone unrecognized -- she was recently named one of Eater's Young Guns.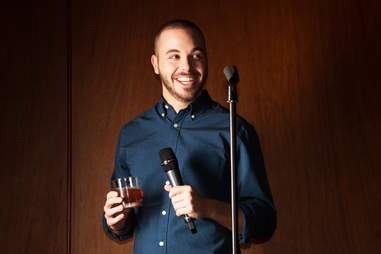 Nick Britsky/Thrillist
Funniest Bartender: Rob Wilson
Humor is a great way to make connections with people and disarm any tense situation. Many bartenders use this to their advantage, but Rob Wilson, a freelance bartender, embodies this. Drawing upon the influences of Louis C.K., Zach Galifianakis, and Tim & Eric, Rob uses his comedy chops to get his customers laugh and relax. "Every great comedian tells stories. If you've ever sat at a bar I've worked at, you know you're going to hear at least one crazy story before you leave," said Wilson.
Nick Bristky/Thrillist
Smartest Bartender: Marlowe Johnson
A bartender is not just a dispenser of strong liquids. The profession has evolved into a mix between artist, chef, and scholar. Garnishes are getting more elaborate, culinary combinations more involved, and forgotten drinks revived. Marlowe Johnson, bartender at Standby, is one such student on his way to becoming a dean of the school. He's learned both on the job and from his extensive home library. "I think if I wasn't a bartender I'd be a professor," confesses Johnson.
Nick Bristky/Thrillist
Most Admired Bartender: Joe Rob
"Making drinks only goes so far," said Joe Rob, partner of Standby. "People come to a bar to take a load off and be social. Our job is to facilitate that with every single person who walks through the door." Living simple statements on hospitality like these have brought him great success with his Cocktail Classic Event (one of the largest tastings in the area) or his two bars, Standby and The Skip, have made him one of the most respected bartender in the city. Travis Fourmont, Cocktail Ambassador for Great Lakes Wine & Spirits and partner for Cocktail Classic, was one of his early teachers who taught him the basics and how to create balanced drinks. Now, he's training the new generation of bartenders as well. "My best advice to new bartenders would be work hard to give consistent service to every guest that comes in the door," said Rob. "We're surrounded with knowledge on spirits and cocktails, but there is no formula to giving exceptional service. You just have to do it."
Sign up here for our daily Detroit email and be the first to get all the food/drink/fun the Motor City has to offer.
Nick Britsky is a Detroit cocktail enthusiast, ad sales guy & bartender-ish. He's also a freelance boozy content creator for various media outlets, and a Certified Beer Server (Cicerone program) and Certified Spirits Professional (US Bartender's Guild).