In a 2012 national poll, Grand Rapids was officially named "Beer City USA" in a tie with Asheville, North Carolina. This was followed by a landslide victory in 2013 before the informal poll was retired in 2014. There are two takeaways from this: 1) Grand Rapids can now claim the "Beer City USA" title for forever, and 2) you should get to Grand Rapids as soon as possible and literally bathe in its beer (or at least the very least drink it).
When Grand Rapids first took the crown in 2012, the craft-beer darling had just 17 breweries. Now the city alone has around 40, and that number more than doubles if you extend to the grander Grand Rapids region of Western Michigan. With so many breweries to choose from and all the other incredible stuff to do in the area, it's a lot to cram into a weekend-long beercation. That's why we've highlighted the absolute must-trys below, from the big dogs (and cats) to the many fine, friendly neighborhood brewpubs. We humbly recommend hitting every single one of them.
East Hills
Farmhouse ales in a former-funeral home
Some people might argue that Brewery Vivant is not the best brewery and brewpub in Grand Rapids, and those people are wrong. The brewery specializes in "Michigan farmhouse ales," utilizing local flavors and ingredients in often-playful, always-satisfying styles inspired by the small farmhouse breweries of the Northern France and Southern Belgium countryside. They also serve an excellent menu of hearty from-scratch pub food, similarly inspired by French and Belgian country fare (get the duck confit nachos or poutine). Boozehounds and brettheads alike have plenty to get excited about with their barrel-aged and wild-fermented beers, and their annual Wood Aged Beer Fest, held every September, is a must.
Must-try beer: Farm Hand, their highly refreshing but still complex flagship farmhouse ale.
West Side
Small-batch big beers from the former head brewer of Founders
If you love the big, BIG beers from Founders but find the craft-ish giant a little too giant for your tastes, pop on over to teeny-tiny Greyline on the West Side. Owned by Nate Walser, the head brewer that basically made Founders what it is today, Greyline is fully his passion project and artistic expression. It's best not to go there seeking a specific beer -- the lineup can change at any time -- but come with an open mind and you'll find plenty to log on Untapped. But keep in mind, after years of dealing with unhinged KBS-mania, Greyline is Walser's sort of anti-Founders: tiny on purpose, catering more to local neighborhood folks than white whale-chasers. They've also got a great pub menu of beer-friendly foods like sliders, sandies, wieners, and macs.
Must-try beer: See above about how the lineup can and does change at any time. Ask your beer mage what they're most excited about right now, and try those.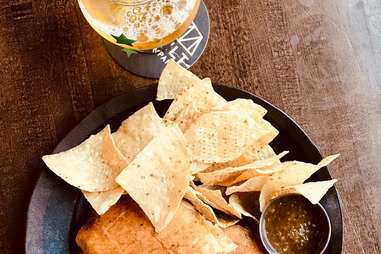 Canal Park
Michigan beer meets Puerto Rican cuisine
At its core, City Built is a neighborhood brewpub seeking to redefine what a neighborhood brewpub can be. They brew complex but drinkable beers that are often lesser-known or more experimental styles, as well as hard seltzers because people want what they want. There's also a nice selection of ciders, meads, wines, and kombucha from other Michigan producers for non-beer-drinkers. Be sure to come hungry: The Puerto Rican food menu is as tasty as it is surprising.
Must-try beer: Cascading Into Darkness, a black IPA that "looks like porter, tastes like hops." If you're down with hazy IPAs, try the Pink Fuzzy Unicorns strawberry imperial pale ale with pineapple, lactose, and "unicorn horn."
West Side
Popular pizzeria and brewery that has become a Grand Rapids staple
When the Mitten Brewing Co. opened its West Side location in a historic old firehouse in 2012 -- right before the World Series when the Detroit Tigers were playing -- it was an instant hit. The vintage baseball-themed brewpub that specialized in pizza and easy-drinking beers (along with some heavy-hitters) was so busy at the outset that they had to lease additional space for a production brewery because they kept running out of beer. Now they've got three locations throughout Western Michigan and are very much a local favorite.
Must-try beer: Triple Crown Brown, an English-style mild ale and one of their flagship beers that took home a silver medal from the 2016 World Beer Cup.

Southtown
A small-batch brewery inspired by Bukowski
It may seem like an odd choice for a brewery to honor an author who is probably as famous for his alcoholism as for his writing, but we certainly can't argue with the sentiment expressed by the words of Charles Bukowski painted on one of the walls at Brass Ring Brewing: "We are here to drink beer. We are here to kill war. We are here to laugh at the odds and live our lives so well that Death will tremble to take us." Brass Ring is one of the newest additions to the Grand Rapids beer scene, and the community-focused brewpub is worth adding to your Beer City itinerary. Serving small-batch traditional English-style pub ales, porters, and stouts, along with from-scratch comfort food (try the Scotch egg), Brass Ring is thoroughly a neighborhood joint complete with a weekly "Neighbor Night" and "DND Night." Yes, THAT DND.
Must-try beer: 8 Pound Hammer, their take on a dry Irish stout.
Eastown
Come for the beer, stay for the pizza
Pizza and beer is a popular pairing, and in Grand Rapids it's a general rule that some of the best pizza places also happen to be some of the best brewpubs. Such is the case with Harmony Brewing Company, home to some of the best pizza in Michigan and also one of GR's most popular brewpubs. The pizzas are legit -- get the Crispy Pig or Aloha Goat (and if you don't dig on swine or animals in general, they also have vegan pizza options).
Must-try beer: When it's in season (spring/summer), the Grote Pier Double IPA but be warned: Even by DIPA standards, this one is a massive hop-bomb.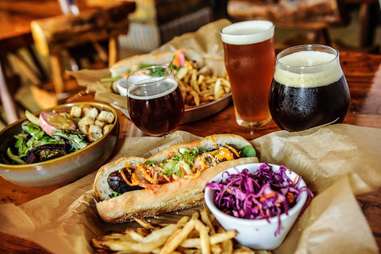 West Side
The other Harmony location in a former-sausage factory
Is it cheating to list two different locations of Harmony Brewing Company separately as two different entries? Maybe, but Harmony Hall and the original HBC are just distinct enough to justify two separate visits. This "beer castle" is a century-old brick Bavarian beaut and was originally a sausage factory. The food menu is the same, but the beer menu most definitely is not. The Hall has many more tap handles, and thus many more options.
Must-try beer: Tupelo Honey pale ale if you're going for an easy drinker; Wobble Bottom barley wine if not.
Downtown
Did you seriously think we weren't going to include this?
Look. It's Founders. If you are any kind of beer drinker, you know Founders already. It is as much a household beer name in Michigan as Bell's. It is, without any question, the reason Grand Rapids appeared on the craft beer radar in the first place (be mad about it but it's true). And whether you choose to be one of those hand-wringing, pearl-clutching craft purists going through a personal crisis of ethics every time you pop a tab on a can of All Day IPA because it's "not really craft anymore" but also you just can't stop yourself, or you have no idea what that string of words even meant, Founders is one of the biggest craft/used-to-be-craft breweries in the country, and a lot of that has to do with two products: the beloved All Day IPA, widely acclaimed as one of the most crushable summertime session beers and the number-one-selling craft can in America, and Kentucky Bourbon Stout (KBS), one of the first and biggest white whales. It's funny because now there are so many other BBA stouts on the market now that it's tough to say if KBS still stands as one of the BEST EVARRRRR, and also Founders now brews so damn much of it that it's easier than ever to get ahold of. Still, its reputation precedes it, and each year the brewery and its two taprooms (the other is in Detroit's Midtown) celebrate with release parties.
Must-try beer: KBS and All Day IPA, obviously.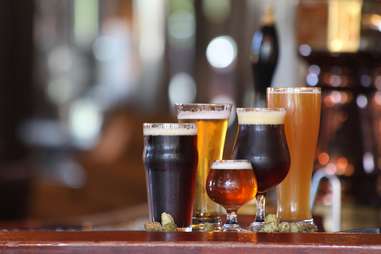 Downtown (original location); Knapp's Corner
One of the world's most famous beer bars-turned-growing national chain
It's almost hard to imagine that when the first HopCat opened way back in 2008, the whole concept of a multi-tap "beer bar" with an extensive bottle list was pretty novel, and soon HopCat was collecting national accolades as one of the best beer bars in the country and world. Five years after the original Downtown Grand Rapids location opened, HopCat started opening new locations… rapidly. There are now 17 HopCat locations throughout the Midwest and beyond (including another in Grand Rapids), and plenty more on the way. Still, the original has a certain charm and a history, you know, dating all the way back to aught-eight, that the others can't touch no matter how many hundreds of tap handles they have. Plus, the original location also has a small brewing operation. They don't brew a whole lot -- there are typically only 4-6 house beers on their massive beer list at any given time -- but whatever they've got on when you visit is worth sampling, even if just to say you did.
Must-try beer: Beer Right Meow, an American IPA that was also the first house brew HopCat was able to distribute outside the Grand Rapids brewpub.
Cascade
A triple-threat booze purveyor
Thornapple Brewing Company technically has a Grand Rapids address but is located about a half hour from downtown GR in Cascade Township. It's unique among Grand Rapids breweries in that it actually has three liquor licenses -- it is a brewery, distillery, and winery, as well as a full-service restaurant featuring chef-driven, beer-inspired foods like spent grain crust pizzas as well as plenty of vegetarian and vegan options. Thornapple is dedicated to being a neighborhood joint (and if you're noticing a theme here, the answer is yes, many of the newer GR breweries aim to be small neighborhood joints rather than massive beer meccas like Founders) and has events almost every night of the week, including Thursday night smoked meat dinners and Friday night karaoke. But you're here for the beer, and beer you shall have. They serve a variety of American, British, and Belgian styles on their 12 rotating tap handles, with a mix of easy-drinking crowd pleasers and barrel-aged beasts.
Must-try beer: Barrel-Aged Emily Victorious, a Russian imperial stout aged in Buffalo Trace bourbon barrels.
Sign up here for our daily Detroit email and be the first to get all the food/drink/fun the Motor City has to offer.
Nicole Rupersburg is a Thrillist contributor.