If you live in metro Detroit, chances are you spend a good chunk of fall hanging out at one of the area's many cider mills, because cider and donuts and fall colors are Pure MichiganTM, and because being a Michigander means upholding a certain set of standards. To get the most out of fall in the Mitten, pop into these 10 cider mills for a caramel apple and a cup of hot cider -- it's our post-Labor Day, pre-Thanksgiving tradition, after all.
Bloomfield
Opened in 1837, this picturesque cider mill is a family tradition -- and not just because it says so on the wall (along with other tacky but lovable sentimental signage). With a face-painting station and bread (for a little extra -- though no one's stopping you from BYOB) to feed ducks in the nearby stream, Franklin is the kind of place you go to as a child and still come back to as an adult decades later because the donuts really are that good. In the heyday of fall, the apple cider slush is a perfect cooldown, and at the tail-end of fall, warm up with hot cider, all made in front of you via a water-powered apple press as you wait for fresh donuts.
Rochester Hills
It's no coincidence that "Yates" rhymes with "dates," because this is the go-to for cider mill romance. Take a stroll through its wooded trails with one hand wrapped around a cup of cider whose recipe dates all the way back to 1876, and the other avoiding your partner's since you're too busy munching on a crunchy caramel apple. Don't forget to scoop up maple nut fudge and saltwater taffy at the fudge shop, too.
Northville
Go for the spiced donuts, stay for the wine. And then come back the following day for hard cider. Sounds like a plan, eh? While not as crowded as others, Parmenter's -- established in 1873 (the original structure burned down in 1977 and was rebuilt the following season) -- offers more adult activities (like boozy beverage tastings) than your average mill, thanks to its partnership with Northville Winery & Brewing Co.
Armada
Blake Farms houses the granddaddy of all cider mills. With a three-story haunted barn, nighttime haunted hayrides, cornfield mazes, apple orchards (when in season), U-cut Christmas trees, and pick-your-own pumpkins, berries, and vegetables, there's basically nothing this historic attraction doesn't have. Plus it's got pumpkin butter for sale, which is to die for. Try to make this stuff last until Thanksgiving.
South Lyon
You can spend an entire afternoon roaming Erwin's vast apple, fruit, and pumpkin orchard, which spans a whopping 200 acres navigable via foot or hayride. While the apple cider and donuts are worth any wait at this cash-only, nearly 100-year-old joint, your best bet is an early morning trip to avoid crowds. Otherwise, expect lines out the door.
Plymouth
Relatively young compared to its historic counterparts -- we're talking opened-in-1977 young -- this orchard and cider mill has the ultimate luxury of seated indoor space, which can be a much-needed respite when you're surrounded by swarms of wasps invading your personal donut bubble. Also up for grabs are a variety of pies, including a divine pecan and no-sugar-added cherry and apple pies, which can be custom-ordered in advance, and a big assortment of relishes.
Rochester
Not to be confused with other Rochester mills, this is the Rochester Cider Mill. On weekends, a 150-year-old-plus, leather-belt-driven cider press makes delicious unpasteurized cider, which the mill prides itself on. While the kids play on a big hay climbing pyramid, grab an assorted box of apple cinnamon with maple glaze, blueberry, and chocolate-frosted donuts. And if you're feeling extra spooky, it offers chocolate-frosted donuts with scary sprinkles, too.
Ypsilanti
"Deliciously different since 1837," as its slogan says, Wiard's selection of gourmet apples includes s'more (as large as your hand) and cornflake, along with classic caramel. But it's also got six different haunted attractions that, unlike most so-called haunted things, are actually really, really scary. With haunted paintball, a haunted asylum (nope), and alien caged clowns (more nope), this cider mill doubles as a spine-tingling, terrifying thrill park.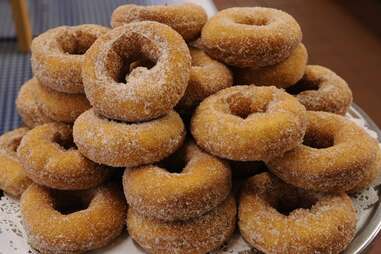 Rochester
The scenic Paint Creek Trail winds through 8.9 wooded miles of Rochester, Rochester Hills, Oakland, and Orion Townships, with its best pit stop, obviously, at the Paint Creek Cider Mill just at the edge of Rochester. Reward (or invalidate) your jog or bike ride with a cider mill donut sundae. Yes, you read that correctly: a cider mill donut sundae, comprised of a cinnamon donut, butter pecan ice cream, caramel, and whipped cream. Goodbye, workout.
Holly
Known for its annual Cider Fest now 35 years in the running, Diehl's has stood on 100 acres of land for more than six decades, serving up hot donuts that don't hold back on the cinnamon sugar. If you've ever wondered how cider is made, this spot hosts affordable, appointment-only group walking tours that, for a little extra, can include a hayride or pumpkin patch tour -- with a donut sample included.
Sign up here for our daily Detroit email and be the first to get all the food/drink/fun the Motor City has to offer.