Serious question: at what point does a place become too trendy to any longer be considered a dive? Detroit has a whole lot of places that qualify as "dives" in that they are a) old, b) really seriously old, and c) possess that je ne sais crud and grizzled old (read: NOT YOUNG) clientele of a "dive bar." But just because a bar is old doesn't automatically make it a dive, so this time around we're bumping hotspots like the Bronx Bar, the Old Miami, and Honest John's by virtue of the fact that they are, in fact, hotspots, and ensuring only Detroit's last hold-outs of neighborhood simplicity made the cut. You're welcome.
Recommended Video
Levels Unlocked Pub Is Washington DC's Newest Pop-Up Where You're Transported Into Your Favorite Video Game
Hamtramck
While it is true that there can be no such thing as a "new" dive bar, sometimes a new bar opens inside the bones of an old dive, and it is the same dive as before, only "new" in the most technical sense. Such is the case with Bumbo's: once Hank's, still a dive.
Seven Mile & Wyoming
You want a dive bar with character? This place is your Nicolas Cage. It's loaded with history, and not just from its nearly 90 years of existence. In recent years the rickety building has been driven into twice -- only once was on purpose -- and, throughout its lifetime, has survived burglary attempts, fires, the boom and subsequent decline of the surrounding neighborhood, and the death of Tom himself. This is the rare kind of spot in which the whole is much greater than the sum of its parts, and it is only still here today for the Herculean efforts of those who cannot allow it to close, and there aren't many places like this left -- not in Detroit, not anywhere.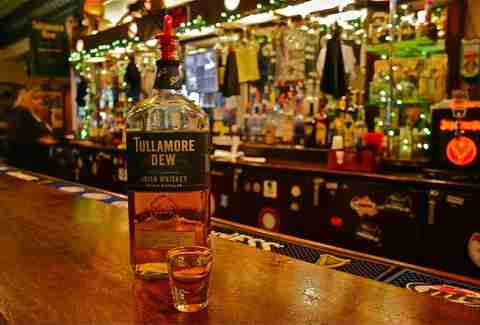 North Corktown
Another ancient dive that was almost lost to us forever due to a fire in 2009, Nancy Whiskey, established in 1902, is a popular watering hole with live music from local bands and blues musicians, Friday fish frys, and Whiskey Wednesdays with $1 PBRs and $2 domestics.
Midtown
Jumbo's, not to be confused with Bumbo's, is one of the last remaining true dives of Midtown, in the sense that all of the others have evolved into super-trendy spots and trendiness is the antithesis of diveyness. Dirt-cheap drinks? Check. Small stage for live music and a jukebox? Check. Regulars of questionable repute? Check. Places like this are a dying breed, especially in this 'hood, so get there while you can.
Southwest Detroit
91-year-old proprietor Manya Soviak passed away in 2014, and anyone who ever knew her (which is everyone who ever went to Abick's) still mourns her passing. But her family is keeping the traditions at Detroit's oldest family-operated bar (109 years old this year!) very much alive. Abick's is the kind of place where all the neighborhood residents convene as the primary social gathering spot, where everyone knows everyone and there is a distinct family vibe throughout, and where you can get an honest-to-God home-cooked meal -- like Manya's chili -- while hanging out with all your (new) friends.
Corktown
You either love LJ's, or you just don't understand LJ's. Nestled amongst the super-hip Corktown joints Slows Bar BQ, Astro Coffee, Sugar House, and Gold Cash Gold, LJ's is one of the sole remnants of a Corktown BPC (Before Phil Cooley). It's claustrophobically narrow (it's maybe not the most welcoming place), occasionally there's karaoke, and mysteriously there is the entire Budweiser-sponsored "Great Kings of Africa" painted mirror series.
Nortown
A lot of the places on this list are old and loaded with history, but none measure up to the Two Way Inn. At various points during its long, long life (going back to 1876), it has been a hotel, a general store, a dance hall, a jail, a brothel, and a speakeasy. It has served liquor continuously since 1876 (see: speakeasy). And now it is a friendly, family-owned establishment for which "dive" is a misnomer; much as with Abick's, its biggest claim to "diveyness" is an old building and cheap booze, when really this is just another classic neighborhood establishment where people -- the community, if you will -- gather. Enjoy some home-cooked food, Michigan beers, and house-infused Bloody Marys on Sundays. It is, as the bar prefers to say, a "finer dive."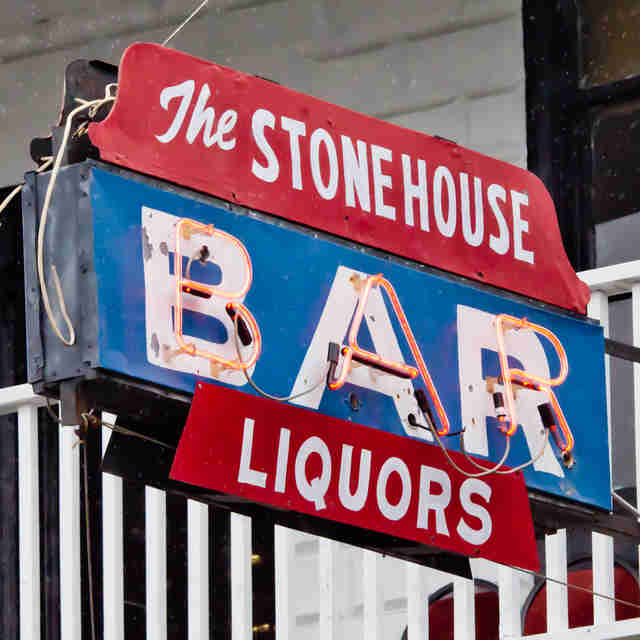 State Fair
The Stonehouse Bar checks a few of the ubiquitous dive bar qualifiers. Firstly, it claims to be the oldest continuously operating bar in Detroit. It's not the only one to do so and it's not like there's anyone left alive from the 1860s to ask, so let's just go with an "extremely old" label. Secondly, it's also a biker bar, and biker bars are automatically dive bars. Fact. Plus, how many other biker bars are there in Detroit? Exactly.
Midtown
Temple Bar's owner has been holding out from the Ilitches' hostile takeover of Hockeytown for its transformation into Hockeyland: The Theme Park and, you know, that can't have been an easy thing to do. The Temple Bar gets a mixed crowd depending on the day -- the monthly "Haute to Death" dance parties are going to look a little different than an average Tuesday afternoon -- and is one of the ever-dwindling number of remaining old-school (read: divey) LGBT bars in Detroit, though it is more "come one, come all" than anything. This place is a moment in time that is not going to last forever, folks, so enjoy it while you can.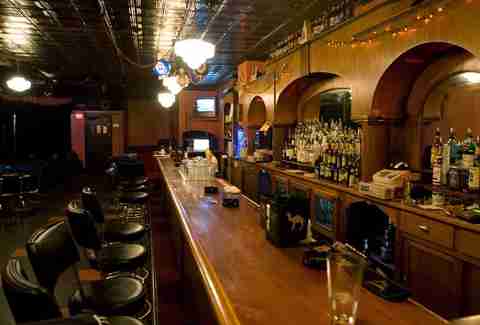 Hamtramck
Look, pretty much this whole list could be Hamtramck bars. And pretty much every Hamtramck bar could be on this list. But we have to be picky and this one has live music and serious punk-rock pedigree, and also "character," which is a word a lot of people use when they mean "could use some elbow grease and a Clorox wipe" but are trying to be nice about it. Grimey in the best way possible!
Southwest Detroit
At some point, new folks that could possibly take the "hipster" label discovered this place, located in the no-man's land of I-75 and Vernor, and turned it into a dive bar dance hall. You can also play pool. For the most part, though, it's a chill place to drink some cheap booze with locals and regulars.
Southwest Detroit
This is the place you go when you want to hang out with local truckers and factory workers, and it is great. There's one pool table and a big, beautiful patio out back; the booze is cheap and the people are friendly. It's essentially an idyllic dive.
Sign up here for our daily Detroit email and be the first to get all the food/drink/fun Motor City has to offer.
Nicole Rupersburg is a freelance writer who misses the days when the Bronx was really a dive. Follow her on IG: @eatsdrinksandleaves.