As hyper-trendy bars and restaurants continue to open with whiplash-inducing speed, it's comforting to know that in some cases, the more things change, the more they stay the same. Detroit is an old city, and because it is an old city, it has some old bars. Some VERY OLD bars. And these very old bars by and large tend to be glorious, cheap, grimy, welcoming dive bars -- where grizzled old-timers keep the bar stools warm by day and wide-eyed 20-somethings breathe new life into them by night. Some have existed for over a century; others are slightly more recent; but all are true dive bars through and through, right down to the original wood paneling and tin ceilings.
And look, Detroit has a wealth of worthy dive bars that deserve their place in the spotlight, but decisions had to be made here because we're not writing the definitive book on Detroit dives (someone should write that though). That means known dives that have turned into perpetually crowded hotspots -- like Midtown's Bronx Bar, the Old Miami, and Honest John's, to name a few -- were not included because they now exist in a weird universe between historic dive and 'Grammable destination, and they get plenty of media love as it is. Shout out also to downtown's Grand Trunk Pub and Checker Bar, also not included below for those same reasons.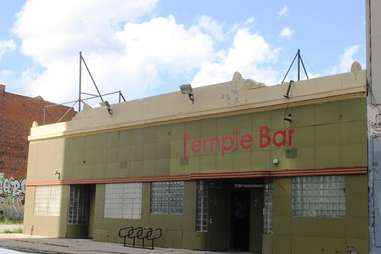 Est. 1988 | Midtown
The lone Hockeytown holdout-cum-hipster hangout
The Temple Bar gets a mixed crowd depending on the day -- the weekend techno parties are going to look a lot different than an average Tuesday afternoon -- and is one of the ever-dwindling number of remaining old-school (read: divey) LGBT bars in Detroit, though it is more "come one, come all" than anything and easily has the most diverse clientele of any bar in the city. This place is a moment in time that is not going to last forever, folks, so enjoy it while you can.
Est. 1940 | Midtown
A dying breed in trend-driven Midtown
Jumbo's is one of the last remaining true dives of Midtown, in the sense that all of the others have evolved into super-trendy spots and trendiness is the antithesis of diveyness. Dirt-cheap drinks? Check. Small stage for live music and a jukebox? Check. Regulars of questionable repute? Check! Kidding, kidding, the folks here are great, but definitely holdovers from a time when Detroit was left for dead. Places like this are a dying breed, especially in this 'hood, so get there while you can.
Est. 1908 | Southwest Detroit
A century-old family business where customers are part of the family
Ninety-one-year-old proprietor Manya Soviak passed away in 2014, and anyone who ever knew her (which is everyone who ever went to Abick's) still mourns her passing. But her family is keeping the traditions at Detroit's oldest family-operated bar (111 years now!) very much alive. Abick's is the kind of place where all the neighborhood residents convene as the primary social gathering spot, where everyone knows everyone and there is a distinct family vibe throughout, and where you can get an honest-to-God home-cooked meal while hanging out with all your (new) friends.
Est. 1970s | Jefferson-Chalmers
A dockside dive bar on the city's Eastside
Jefferson-Chalmers has been getting some long-overdue attention of late, which has put Marshall's Bar on more people's radar than ever, and honestly it's about time. This neighborhood bar, located next to a bait shop and close to My Dad's Bar, another excellent dive bar -- has a backyard with a dock right on Fox Creek, one of the Eastside canals that run to the Detroit River. The bar itself is a classic friendly neighborhood bar, a "dive" only by virtue of being old and un-trendy (the building dates back to Prohibition days at least), but it's a popular spot with locals where the drinks are cheap, the people are friendly, and you can pull up on your boat. There's also some fun ceiling art inside, all done by their customers.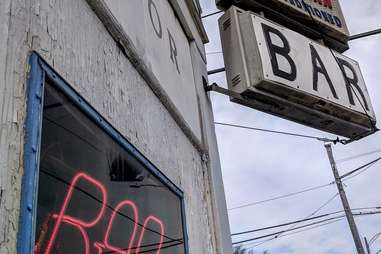 Est. 1876 | Nortown
Fine diving in a former brothel
A lot of the places on this list are old and loaded with history, but none measure up to the Two Way Inn. At various points during its long, long life (going back to 1876), it has been a hotel, a general store, a dance hall, a jail, a brothel, and a speakeasy. It has served liquor continuously since 1876 (see: speakeasy). And now it is a friendly, family-owned establishment for which "dive" is a misnomer; much as with Abick's, its biggest claim to "diveyness" is an old building and cheap booze, when really this is just another classic neighborhood establishment where people -- the community, if you will -- gather. Enjoy some home-cooked food, Michigan craft beers, and house-infused Bloody Marys on Sundays. It is, as the bar prefers to say, a "fine dive." Note: You have to be buzzed in through the front door!
Est. Sometime in the '80s | Corktown
A dive bar holdout on ultra-trendy Michigan Avenue
You either love LJ's, or you just don't understand LJ's. Nestled amongst the super-hip Corktown joints Slows Bar BQ, Astro Coffee, Sugar House, and Gold Cash Gold, LJ's is one of the sole remnants of a pre-Slows Corktown. (A note for Gen Z: Slows was THE cool spot in Detroit 10 years ago and basically kick-started the Detroit of James Beard-recognized Instagram-friendly restaurants and craft cocktail bars that you know now.) It's claustrophobically narrow, there's $2 PBRs and $1 Jell-O shots (maybe), occasionally there's karaoke, and mysteriously there is the entire Budweiser-sponsored "Great Kings of Africa" painted mirror series.
Est. 1904 | Bricktown
Downtown's authentic German beer hall
The word "authentic" here isn't used lightly: Jacoby's was opened over a century ago by an immigrant couple, she from Germany and he from Luxembourg (basically Germany) and has been serving hearty German food and beer ever since (well, except during Prohibition… ). To this day, they still serve that hearty German fare (which you either like or you don't, through no fault of the bar's), as well as more standard bar food, and have an impressive assortment of German import beers in addition to a solid selection of Michigan craft beer. The building itself dates back even further than 1904, and though the business has changed hands a few times now, it still bears the same name and has stayed true to its German biergarten roots.
Est. 1902 | North Corktown
"Detroit's Oldest Party," possibly
An ancient dive that was almost lost to us forever due to a fire in 2009, Nancy Whiskey boasts one of the oldest liquor licenses in Detroit and once operated as a speakeasy. Now it's a popular watering hole with live music from local bands and blues musicians on weekends and seasonal Friday fish fries. Though there are a few old Corktown dives still hanging on in the era of craft-everything, this one is the oldest and the dive-iest. Join them for Taco Tuesdays, because one must evolve with the times, and Whiskey Wednesdays, because some things should never change.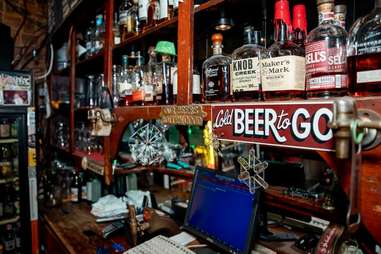 Est. 1912 | The Ass-Edge of Grosse Pointe
It's been a badass beer bar since before you were born
Back before having a cool beer list was a thing, Ye Olde Tap Room had a cool beer list -- all the way back in 1972, as a matter of fact. The original "around the world in 80 beers" beer list has since expanded to nearly 300, with an extensive selection of single-malt Scotch to go along with it. And if that makes it sound like it might be kind of a haughty place (especially with it being on the ass-edge of Grosse Pointe and all), rest assured, it is not. The crowd can certainly get bro-y on weekends, but mostly this is a place for folks who just like to drink and hang out.
Est. 2011 | Downtown
The best bar food with the best story
Tommy's Bar may have been established in 2011 under current owner Tom Burelle, but this building has a loooooooooong (and possibly haunted?) history. The building itself was built in 1840, and it has served as a bar for most of its life -- even during Prohibition, when it had a speakeasy and was (probably) a hangout of the infamous Detroit bootleggers, the Purple Gang. (Pretty much all of the very, VERY old bars in Detroit that once were speakeasies were probably hangouts of the Purple Gang's.) Even more interesting: Tommy's was also once a stop on the Underground Railroad, and it's said to be haunted! Today you can count on Tommy's for excellent from-scratch bar food (their burgers and wings are the stuff of local legend, but don't miss the homemade corned beef either), free Wi-Fi, and free shuttles to all Downtown sports and events.
Est. 2004 | Hamtramck
Punk rock and Pappy
Look, pretty much this whole list could be Hamtramck bars. And pretty much every Hamtramck bar could be on this list. But we have to be picky, and this one has live music and serious punk-rock pedigree, and also "character," which is a word a lot of people use when they mean "could use some elbow grease and a Clorox wipe" but are trying to be nice about it. Grimey in the best way possible! As the Painted Lady, this bar just celebrated its 15th anniversary, but the old Victorian house it's housed in dates back to the early 1900s, and it's served as a punk bar for decades. Also, they're playing a serious whiskey game, leagues beyond that of the average dive bar where Jack and Jim are the top-shelf pours (think more along the lines of Pappy and friends).
Est. ??? (Built in 1918) | Hamtramck
The entry point to Hamtramck dive bar culture
Okay, we have to include ONE more Hamtramck, but no more after that! There are dozens of beloved dive bars in Hamtramck, but Whiskey in the Jar might just be the most beloved of all. This is the non-Hamtramckian's beginner bar; an entry point to Hamtramck's robust dive bar scene, where first-timers are greeted with a shot of Jerzy and there's a steady stream of Hamtramck tourists (especially during "holidays" like Paczki Day and their annual Tracksuit party), but mostly it's all locals and regulars who know each other.
Est. 1966 | Downtown
A downtown dive still thriving in the midst of New Detroit
For more than 50 years now, Greenwich Time Pub has reliably served cheap beer and excellent cheeseburgers, and thanks to all the "new Detroit" activity, they are once again as busy as they've ever been. Located right next door to Checker Bar -- still a dive in its own right, but a little more stylized for industry folk and anti-Quickenstan downtown scenesters -- Greenwich Time Pub is frozen in time, but in the most delightful way. It is one of the last remaining echoes of mid-century downtown Detroit. Original owner Harry Hans, who bought the bar back in '66 (the building itself is much older), still mans the grill along with his son, and his daughter runs the bar. This is a long-time family-operated business where the regulars are also family and newcomers are welcomed with cheap beer (for those not riding the High Life, they also have things like Bell's Two-Hearted), excellent homemade bar food (they're known for their burgers, but might actually serve the best Reuben in the city), and friendly service.
Est. Early '90s | Southwest Detroit
A dive bar-dance hall in no-man's land
For nearly 30 years this place operated in the no-man's land of I-75 and Vernor as a Corktown-meets-Mexicantown dive popular with locals and local musicians. At some point, folks a generation-plus younger discovered this place and turned it into a dive bar-dance hall. You can also play pool. For the most part, though, it's a chill place to drink some cheap booze with locals and regulars.
Est. 1918 | Rivertown
On the corner of Detroit and Canada
Andrews is another Very Old Bar with an interesting history -- as Mickey Lyons previously wrote for Thrillist, it was a Prohibition-era "lunch counter" opened by Greek immigrants that was once popular with the family that owned Canadian Club (the distillery was right across the river and there used to be a ferry people could take back and forth). Andrews is still very much a hockey bar and very much a locals' bar, with cheap drinks and good company, and remains one of only a few watering holes in this particular corner of town. (Although it would be easy enough to do a Rivertown bar crawl hitting Andrews, They Say, Atwater Brewery, and the Rattlesnake, for a real interesting cross-section of the Detroit experience.)
Est. 1973 | Mexicantown
A dive bar with a big outdoor patio in Mexicantown
This is the place you go when you want to hang out with local truckers and factory workers, and it is great. On weekends, the place is bumpin' with a DJ playing a mix of Latin and top 40 music. There's one pool table and a big, beautiful patio out back; the booze is cheap and the people are friendly.
Sign up here for our daily Detroit email and be the first to get all the food/drink/fun the Motor City has to offer.
Nicole Rupersburg is a freelance writer who misses the days when the Bronx was really a dive.