The 13 best fall beers in Michigan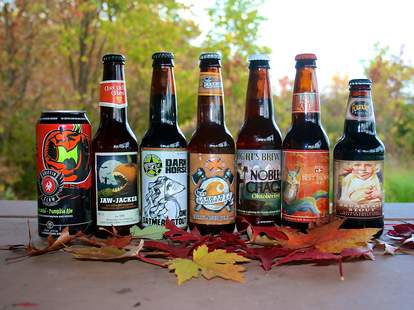 No matter the season, there is no shortage of good beer to drink in The Mitten, but fall is particularly good. Pretty much all you have to do to get a nice pumpkin ale or a smooth autumnal stout is pick a brewery, look for something with a pumpkin or a leaf, and it will be worth drinking. But just in case you need a little help, here are 13 essential Michigan fall beers you should definitely be stocking up on:
Founders Breakfast Stout
8.3%, American Double/Imperial Stout
Grand Rapids
Let's start with breakfast. Technically, you can have any beer to accompany your first meal of the day, but this is really the only fall breakfast beer you need. It's brewed with oats, chocolate, coffee, and all things good and holy, which is probably why it consistently ranks among the top beers in the country. If you get your hands on some Kentucky or Canadian Breakfast Stout, even better.
 
Atwater Brewery Bloktoberfest
6.3%, Amber Lager/Marzen/Oktoberfest, Detroit
In Detroit, you're a long way from Germany, but Bloktoberfest is brewed with 100% German malt to give you a stronger, hoppier taste than a traditional German Oktoberfest brew. Suffice to say, das ist gut.
Bell's Best Brown Ale
5.8%, English Brown Ale
Kalamazoo 
It's a bold move to claim your brown ale the best, but it's Bell's, so they can do that. This guy is a surprisingly light and toasty fall brew with hints of caramel, cocoa, and the lingering notion that you should drink another.
 
Jolly Pumpkin Fuego del Otono
6.1%, Bière de Garde
Dexter
It's hard to pick just one Jolly Pumpkin brew for the season, but with its warm blend of chestnuts and spices, Autumn Fire is a damn fine choice from the Dexter-based brewery. Like other JP brews, it's tart and sour, but it's also a smooth blend of caramel and fall fruits.
New Holland Carhartt Woodsman
4.4%, American Pale Ale
Holland
The barrel-aged pale ale Carhartt Woodsman made its debut this year as a celebration of craftsmanship, hardwork, and collaboration between two fine Michigan-based brands. It's a light ale with a hint of oak, and it might just be what Ron Swanson would drink if he didn't exclusively consume Lagavulin.
 
Short's Noble Chaos
5.75%, Marzen/Oktoberfest
Bellaire
With toasted caramel malt flavors and a subtle Noble hop spice, Noble Chaos is your northern Michigan, easy-drinking Oktoberfest beer. It's sweet like a typical Marzen, but with a characteristic Short's twist, which means your initial reaction is "This is different", followed shortly thereafter by, "This is tasty."
North Peak Hooligan
5.5%, Pumpkin Ale
Traverse City
Hooligan made our list of the best pumpkin beers this year, and while the reasons are many, it's mostly because it's not like the others in all the right ways. Hooligan is a hoppy pumpkin ale with citrus undertones that make for an original member of the relatively predictable fall beer lineup.

Kuhnhenn Brewing Company All Hallows Ale
7.2%, Pumpkin Ale
Warren
You won't find All Hallows Ale until late in October, but the wait is worth it. The fall specialty is up to Kuhnhenn standards, made with Michigan pie pumpkins, vanilla, and other spices. You can get a fresh taste of it at Kuhnhenn HQ come devil's night.
Arbor Brewing Co. Violin Monster
9.3%, American Dark Wheat Ale
Ann Arbor
You've probably seen the Violin Monster prowling the streets of A2 before, and you may have seen ABC's dark wheat ale honoring the beast last year when it was first released. It's a mix of chocolate and spices, somewhere between a heavy stout and a spiced ale.
 
Dark Horse One Oatmeal Stout
7%, Oatmeal Stout
Marshall
One Oatmeal Stout marks the beginning of Dark Horse's five-part Holiday Stout series. It's a full-bodied brew with hints of chocolate, roasted barley, and coffee flavors meant to keep you warm during the grey, rainy days of fall. 
Griffin Claw Screamin' Pumpkin
5.0%, Pumpkin Ale
Birmingham
Among the many pumpkin-laced beer selections available to you in Michigan, it's important to know that Screamin' Pumpkin really is a stand out. Pumpkin, cinnamon, clove, and molasses combine to make a seasonal treat good from Halloween 'til Christmas.
 
Motor City Brewing Works Pumpkin Ale
9.2%, Pumpkin Ale
Detroit
If you're going to make a pumpkin ale in Detroit, you might as well use pumpkins grown in Detroit, right? Right. You should also roast those pumpkins and combine them with a traditional Belgium yeast to create a pumpkin ale called... uh... pumpkin ale, right? Right. So that's what MCBW does.
Arcadia Jaw-Jacker
6.0%, Herbed/Spiced Beer
Battle Creek
Despite what the label might have you believe, Jaw-Jacker contains no pumpkins. Instead, it's an amber-wheat pumpkin-spiced ale featuring cinnamon, allspice, and nutmeg. It's like a faux pumpkin pie in beer form.
Sign up here for our daily Detroit email and be the first to get all the food/drink/fun Motor City has to offer.