Guys: we've made it to another outdoor drinking season! So guess what? We're rounding up some great outdoor drinking spots. For funsies and to mix it up a bit, we're focusing exclusively on rooftop patios with a bird's-eye view, of which Detroit happens to have a couple handfuls. Enjoy these next few months of pleasant Michigan weather while it lasts, and start planning your rooftop happy-hour outings.
Recommended Video
This Is the Future of Playgrounds
Downtown
This is a bar for people who like sports, and for people who like sports bars, and crowds of other people who like sports. This is not a bar for everyone, especially your cranky Midtown neighbor who disparages all those evil sports-loving suburbanites who only come to town for games. This is where those suburbanites hang out when they come into town for said games, and it's right next to Comerica Park for extra convenience. The rooftop bar hangs above the park entrance for those who theoretically want to go to the game, but would rather hang out at a patio bar.
Downtown
Bookies offers three levels of fun and shenanigans, including a spacious rooftop bar. It isn't necessarily the best spot in Detroit for the views, but that's not why you came here. Whether you're here to catch the shuttle to Comerica Park, watch the game on the big screen, or catch a live band on the third floor, Bookies is definitely a party bar.
Downtown
Located seven stories up on the rooftop of the Music Hall Center for the Performing Arts, the 3Fifty Terrace's 360-degree view of Downtown overlooks Detroit landmarks like Comerica Park, the Detroit Athletic Club, and the Broderick Tower, with the stoplight-red neon Music Hall sign providing the backlight. It is a nightclub though, so, you know... nightclub stuff is goin' on.
Greektown
Also a party bar, the Old Shillelagh, possibly the OG of Detroit's still-standing party bars, also has a rooftop bar! It's a delightful trainwreck on St. Patrick's Day, and on any given Saturday, and Friday, and all other days when there's a home game, and most days that end in "y"...
Downtown
The Music Hall isn't the only arts & cultural center in Downtown Detroit taking advantage of its prime rooftop real estate. Not to be outdone, the Detroit Opera House has the Coors Light Sky Deck, with stunning views of the Renaissance Center, One Detroit Center, and the Shepard Fairey mural on One Campus Martius. Much more chill than 3Fifty, Sky Deck is only open to the public on select days (including the Detroit fireworks and many Tigers home games), so check the schedule before you make plans to go there.
Foxtown
Hockeytown Café is a lot like Cheli's Chili in that it's not exactly a hot spot with the hip Detroit crowd. But it is popular with the sports crowds, and with a name like "Hockeytown Café," well... know your audience. There is much to recommend it as far as sports bars go -- this one is huge, clean, and not frequently overcrowded, and, per the theme of this list, also has a rooftop patio. This one overlooks Woodward Ave and the Comerica parking lot.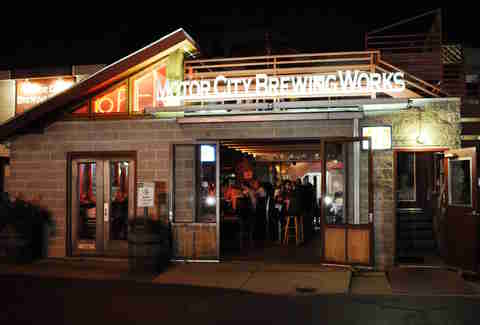 Midtown
It can be hard to find a spot on the rooftop patio at Motor City Brewing Works during the warm months, but it's well worth it when you do. The vibe is super-laid-back, and it's a great place for a few beers and a tasty pizza. You can maybe even make it a first or last stop on a Canfield walking beer tour, which is now a thing that you can totally do.
Greektown
There is no shortage of places to party in Greektown, but Level Two certainly stakes its claim with its two-level indoor and outdoor bars, which include a spacious, covered rooftop patio bar overlooking the action on Monroe St.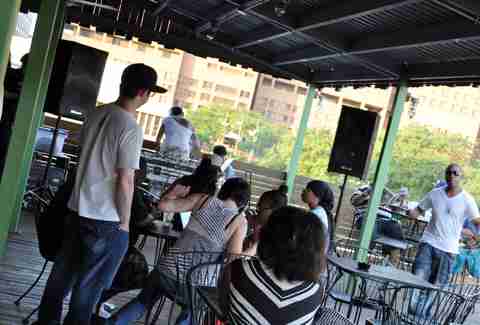 Midtown
Above the Garden Bowl and inside the Majestic Complex, the Alley Deck is open during events at Populux (and all day Saturdays and Sundays, plus limited hours otherwise, though if you try to go when there's a show at Populux, you're going to have to pay cover). It's perfect for stepping outside and enjoying a drink at the nice big bar away from the crowds.
Greektown
Again, there's no shortage of places to party in Greektown, and the Exodus Lounge, located above the Golden Fleece Restaurant, is one of the city's hottest nightclubs. Hit up this indoor/outdoor rooftop club for happy hour every day of the week, #TBT every Thursday night, and, of course, festival weekend after parties.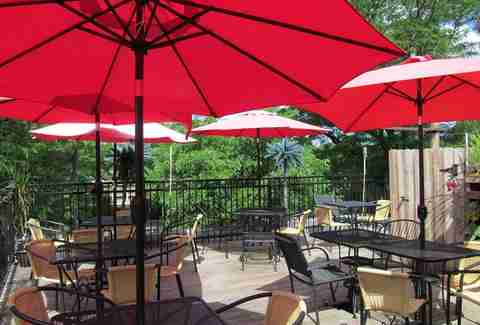 Avenue of Fashion
Detroit's next West Village (which is Detroit's next Corktown) is the Avenue of Fashion, and 1917 American Bistro has been holding it down in this redeveloping neighborhood since 2009, serving fine American cuisine with a European flair. The rooftop patio is a true "urban oasis," making this place a Detroit destination even if you have to drive (or bike?) all the way from *gasp* Corktown.
Midtown
What's better than a beer bar with 130 taps? A beer bar with 130 taps AND a rooftop beer garden.
Sign up here for our daily Detroit email and be the first to get all the food/drink/fun the Motor City has to offer.