Nothing stays a secret for very long in Detroit -- honestly, we blame it on the Bird scooters -- but within its more than 138 square miles of space, there are plenty of hidden treasures to uncover. While the days of the true speakeasy are long gone, and suburban millenials have descended upon the city in droves, you can always find an uncrowded, off-the-beaten path gem in Detroit where you can wet your whistle. Whether you're after a small-batch bourbon haven or an offbeat tiki paradise, you should probably head to one of these hidden-but-not-quite-secret bars.
Recommended Video
The Best (and the Rest): Best Easy Ramen Hacks and Winter Beers
Downtown
This place isn't exactly as hidden as it was when it first opened in 2015, in the basement of the currently defunct Tokyo Club, but even its new space with a patio can't hinder the laid-back speakeasy vibe. Don't let the flashy Q-Line distract you from finding it; once you do, expect crafty cocktails and plenty of dudes with well-groomed facial hair from the hip new barbershop above.
How to get there: It's easy nowadays, but that's OK; it's on the same strip as a chic cigar bar, an Irish pub, and one of Detroit's beloved dive bars.
 
The Leland Hotel Bar
Downtown
The Leland Hotel has one of the most schizophrenic histories in town. What was once a four-star hotel frequented by the Purple Gang (and later by teamster Jimmy Hoffa) now features residences with the amenities of a hotel. We're not talking about fancypants, New York-style loft apartments, though. Oh no. This is the real deal, down-on-your-luck (or at least living like you are) room rental on a monthly basis kind of place. You can still have a drink -- just keep your mouth shut, or sleep with the fishes.
How to get there: Pretend it's still a hotel and enter as though you'd like to rent a room. You can't miss the bar… it's the reception desk.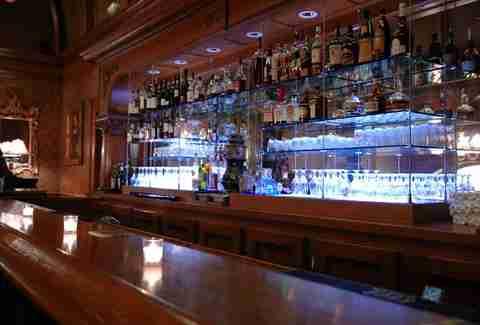 Midtown
The owners of the storied Whitney restaurant wised up and figured out a way to monopolize on the fact that the mansion it resides in is indeed as haunted as… err, something really haunted. Any patron who has ever ascended the stairs to use the bathroom has come back to their table and announced this fact. Brilliantly, the haunted upstairs is now one of the most atmospheric watering holes in town.  
How to get there: Don your favorite protective amulet and brave the staircase at the Whitney until you get to the third floor.
Southwest
Everyone loves a neighborhood dive bar, but even better is a neighborhood dive bar that doesn't make its presence known. Abick's is such a place; there's barely even a sign, and it's tucked away in an alley. Expect friendly bartenders, cheap cocktails, and cold beers -- and expect to possibly get lost trying to find it.
How to get there: You'll never find it if you aren't looking for it, but here's a hint if you are: It's one block west of Livernois, south of Michigan Avenue. If you've hit the pupusería, you've gone to far.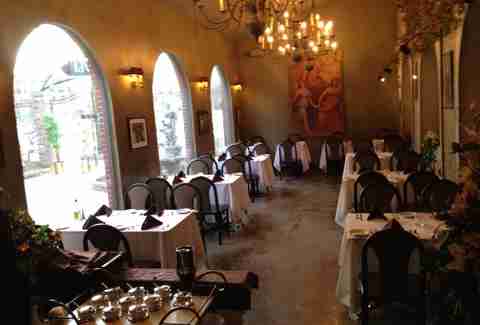 Palmer Park
Long synonymous with the problems Detroit's been facing as a whole, Palmer Park has undergone a revival over the past few years -- which makes LDV a welcome bit of glamour in the neighborhood. In addition to a menu full of Italian specialties (like lasagna bechamel) and tasty cocktails, La Dolce Vita also has an overlooked patio with a bar where you can sit among the greenery and sip Chianti.
How to get there: It's easy to miss if you don't see the neon "ldv" sign that illuminates the front of the building. Park on the side streets or use the valet service.
 
Poletown East
Michigan's oldest blues bar is nowhere near Downtown -- nor is it really near anything, for that matter. Head east a bit, and you'll find this dark little bar with great music and excellent soul food. The vibe is always friendly; it's basically a second home for the musicians who make their regular rounds here, so you're bound to overhear some. If you want to feel true local hospitality, you might have to look a bit further than you would in other places.
How to get there: It blends in with what remains of the other buildings on the block, but look out for the sign. It's the only business of its sort for a country mile.
Warehouse District
Several picnic tables line the taproom floor, next to a small bar serving Atwater's freshest. At first glance, it might appear as a lunchroom/break spot for the brewmaster and his minions, but upon further inspection, it's one of the only places in town to drink surrounded by huge vats of cerveza. Try not to feel guilty sitting on your duff while the Atwater team busts out amazing brews as you look on. Hell, they may even join you when they're done working.
How to get there: Walk the length of the Dequindre Cut, make a left at Atwater Street, arrive at Joseph Campau. Have a beer at Andrew's, then continue on Joseph Campau two blocks northwest.
Southwest
This might not be most obvious name for a tiki bar, unless you consider pirate tiki bars, under which category we are pretty sure Mutiny fits quite nicely. With drink names like "Walk the Plank" and "Poseidon's Fury" you can pretty much bet you'll leave here three sails to the wind. Bonus points: You can bring your own pizza in from the place next door.
How to get there: Just two blocks from Clark Park, it's between one of the best barber shops and one of the best taquerías in town.
Downtown
A place for heavy hitters and high rollers, "La Casa Cigar Bar" (the name of the lower level) sounds exclusive enough as it is. Alas, it gets even more nitpicky in the upper level where there's a private club with cocktails and couches. Here you can do salsa dancing, or leave it to the experts to show you how it's done while you enjoy a "Cuba Libre" (aka a rum and coke).
How to get there: First off, you'll need to dress the part; no flip-flops, cargo shorts, or Kid Rock Lions jerseys, kids. You simply will not find the upper level if you're dressed like it's 1999. Once you're in, just follow the intoxicating smell of fine tobacco burning and the notes of jazz.
Midtown
Literally hidden within the city's most beloved museum, Kresge Court is a good spot to grab wine or beer if you want to feel smarter than you are. Here you'll see artists sketching their surroundings, Midtown workers on break with their coworkers, or their laptops, and people who were dragged to the museum by an art-loving family member, escaping all that "Renaissance shiz" for a chance to sip a cold artisanal beer or a glass of wine. Natural light from the glass ceiling above gives this place a summery vibe all year round.
How to get there: Wander through centuries of artwork until you find the giant, three-story court -- close to the cafeteria -- across from a row of Spanish wooden confessionals from the medieval era.
Downtown
One of the most beautiful and prime-located buildings in Detroit is also a private social club with everything from ballrooms to pools -- and of course, multiple bars that your sorry tush is very unlikely to get into. Sadly, it's all about who you know. Fred Durst allegedly once worked out here while Limp Bizkit was in town, so it can't be that exclusive, right? RIGHT??
How to get there: You have to be invited by a member. The process to become a member itself is one that infamous rabble-rousing attorney Geoffrey Fieger once referred to as "labyrinthine" after he was denied entrance. So, good luck with that one.
Midtown
For another art and booze experience, this newish bar within MOCAD is one of the quietest places to belly up in the city -- mostly because a lot of people just don't put visual art and booze together. That's unfortunate for them, but lucky for you: grab a cocktail (like the cachaça-rocking Conquest of Cosmos) and revel in your big-braininess.
How to get there: Go through the gallery entrance and turn right.
East Side
This darkly tropical joint is more isolated than "secret." Lost River opened its doors in June 2018 after much anticipation, harkening back to the era of Detroit's many long lost tiki bars (which were a thing back in the '50s). It's got it all: floral paintings, plastic flamingos and leis, and fruity drinks served in thematic vessels specially commissioned from Hamtramck's Cermack studio.
How to get there: The all-black facade might not draw too much attention when the neon sign isn't on, so just remember this: When you're leaving the fried chicken place, turn left.
Milwaukee Junction
This place isn't on most people's radar, mostly because of its location in a formerly industrial zone; there's not a whole around here, besides a few hip lofts and some dramatic old facades. Kiesling's renovation is noteworthy and elegant, though, with an evolving, seasonal cocktail menu featuring goods like the River Styx (cantaloupe gin, thyme, infused Cocchi Americano, Dry Curacao, Absinthe, Lemon, and Saline) or the Alaska (Mezcal, Damiana, bell pepper brine, and bitters).
How to get there: It's pretty straightforward, once you actually get yourself into the neighborhood: follow the repurposed brick. No wait, not that one. Not that one either. The other one.
Downtown
Whoever said that focus drives success was probably thinking of The Whisky Parlor: a brown liquor-based boozer with a name that leaves little room for misinterpretation. Small batch and rare Bourbons are the speciality here -- betcha didn't know Woodford Reserve made a Cherrywood Smoked Barley, did ya? Here you've also got your opportunity to class it up with a high-end Bantons or with a wide variety of scotch, rye, or even a Japanese whisky, with a decent snack menu to help keep your head on straight. There are other spirits too, including all the usual suspects, but let's face it: You're here for the whiskey.
How to get there: Take the narrow flight of stairs from Foran's Grand Trunk.
New Center
Below the Belt Alley's art space, you've had to live under a rock (or in Mexico or something) to not have heard of this bar/venue before. It's snazzy and hosts a variety of musicians, but that doesn't mean you'll see all of suburban Detroit there. This funky place can still safely be considered a secret -- but maybe not for long, if they keep pulling in hot national acts.
How to get there: You'll know which way to turn from the reflection of its black light posters. The walls are covered in 'em.
Sign up here for our daily Detroit email and be the first to get all the food/drink/fun the Motor City has to offer.