Show me the way to the next whiskey bar... oh, don't ask why. Oh, you know why: whiskey, of course. And did you know that Metro Detroit houses a whole bunch of incredible, legitimately pioneering whiskey bars? Well, it does. Here are 16 (that's a lot!) of the best places around town to get the smoky brown spirit, whether you're having it on the rocks, inside a transcendental cocktail made by bartending magicians, or neat, poured from a deep-cut, vintage bottle. Now you know:
St. Clair Shores
Thrillist once named this one of the 21 best whiskey bars in America, and with good reason: this wholly surprising (St. Clair Shores people, c'mon) whiskey bar, hidden in a corner of Detroit's sprawling suburbia that is not known for one single noteworthy bar or restaurant probably ever, boasts a whiskey list of more than 650 bottles. By sole virtue of the fact that Butter Run literally carries hundreds more bottles than most other places, you're pretty much guaranteed to have never seen many of these labels anywhere else before, ever. It also carry its own blend of Angel's Envy, and has now been open long enough for a proper vertical tasting of this custom blend (years 2013-2015). Whiskey lovers, you are home.
 
Corktown
Nancy Whiskey is a dive-y Irish bar that's been around since 1902. There's live music from Detroit bands on weekends, but, most importantly, there are Whiskey Wednesdays, when shots of Jameson are only $3, PBRs are only $1, and the jukebox is free. You don't always need to have ALL the whiskey to be a good whiskey bar; just the whiskey that matters.
Eastern Market
It might be a no-brainer -- nay, it IS a no-brainer -- that one of the best places in town to get yourself some whiskey is a place that actually makes it. Detroit City Distillery is one such place. It prides itself on utilizing locally grown ingredients in its spirits, but nowhere is that more evident than in the Homegrown Rye, made with rye grown in Eaton County, MI, on the family farm of one of the owners. How's that for farm-to-bottle? Also, the tasting room's cocktails are on-point -- like the Emperor's Copper, which mixes the aforementioned rye with sweet pistachio orgeat coriander syrup and bitters. And, to our knowledge, it's the only area bar that offers an "omakase" cocktail option.
 
East Detroit
Ye Olde Tap Room over at the edge of Grosse Pointe is olde indeed: built for the specific purpose of operating as a blind pig in anticipation of Prohibition, the bar opened in 1916 and legally operated for a year before illegally operating for the duration of Prohibition. After the repeal, it was issued license #147 for beer and wine sales, and has held that license ever since. It's been doing the 300-bottled-beers-from-around-the-world list thing since decades before it was cool, and it also has an excellent selection of single malt and blended Scotch from labels like Ardbeg, Dalmore, Cragganmore, Caol Ila, and Johnnie Walker. This is ultimately a shot-and-a-beer place, but damn if they aren't some fine shots and beers.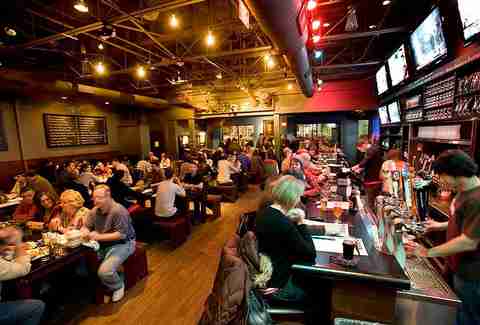 Ferndale
A few years back, beer bars with dozens of taps dedicated exclusively to craft beers, plus another 100+ bottles, were wholly new in Detroit. Now, multi-taps with lengthy bottle lists are the norm, because, oh, what a glorious time to be alive it is. One-Eyed Betty's was one of the earliest multi-tap beer bars in Metro Detroit, but if there's one thing that gives its beer selection a run for its money, it's the whiskey selection. The list runs deep, and while you can get crowd-pleasing items like Fireball, you can also gets lots and lots of bourbon, rye, blended & single malt Scotch (especially single malt Scotch), Irish & Canadian whiskeys from boutique labels, and some of the top brands in the world. Who even needs beer?
 
East Detroit
There are a lot of great bars over in this corner of the Detroit/Grosse Pointe(s) border zone -- Ye Olde Tap Room (see above); My Dad's Place, which looks exactly as advertised; Rustic Cabins Bar, where Kerouac made his literal mark; Atwater in the Park, a German-style beer hall and garden; and Red Crown, where you can get a proper cocktail. Just don't forget about Cabbage Patch Saloon, which has been around as a sports bar for decades, but a little over a year ago revamped as more of a whiskey & cocktail bar with fancy bar snacks. If you like craft cocktails, this should be your go-to spot on this side of town (even more than Red Crown). If you like whiskey, ditto; and you can order them by the flight, based on region and style: American, Irish, Scotch, bourbon, and the "World Tour Flight" that includes the celebrated Japanese Yamazaki whisky.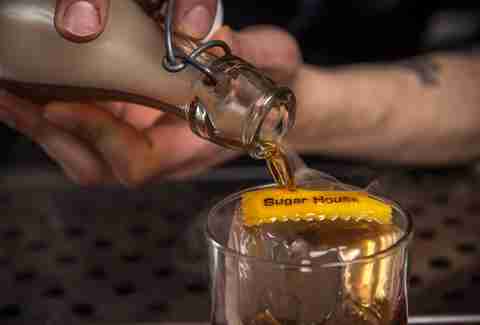 Corktown
It's the Corktown cocktail bar that's primarily responsible for the national attention to Detroit's cocktail scene, so naturally, Sugar House has a superior selection of brown spirits used as the basis for many of the seasonal and classic cocktails. It recently staged a March Madness Bourbon Bracket, which pitted Old Weller Antique 107 against Maker's Mark Cask Strength; Buffalo Trace against Elijah Craig; and Angel's Envy against 1792 Port Finish. You know it's a good whiskey bar when drinking is treated like the competitive sport that it is.
 
Ferndale
Valentine might be more known for its vodka (recently ranked No. 1 in the world), but did you know it also makes a great whiskey, too? The Woodward Ltd. Bourbon Whiskey is aged for four years in maple-infused American oak casks. Stop by its sexy tasting room -- iconic pinup lady mural included -- in Ferndale for a cocktail made with Woodward Ltd., and grab a bottle to go while you're there.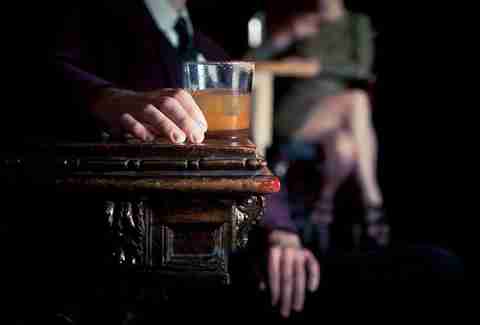 Ferndale
The Oakland has been getting some love lately for its collection of vintage bottles of booze -- so for you age queens, there is simply nowhere else in Metro Detroit (and by greater extension, the state of Michigan) with a selection like this. Do you like your Old Weller Antique and your Old Fitzgerald extra old? 'Cuz it's got 'em. It also has its own hand-selected, exclusively bottled, single barrel Four Roses OBSO bourbon. Oh, you want highly allocated spirits like Pappy? Yep, that's here, too. This is a whiskey bar for the hardcore whiskey nerd.  
 
Downtown
Upstairs from the Grand Trunk Pub, the Whisky Parlor is a sophisticated watering hole with excellent cocktails and a whiskey list that earns the place its name. There are more than 80 bottles of bourbon, Scotch, rye, and Irish & Canadian whiskey that are ready for sampling through pre-selected or build-your-own flights. The Whisky Parlor also has live music (the sophisticated kind!) on weekends, parlor games on Sundays, cocktail classes on Thursdays, and special guest local startenders on Wednesdays.
Royal Oak
Motor City Gas makes whiskey, and nothing but whiskey (at least for now). Its tiny tasting room in a boring strip mall on the outskirts of downtown Royal Oak pumps out kick-ass whiskeys, which you can order in cocktails or by the taste or pour. The best? The Oak Town Brown, a soft and smooth wheat whiskey made from a blend of four different Midwestern wheats that recently took a silver medal from American Craft Spirits.
 
Corktown
"Are you just going to list every distillery in Metro Detroit?" Not all of them! But, yeah, most of them. And now here is Two James Spirits, which makes a Catcher's Rye Whiskey, Grass Widow Bourbon, and an "East meets West" Johnny Smoking Gun Whiskey, and serves them all in creative cocktails inside its luxe wood Corktown tasting room.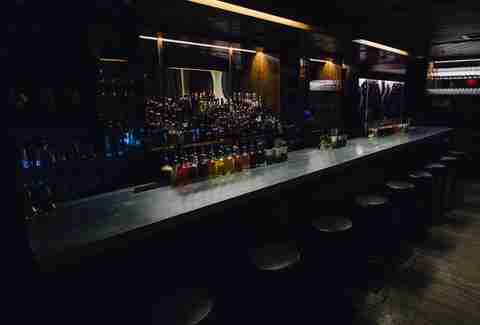 Downtown
When it opened just this last December, this bar/restaurant landed hard. These guys are performing cocktail alchemy. It might not be a "whiskey bar" in the way that some of the other joints are "whiskey bars," but it is head, shoulders, knees, and toes above most others in its cocktail game. There's 50 of 'em on the menu, which includes a hell of a lot of whiskey.
 
Ferndale
This is the quintessential old man bar, where you go to slam Irish whiskey shots with beer backs and grunt about things. "Irish whiskey" includes the obvious -- Jameson -- but also the less-than-obvious, like Red Breast, Michael Collins, Bushmills, and Tullamore Dew. For an old man bar, the Irish whiskey selection does not disappoint.
Downtown  
It's not because the basement of Cornerstone Barrel House is a dance venue named Whiskey Disco that we include it here; nor is it because it has a few empty barrels of Woodford Reserve and Jack Daniel's hanging around the bar. Nope, this place is included for its deep selection of brands like Bulleit, Four Roses, Journeyman Distillery, and KOVAL; other favorites like Basil Hayden's, Eagle Rare, Old Forester, and Old Grand-Dad; and some exceptionals like Elmer T. Lee and Van Winkle Special Reserve. This joint is worth its weight in whiskey.
 
Eastern Market
Looking for a sports bar that isn't douchey? Maybe one that carries over 100 different brands of whiskey, including plenty of local labels like Two James, Valentine, and Traverse City Distillery? One that's as much a local neighborhood bar as it is a sports bar and a whiskey bar? Thomas Magee's is the place for you, then. If you're not into straight whiskey, order the house Irish coffee made with Bushmills Irish whiskey, a special savory blend of coffee from Eastern Market's own Germack Coffee Roasting, and topped with fresh heavy cream from Southeast Michigan's Calder Dairy.
Sign up here for our daily Detroit email and be the first to get all the food/drink/fun Motor City has to offer.
Nicole Rupersburg remembers a time when Jameson was "the good stuff," and rues the fact that, with increased age, education, and income comes an increasingly expensive drinking habit. Check out her explorations of the new "good stuff" on IG @eatsdrinksandleaves.