An award-winning brewer and an established restaurateur walk into a bar...
Manned by both a brewmaster with a bunch of internationally acclaimed beers and a 2012 Michigan Chef of the Year award-winner, Griffin Claw Brewing Company is a state-of-the-art brewery-cum-restaurant-cum-taproom-cum-biergarten that the Slytherin Brewing Company is probably not gonna be too jazzed about.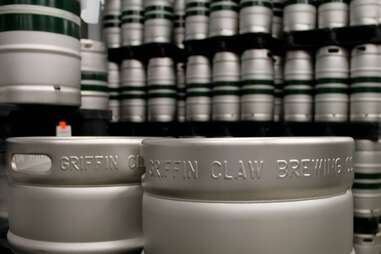 The Birmingham-located brewery itself takes up most of the 12,000sqft footprint and features important-sounding stuff like a completely custom brew system, a one-of-a-kind mash filter (which they, like Visanthe Shiancoe, think is the largest in the country), and enough equipment that GCBC'll be one of the top five largest microbrewers in Michigan by volume.
Four of the 12 beers in the taproom will also land in Detroit liquor stores and bars, along with cans of the award-winning Norm's Raggedy Ass IPA, Grand Trunk Pilsner, Grind Line Pale Ale, and El Rojo, which's either what Spanish Andy Dufresne calls Morgan Freeman or an amber ale.
The beers will rotate, and'll include doubly boozy suds like a Bourbon Imperial Stout and a Coffee Bourbon Imperial Stout (both 11.5% ABV or higher), a Rye Barrel-Aged Wheatwine (13%!), and a Tripel Lemon Shandy.
You can get 'em on paddles...
... or alongside apps like a Pound of Fries (!) or this baked beans skillet w/ brown sugar, bourbon baked beans, and a pepppered smoky bacon crust.
Oh, and in case you're still hungry after eating this double cheeseburger with beer in their custom glassware, they've also got CHOCOLATE-COVERED BACON and a challah grilled cheese with bacon, plus'll take you over to their other more sit-down-y spot (Big Rock Chophouse) via a restaurant-provided golf cart, which's, duh, a lot more stylish than heading there in a Flying Ford Anglia.