The 5 Most Detroit Cocktails Ever
The search for the perfect cocktail may often be thwarted by the temptation to simply down a happy hour well drink or shotgun a tall boy. In order to make sure we didn't get sidetracked, we enlisted the help of Melissa Smith, a local mixologist who has concocted libations at Toast, Cork, and the unfortunately defunct Club Bart. Using almost exclusively Detroit and Michigan booze, mixers, and garnishes, we set off to create the Most Detroit Cocktail Of All Time. We tried a lot of things. These five made the cut:
Joe Louis' Split Lip Bloody Beer
Ingredients:
Atwater Lager
Local Bloody Mary mix: use McClure's or Vivio's (for a milder flavor)
Garnishes:
Williams hickory-smoked Swiss cheese
Better Made pretzels
Safie's pickled asparagus
New York Bagel Company everything bagel with cream cheese
Taste: Salty as a Detroit Winter street; packs a punch like Joe Louis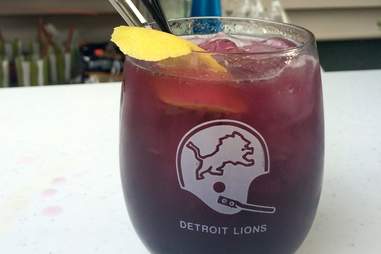 Megan Frye
The Wayne Fontes Cooler
Ingredients: 
Blueberry-infused Valentine vodka
Homemade blueberry simple syrup
Raspberry blueberry (aka Honolulu Blue) Faygo
Iced green tea
Garnishes:
Lemon
Taste: Sweet and refreshing, like a Lions victory
Megan Frye
Red Wing Widow
Ingredients: 
Melissa's homemade cherry/walnut/vanilla bean-infused water
Two James Distillery's Grass Widow bourbon
Splash of Vernors
Garnishes:
Michigan cherries
Taste: Perfect for sippin' at sunset on the Detroit River.
Megan Frye
Ginny Hoffa
Ingredients: 
Valentine Liberator gin
Fresh mint
Fresh lime
Homemade raspberry simple syrup
St. Germain
Taste: Addictive. Warning: have too many and you may never be seen again.
Megan Frye
Sanders' Sundae Surprise
Ingredients:
Traverse City cherry whiskey
What Would Jenni Brew Jen Blend coffee, iced
Black walnut bitters
Sanders hot fudge, melted
Whipped cream
Garnishes:
Cinnamon suger rim
Michigan cherry
Taste: Like a latte. The booze is the cherry on top.