If you're tired of billboards offering you nothing but opening dates for bad movies that have already opened, you're about to have a great month: on October 24th at 2pm, The Best Damn Brewing Co. is unveiling a billboard that will actually serve you beer.
No, really. The new Anheuser-Busch venture -- whose stated mission is to "bring you the best damn thing you've had all day" -- has just erected The Best Damn Billboard at 2000 Michigan Avenue in Corktown. The best damn aspect: the billboard comes complete with a shipping container they've converted into a bar.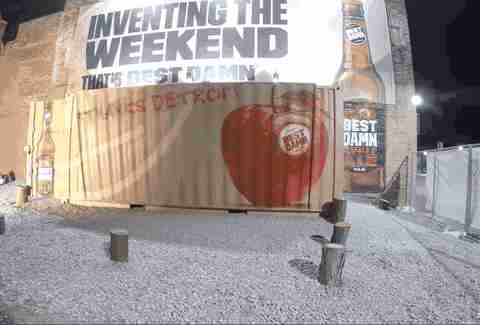 On tap will be the brewery's first offering, BEST DAMN Apple Ale, and there'll be live music as well. For the interior, the brewery worked with Woodward Throwbacks, who salvage material from illegal dumping sites for their design projects. They also brought in locals, including Tao of Restoration, Butterbean Antiques, and Sit On It Detroit, who aren't insulting the city with that name (they install much-needed decorative benches along Detroit's public transpo lines).
The pop-up brew joint will be operating the next four weekends, with each weekend benefiting a different local charity, starting with Home Fur-ever (feel free to bring your dog/best damn friend), then moving on to Detroit Empowerment Plan, Eastern Market, and Riverfront Conservatory. Do yourself a good deed, and go get yourself some beer. From a billboard. Because "Your Ad Here!" isn't best damn, but "Your Beer Here!" sure is.