On the off chance you haven't gone outside or watched the news or spoken to anyone lately, it's really, really cold in the D right now. There are a few ways to handle this. You could stay inside and eat soup and feel sorry for yourself, or you could venture out into the world and bravely secure yourself one of these insides-warming Winter cocktails! Enough of these and you won't even NEED a jacket. Or pants. (Editor's note: please do not dispose of your jacket or pants).
Tom and Jerry, The Rattlesnake Club
Rivertown
Bartending legend Farouk Elhaje says this was his favorite during the holidays, and everyone is still asking for it. He begins each shift beating egg whites and yokes separately. As he crafts the cocktail he adds powdered sugar and blends the two together with vanilla, nutmeg, whatever brandy he can find, rum, and hot water. It'll make you happier inside then watching a cartoon mouse violently outwitting its feline nemesis.

Velvet Snow, Bailout Productions
Various events
The roaming cocktail wizards concocted this number especially for Thrillist (and you!) Placed in a tea kettle atop a small flame, the pink Himalayan sea salt gives off a pink glow, while the combo of Old Forester Bourbon, organic vanilla corn syrup, blood orange juice, and Oolong tea puts the color back in your cheeks. Keep tabs on their Facebook page and request it at their next pop-up.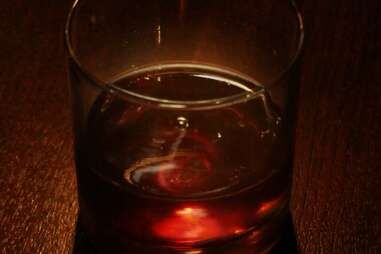 Hot Scotch Fling, Sugar House
Corktown
No longer just a descriptor for that weird dream about Ewan McGregor that you swore you'd never tell anyone about, this new-to-the-menu seasonal pairing of great scotches brings together White Horse and Laphroaig kissed with a little Punt e Mes vermouth and warmed up with house-made cinnamon syrup.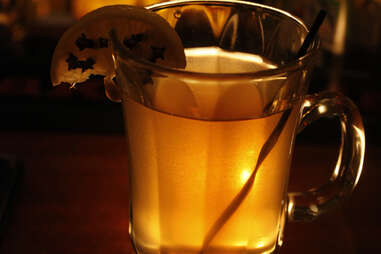 Hot Toddy, Ciff Bells
Downtown
This off-menu offering is well-worth requesting: a textbook execution of the classic Winter warmer (and cold remedy!) that gives off warm notes of vanilla and clove while also giving you the satisfaction of knowing you're drinking Michigan-made New Holland Zeppelin Bend Whiskey. Take that Scotland!

William Tell, Great Lakes
Midtown
This appropriately apple-fied take on a toddy spices up bourbon and hot cider with orange peel, a cinnamon stick, and some house-made five-spice simple syrup. Please resist any urges for any shooting-apples-off-anyone's-head antics following consumption.