Appropriately relocating from downtown to Cork(!)town, Motor City Wine is an adult grape juice retreat (just across the street from Sugar House and Slows) that's half reasonable retail wine shop and half wine bar. Helping you dominate both the next time you're on a date: this Thrillist-approved guide to wine list-pwning.
Recommended Video
Stay Classy This Winter With a Spiced Pear Tom Collins
1. If you're gonna order like a boss, you need to do it from out here
Don't jump right into the Asiago cheeses -- ARE YOU TRYING TO MARRY THIS GIRL? Take her out to the patio instead, and tell your server you won't be needing a wine list today. Oh, and whatever you do, don't bring up your crushing student debt. You already did? Damn.
2. Order two glasses of Baci Dolci
This is your best first date wine. You'll want to impress her, so remember that this sweet and slightly sparkling red is Italian for "sweet kiss". Just don't take the translation too literally. You already did? Damn.
3. Alright, two more glasses, this time of the Broadbent Vinho Verde
It's a light white from Portugal, and the owners of Motor City Wine swear by it. It's their official pound on the patio selection, so it's perfect for powering through the middle of a date. It's light enough and low enough in alcohol content that you can drink it all night. Just make sure to leave some of the bottle for her. You already drank all of it? Dude. Damn.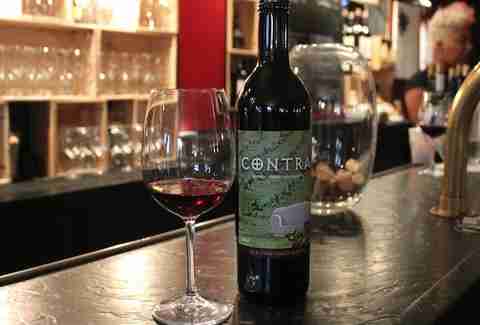 4. And finally, grab a bottle of Contra by Bonny Doom Vineyards
If you're still going strong when it comes time to talk about dinner, this dry red blend (perfect with steak!) is the optimal choice. It's still wine (so she'll like it), but it's just about as man-friendly as wine can get. Just don't try to finish the whole bottle before desser--daaaamn, son. Again?
Previous Venue
Next Venue
Venue Description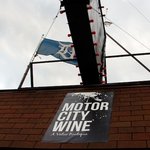 1. Motor City Wine
1949 Michigan Ave, Detroit, MI 48216
Half wine bar, half wine store stocked with worldly bottles, Motor City Wine has pairings of the best things that go with the grape juice, such as cheese plates, charcuterie, and guest pop-ups. This Corktown spot makes all of their bottles available for consumption on premises for just an $8 corkage fee. Enjoy a glass while listening to live bands playing everything from jazz to motown.