When I heard about the Bad Luck Bar and its expensive ass cocktails, I rolled my eyes with the rest of y'all. Immediately, I started calculating things I could do with $80 that don't involve buying a single infamous cocktail: fill up the gas tank on my Prius five times; adopt a puppy that I can smother with love and treats and cuddles; get a one-way flight to Miami and get away from this God-forsaken single-digit arctic winter; buy 16 bottles of André and be set forever -- or at least into next week.
Still, I'm a sucker for fancy and extravagant things and wanted to find out for myself what this $80 drink that everyone's been pontificating on was all about. So I dressed in sequins and fur on a snowy Friday evening and was dropped off in front of an unmarked door, aside from the address and an unfinished snake drawn in black, in an alleyway by a very concerned suburban Lyft driver. I left the starkness of the alleyway and entered into a lush, narrow room with high ceilings, 30 seats, and an entire wall of high-end, carefully curated liquor by mastermind Dave Kwiatkowski, who's also responsible in part for the cocktail programs at Sugar House and Wright & Co.
Recommended Video
Spinach and Artichoke Dip Pizza, the Ultimate Party Appetizer
My intention was to sit at the bar and watch the show, but all four bar seats were taken. So instead, I joined a friend who incidentally happened to be there with two of his buddies. They've been here four (!) times since Bad Luck's opening in early December, and proceeded to give me suggestions on drinks they thought I might enjoy -- unaware that my goal was to taste the most expensive thing I could order in any bar in Detroit.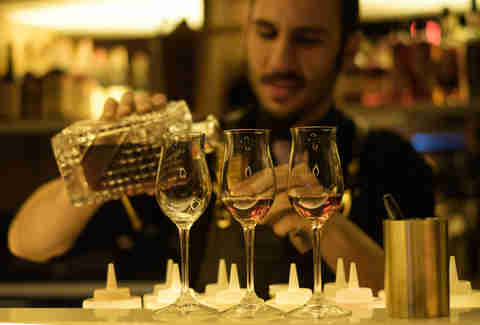 And so entered The Admiral: the much-hyped, oft-discussed $80 "cocktail." First off, I find the need to clarify: this is not a cocktail. This is rum served neat or on the rocks (though you could order it in a traditional daiquiri, but then where's the fun in that?). It comes from the United Kingdom's last rationing to the British Royal Navy in 1970. This is a blend of rums, aged between 5 and 14 years, from Guyana, Trinidad, and Jamaica. Just a bit more highbrow than the Bacardi and Malibu I used to take shots of back in college.
The first sip? Fire. And not in the colloquial this-is-dope way. Fire as in, "Is my mouth aflame?!" Only a drop of rum hit my tongue and five minutes later I still had to breathe through my mouth. I passed it around so that my more tenacious tablemates could try for themselves. Reviews ranged from, "This smells and tastes like they liquified your grandmother's house," to a physical reaction similar to what I would imagine to be an epileptic fit.
The stuff is strong. But because I'm kind of a masochist (and because sophistication is apparently an acquired and expensive taste) I keep drinking, imagining myself to be growing more mysterious, intellectual, and worldly with every sip.
Eventually, our bartender hero Yani flexes his real cocktail muscles and brings out the Past Lives cocktail ($22), a mix of gin, Pisco, Umeshu fruit liqueur (yeah, I had to google it too), lemon, grapefruit, and a house-made floral syrup of rose, rose hips, and hibiscus. It tastes as it smells: like heaven. I want to bathe in it. I want it to be bottled in crystal with a spray pump so I can smell like the Past Lives every day. I tell this to Yani and he admits he fancies himself a bit of a perfumer. I think I'm falling in love with him.
Halfway into the Past Lives, the world becomes more magical. Colors more vivid. The strangers at the table next to ours become good friends. I'm buzzing. Did Yani spike my garden drink with mushrooms? Hopefully?
My friends depart and I keep talking to strangers. We exchange laughs and stories. Still, this is normally where I cut myself and go home to eat everything in my fridge, but when the opportunity to order another drink rolls around, I'm told to order Death. I suppose it's the only logical conclusion to this evening of review.
A short while later, a flaming skull arrives at my table. The drink is good, but the details after this become fuzzy -- it's then I realize that I have to leave. Death killed me, as did signing a bill in the triple digits for just three drinks.
There's a vague recollection in the back of my brain of tromping through the snow over to Lafayette where I try to chat with the strangers next to me and find the magic and glow I was experiencing just moments ago disintegrating along with my dignity. Here, at Lafayette Coney Island, I am just another obnoxious girl in sequins. Still, my dude behind the counter refers to me as "a real Lafayette girl," and I find myself proudly redeemed.
Waking up the next morning, I find myself sans hangover. Was it the Lafayette, or was there really magic in my drink? Did last night even really happen? I feel like I was transported. Can anyone confirm or deny my whereabouts? I suppose we'll never know. One thing I do know: I'll find myself back at Bad Luck Bar soon -- though you'll find me sipping Miller High Life for $4 a pop -- which they will serve to you, appropriately, in a champagne glass.
Sign up here for our daily Detroit email and be the first to get all the food/drink/fun the Motor City has to offer.
Previous Venue
Next Venue
Venue Description
1. Bad Luck Bar
, Detroit, MI 48226
If you've never aspired to have bad luck, reconsider: Bad Luck Bar gives Detroit something it was pining for -- a high-octane, high-mets-low cocktail pad with sex appeal and serious drinks. The space hides in an alleyway, with a door marked by a painting of a snake. Inside, the cocktails range from outrageously expensive (an $80 Caribbean rum leftover from reserves the United Kingdom set aside for its Royal Navy in the 1970s) to a champagne flute filled with Miller Highlife that just costs a few dollars. There are even mid-range surprises, in an enchanting Past Lives sip that blends gin, pisco, Umeshu fruit liqueur and rose-hibiscus syrup; or a bourbon ditty that comes with a spoonful of caviar. Tastes like your luck's about to change.
Previous Venue
Next Venue
Venue Description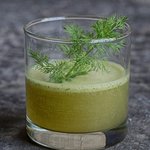 2. Sugar House
2130 Michigan Ave, Detroit, MI 48026
One of Detroit's leading mixology bars, this hip Corktown spot uses eclectic spirits and mixers to make inventive and delicious drinks. Bartenders clad in tiki shirts or vests shake and stir creative concoctions with off-the-beaten-path liquors -- cacaçha, mezcal, absinthe, madiera, and chartreuse, to name a few -- and homemade infusions and syrups. While the specialty menu rotates seasonally, the staff's encyclopedic knowledge of classics from Aperol Spritzes to Zombies ensures a constant flock of regulars, aided by the antique hunting lodge décor (taxidermy animals mounted throughout, vintage bar stools, original brick facade from 1888) and dim, sultry ambience.
Previous Venue
Next Venue
Venue Description
3. Wright & Co.
1500 Woodward, Detroit, MI 48226
Serving upscale New American tapas and craft cocktails in a refined, Deco-inspired space, Wright & Co. is a popular destination for happy hour and date nights alike. Food offerings range from elevated gastropub fare like pork belly sliders with tomato jam and arugula to larger plates like sautéed sea scallops with yellow squash purée, asparagus and succulent chive butter sauce, and the sheer variety makes for a myriad of ways to approach the market-driven menu. While the cocktail list changes seasonally, expect eclectic ingredients, house-made infusions, and top shelf liquors like añejo rum, mezcal, small batch whiskeys, and chartreuse to make regular appearances. The six-course Sunday brunch tasting menu attracts the masses, but daily happy hour steals make for a lively ambience any night of the week.