Bloomberg/Getty Images
Bloomberg/Getty Images
Sometimes you try and order a cocktail only to find that you don't recognize half the ingredients in the drink. That's OK; with Detroit's cocktail revival in full swing, it means that bartenders are getting playful and experimenting with all sorts of obscure and unusual components. It's a full-time job to try and keep up with the Cynars and orgeats of the world.
But here are two base liquor ingredients you should absolutely know about. They're hot, they taste great alone or in cocktails, and we even have our very own locally produced versions here in Detroit. Mezcal and absinthe are by no means new to the world of spirits. They each have a storied past, filled with the allure of days gone by; they've just made reappearances on the scene. We're here to tell you what they are and where to sample them.
Mezcal: what is it?
Let's let Andy Mohr, partner at Two James Spirits in Corktown, describe it. He calls it "a smoky, more mature version of tequila with some Scotch." Yep. Imagine tequila and Scotch making sweet, sweet love. That love child was then raised in rural southwest Mexico by generations of traditional farmers and allowed to run free on the hills to soak up all the sun and air it wanted. That's mezcal. It's an ancient recipe only resurfacing recently here in Detroit. And although all tequila is mezcal, all mezcal is not tequila: mezcal is usually made from a combination of wild and cultivated agaves, while tequila comes from the blue agave only.
Take Two James' Dos Jaimes Mezcal Joven. It's a blend of two wild (tobolá and tepeztate) and one cultivated (espadín) agaves. According to Mohr, "with the wild agave, it gives it a unique flavor profile," because, as with a fine wine, the terroir in which the agave grows is important to the taste and complexity of the final drink. You can sip it just like you would any fine tequila or whiskey, or sample Dos Jaimes in the La Ultima Palabra cocktail, Two James tasting room's take on the Detroit classic Last Word, made with muddled habanero and Dos Jaimes Mezcal Joven.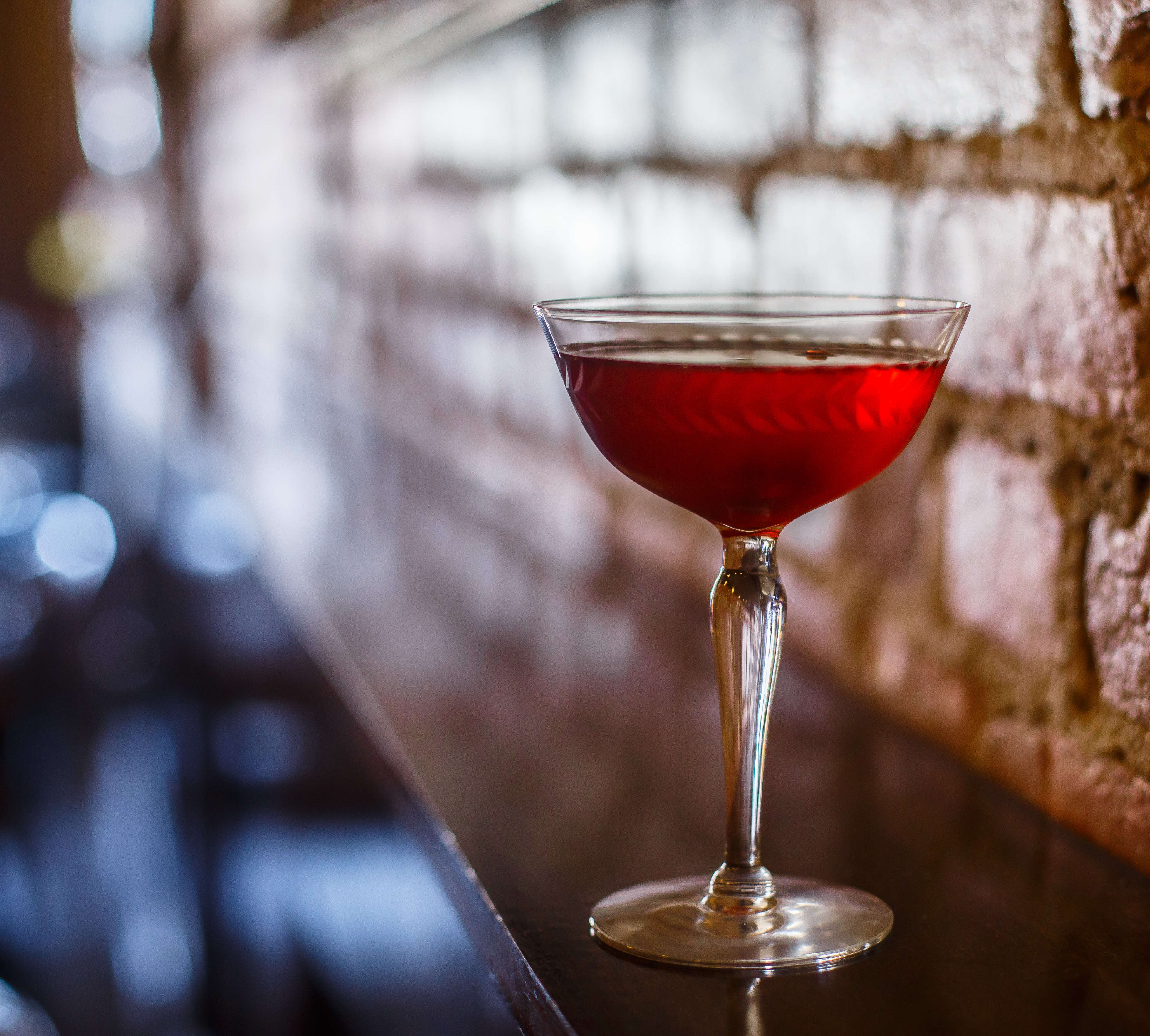 Corktown
Now that you've sampled it from the source, head across Michigan Ave to Sugar House, where this spring and summer it's transformed itself into a tropical wonderland of fruity drinks. The Spice Trader combines the punch of chipotle mezcal and rum with the fruity flavor explosion of pineapple, mango, grapefruit, and rum.
Southwest Detroit
Since you're down that way already, head a bit further southwest and check out El Barzon's fantastic selection of mezcals. Last we checked, it had at least five different kinds, including Del Maguey from Oaxaca, a 100%-certified organic mezcal that has become one of the standards for reliable, smooth mezcal all over the world. If you ask the bartender very nicely, he or she may also pull up a bottle or two that's not included on the standard menu, as they make trips to Mexico frequently to pick up unusual or rare spirits that can't be ordered here.
Downtown
Speaking of variety, check out the brand-spanking-new, Detroit-by-way-of-Brooklyn Calexico Downtown. The Cali-Mex restaurant has a few varieties of mezcal too, including the Del Maguey Crema de Mezcal, a single-village mezcal that is creamy and smoky, almost fruity. It also features two mezcal-based cocktails: the mezcal margarita and the mezcal Negroni.
Downtown
Finally, for just a hint of mezcal flavor in a sweet-and-spicy drink, try the off-menu Don's Cherry at The Whisky Parlor Downtown. It pairs a Dos Jaimes Mezcal Joven rinse with Traverse City Cherry Whiskey and a dash of Averna Amaro for a tart and spicy experience, just like Detroit's favorite brash hockey commentator from neighboring Canada.
Absinthe: what is it?
And now for something completely different. Having indulged our smoky side with all the mezcal we can handle, let's switch up to another spirit you've surely heard of but may not know much about because you assumed it was illegal in the United States. Absinthe conjures images of languid Gilded Age sippers, drifting through a green-tinged, hallucinogenic fog. It was the drink of choice of last century's artists and poets, and it got a bad rap as a dangerous drug around a hundred years ago.
In fact, the "green fairy" was banned in the US for most of the 20th century for a couple of reasons: first, the now completely debunked idea that wormwood in absinthe causes hallucinations and seizures. Second, despite the proven lack of dangerous chemicals in most absinthe, its extremely high alcohol content (here in the US, between 90 and 148 proof) paired with its deceptive sweetness means that even one glass of absinthe is more than enough to knock you back a step or two.
Now that it's available again in the US (since 2007), curious drinkers are learning how to enjoy the rituals associated with absinthe consumption. Since it's so high in alcohol, and the botanicals in it need some breathing room, most absinthe isn't consumed straight from the bottle. Instead, an ornate absinthe fountain comes into play. The pure absinthe is poured into its own glass, then covered with a special slotted spoon topped with a sugar cube. Over that, very cold water is gradually dripped so that the anise, fennel, and wormwood can "cloud up" and the glass of liquid turns into a swirling, milky dream.
We'll end here with a final word of advice from Andy Mohr at Two James on the power of absinthe: "You won't hallucinate. It's a great summertime sip drink. You can have more than one, but I'd stop at two."
Where to drink it:
Since absinthe is a key ingredient in the classic Sazerac cocktail, you can also hit up your favorite cocktail joint. We recommend Cliff Bell's for jazz, Republic for ambience and happy hour, and Howe's Bayou in Ferndale for the suburbanites.
Corktown
As with the mezcal, Two James produces its own version of this legendary spirit with 15 botanicals and a finish that's not too licorice-y. The recipe was ready to go into production and shipping nearly two years ago, but since US law is extremely finicky regarding bottle labels, it took nearly a year and several rounds of edits to get a design approved.
Midtown
For an absinthe experience straight out of 1895, The Whitney is unbeatable. The Absinthe Room, just off the third floor's swanky Ghost Bar, features the traditional drip with your choice of Two James Nain Rouge, Mata Hari, Herbsaint, or St. George absinthe, which has a brandy base rather than the traditional neutral grain. It also has an Absinthe Mule and, Ernest Hemingway's invention, Death in the Afternoon: Champagne and absinthe.
Corktown
In continuation of its love of all things limoncello, St. Cece's serves up the Absinthe Riddle: absinthe paired with tequila, PAMA (pomegranate liqueur), and limoncello. The tart pop of the lemon and tequila get your taste buds working, and the sweet finish of the anise and pomegranate make it a great summer cocktail.

Sign up here for our daily Detroit email and be the first to get all the food/drink/fun the Motor City has to offer.
Mickey Lyons is a Detroit historian, barchaeologist, and frequent underground bar dweller. You can follow her infrequent posts on Twitter @prohibitdetroit.