Tudor ApMadoc/Getty Images
Tudor ApMadoc/Getty Images
Detroit's drink has 20 years on Coca-Cola and is old enough to be the grandparent of Faygo, Detroit's other drink. And despite its moniker, the Boston Cooler was dreamed up right here by James Vernor, a pharmacist, politician, and soda maker who (legend has it) left some ginger ale in a barrel while he went off to fight in the Civil War and returned to find a "deliciously different" drink. While some historians doubt the story's accuracy, we do know that Vernor was selling his crisp concoction by 1866, marking this year as the 150th anniversary of Vernors.
Starting June 5th, the entire city will be celebrating Vernors Week, but there are some bars and restaurants taking the holiday in stride, mixing Vernors-inspired cocktails (though you can get most of them the rest of the year, too). Here's where to find them around Detroit.
Also of note: Detroit City Distillery and Chartreuse both have Vernors beverages in development, but they weren't quite ready as of press time.
Ferndale
Rather than simply chucking any old ginger ale into the mix for the Higby Double Barrel, The Emory decided to go with a Vernors reduction to add a sweet but concentrated kick. Paired with Ferndale-made Valentine Liberator Old Tom gin and finished with sweet vermouth and orange bitters, the titular "double barrel" is a strong start to your cocktail adventures.
Ferndale
Speaking of Valentine, its tasting room serves up the Detroit Cooler. It's a frothy blend of the award-winning vodka shaken with brown sugar, cream, and Vernors. Since it's served in a martini glass and topped with a dark chocolate Olde English "D," you'll feel extra Detroit affinity while drinking it.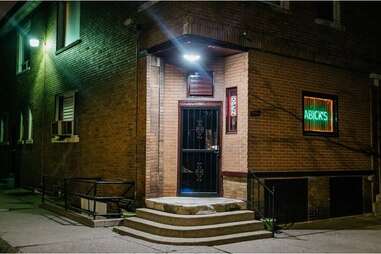 Southwest Detroit
Yeah, we're telling you to order a specialty cocktail at a dive, and listen up: honoring James Vernor's roots, one of Detroit's oldest bars mixes up the The Woodward Pharmacist, which will be on special this week only. Usually $9, you'll get $1.50 off the drink to celebrate Vernors' 150th anniversary. Jack Daniel's Tennessee Fire whiskey and Vernors pack a one-two punch, mellowed out by a splash of vanilla vodka.
Corktown
Hey Vern! is sheer brilliance, and further proof that Mudgie's new bar program will bring nothing but great things. Vernors Week also coincides with the worldwide Negroni Week, so the bartenders at Mudgie's put together what is essentially a frozen Negroni with Vernors in it. A Negroni/Vernors slushie. Sign us up.
Downtown
Belying the whole "gingers have no soul" idea, the Tennessee Ginger marries the bold oakiness of George Dickel No. 12 Tennessee whisky with a homemade green tea simple syrup and St. Germain elderflower liqueur, then tops it off with Vernors for a buttery finish. The sweeter notes in the mixers really bring out the vanilla finish in the Dickel.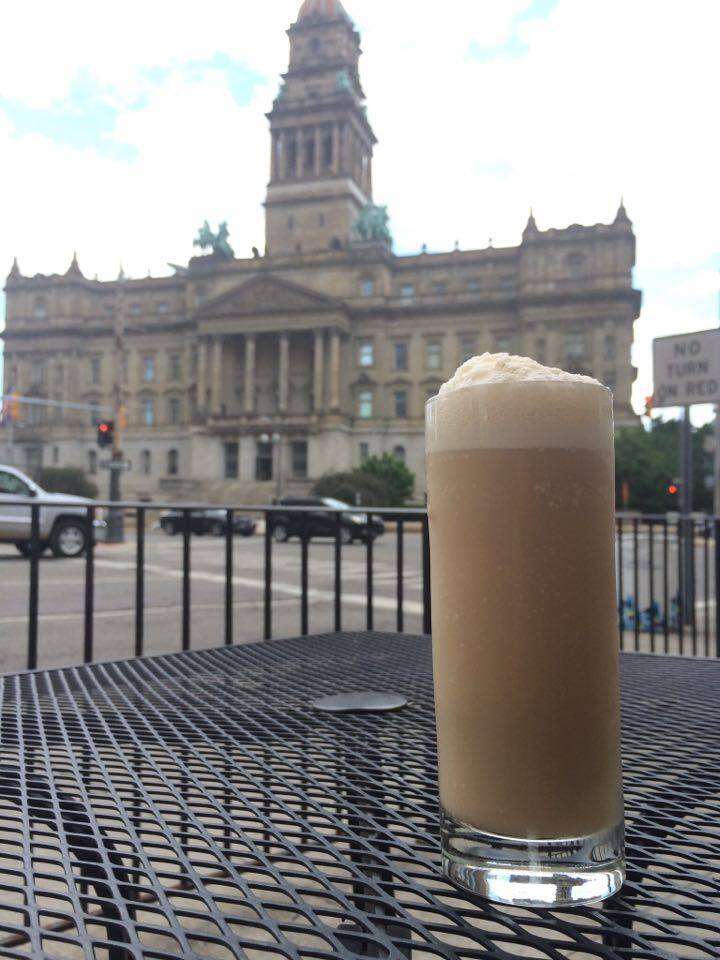 Downtown
And now for something completely different: styled after the historic Ramos Gin Fizz, the Keep Whiskey Fizz starts with Maker's Mark whisky, then shakes it up with rose water, egg whites, and sundry liqueurs and syrups and lemon juice and Vernors and wow, that's a lot of ingredients. But! You know you've got a legit Fizz when the straw stands up by itself. Another great one for those warmer days, this drink is creamy, smooth, and ever-so-slightly tart.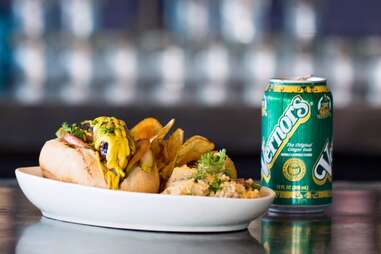 Southwest Detroit
Like your drinks to fight back a bit? Try the Michigan Mule, a potent combination of cinnamon whiskey, lemon juice, and Vernors. It's a fun take on the boring old Moscow Mule, and it's the bar's top seller, especially in the summer heat. Why not get some fish tacos while you're there too?
Northeast Detroit
If shots are more your style, Detroit's oldest bar has you covered. It has a shot special called The Flu Shot, inspired by every Polish grandmother's flu remedy: take one shot of cold Jezynowka and chase it with some warm, flat Vernors. In case you don't have a Polish grandmother to educate you, Jezy is a sticky-sweet blackberry brandy that can be found in every good Polish bar.
Hamtramck
What is it about flavored liquor and Vernors that goes so well together? Whatever the science, Hamtramck's storied dive bar features the Campau Cooler, a drink made with Pinnacle whipped cream-flavored vodka, a wee bit of Malibu coconut rum, and Detroit's favorite ginger ale.
Sign up here for our daily Detroit email and be the first to get all the food/drink/fun the Motor City has to offer.
Mickey Lyons is a Detroit historian learning all about Prohibition in Detroit. She's also working her way through every former speakeasy in town. You can follow her adventures at ProhibitionDetroit.com.