Drinking in Detroit? A great time. Drinking in front of a fireplace in Detroit? An even better time -- especially in winter. Why? Because it's so cold in the D.
Corktown
Do you smell that? No, it's not what The Rock is cooking (though it could be any number of ethnically diverse pop-ups). It is the sweet, sweet, smoky smell of a bonafide wood-burning fireplace, the centerpiece – the pièce de résistance, even – of St. CeCe's Pub in Corktown. The place used to be the very Irishly-named Baile Corcaigh, and the fireplace (along with the stained glass panels and all of the wood) is a holdover from that. Now, it's only Irish inasmuch as it is located in Corktown, has "St." and "Pub" in the name, and celebrates St. Patty's Month along with the rest of Detroit. But it has the best damn fireside drinking in the city short of a bonfire in your Corktown backyard.
Midtown
This brewery/bakery/creamery/restaurant has been a Midtown staple since 1965, and it has that worn-in comfort of being a familiar and reliable neighborhood joint that also happens to serve some pretty outstanding products. While it wouldn't be quite accurate to say that dining in the considerably large multi-room, multi-level space is like Sunday dinner at Grandma's house, it's still fair to say that going to Traffic Jam kind of feels like going home. The fireplace is just a bonus.

The Old Miami Midtown
Let's just get something really, really clear here: you have not earned your stripes as a Detroiter until you have taken a good, long nap on the couch at the Old Miami. You just haven't. And it doesn't count if you merely passed out outside by the fire pit. 
Ferndale
That wood-smoke smell! Ahhhhh, it's fall and winter and Up North and outdoors and Michigan and warm and childhood and s'mores and summer camp and boozy bonfires and all of the greatest things in life all wrapped up in one glorious scent. Local Kitchen and Bar in Ferndale features an indoor-outdoor wood-burning fireplace that fills the restaurant with the singular greatest smell in the world, and the menu is all upscale comfort food to match. 
 
Downtown
There are three fireplaces at the newly-opened Punch Bowl Social in Gilbertville, along with bowling, shuffleboard, ping-pong, pool tables, foosball, and other forms of big-kid entertainment for Quicken's break room.  
Downtown
Ignite at MGM Grand Detroit might actually define "grown and sexy," playing off the theme of "fire and ice" (read: lots of red and blue) with a dramatic wall bank of glass-enclosed flames. Sip on a cognac and watch the flames – and the ladies! – dance all night. 
Midtown
Only two of the historic Whitney mansion's 20 fireplaces are in use, but if your aim is to get super-fancy fireside, this is the place to do it. Even if you're less fire-"side" and more fire-adjacent. For the full experience, take a champagne tour through the opulent 22,000sqft mansion that recalls a time when people used to build mansions in Detroit, and not buy them for less than the cost of the new Ford GT. 
 
Midtown
Real talk: the best (only?) reason to go to Third Street Bar is for the Dangerously Delicious Pies. Which you can enjoy all cozily next to the fireplace. So now you know. 
Northville
This one's a 5-for-1, because that which can be said for Deadwood can essentially be said for Camp Ticonderoga (Troy), The Moose Preserve Bar & Grill & The Iroquois Club (Bloomfield Hills), and Beaver Creek Tackle & Beer (Westland) as well. All of these places are under the same ownership and are essentially the same concept – woodsy, Up Northy-rustic lodge (some more Up Northy than others) serving upscale "roadkill." These restaurants are among the few in Metro Detroit where you can get venison, rabbit, duck, buffalo, boar, and quail, and certainly among the very few where you can do so in a decidedly non-fine-dining environment. These joints cater more to the Michigan hunter than to the local organic farmer, and every single one of them has a fireplace(s), because nothing pairs better with meat than fire.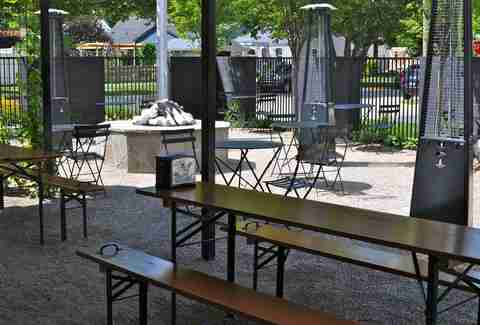 Birmingham
The outdoor biergarten (translation: beer garden) has heaters and an outdoor fire pit, allowing for three-season seating at the communal drinking tables imported from Germany, where they know a thing about communal drinking tables and being cold. Sure, it might not be as "cozy" as huddling up indoors with a warm drink in your hands and a roaring fire at your back, but Germans are of a hardier stock... so suck it up, put on some mittens, and have a few beers. Plus, the colder outdoor temps keep the beer cold!  

Red Coat Tavern Royal Oak
One of metro Detroit's most beloved burgers is served in this vaguely Brit-themed pub with a great beer list, an even better "SECRET" beer list, AND a big stone fireplace and hearth. Ahhhhhh "hearth." It's the kind of word that just makes you FEEL warm, you know?
Birmingham
Technically, the "fireplace" is filled with candles instead of logs, which just adds to the Pinterest-y charm of this Birmingham breakfast, brunch, and brinner spot. Woodsy-rustic by way of Williams-Sonoma, Toast is the grown-up version of its breakfast-and-lunch-classic-diner counterpart in Ferndale, in that it has booze (and brinner! Also, regular dinner). Order up a "Short and Sweet" cocktail in the "blue room" -- the one with the "fireplace" -- and keep it classy, not trashy.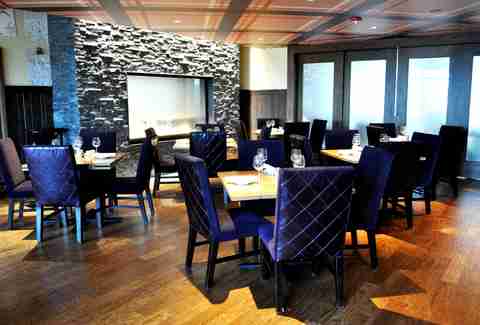 Novi
A bright spot in Novi, which is soooooo Novi, Toasted Oak has a stylish interior (with stylish fireplaces!) and a menu that emphasizes a commitment to locally-sourced products and house-made items like charcuterie and porchetta, with an upscale Michigan-centric market attached.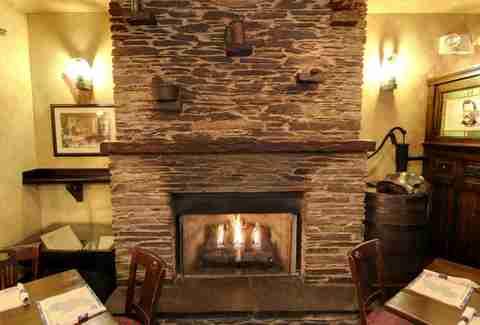 BONUS: almost every single Irish pub in Metro Detroit
Multiple locations
There must be a by-law somewhere that states that in order for a bar to market itself as an "Irish pub," it must have a fireplace (in addition to corned beef sandwiches and Guinness on tap, because no Irish pub worth its weight in Jameson can get away with NOT having corned beef sandwiches and Guinness on tap). Also an Irishy-sounding name, preferably O'-something. Exhibits A through D: John Cowley & Sons in Farmington, Dick O'Dow's in Birmingham, Sean O'Callaghan's in Plymouth, and Conor O'Neill's in Ann Arbor. All Irish pubs -- most with an O'-something -- all with fireplaces. Because Ireland can... apparently get quite chilly?
Sign up here for our daily Detroit email and be the first to get all the food/drink/fun Motor City has to offer.