Detroit's Best Irish Bars, According to a Guy Named Sully*
Corktown was settled by Irish immigrants fleeing the Great Famine of the 1840s. But just as "Poletown" is decidedly less Polish than it was a century ago, Corktown is more Irish in spirit alone than anything else anymore. That doesn't stop those with a 4.2% Irish heritage from their great-great-great-great grandmother from becoming instant Irish nationalists come mid-March. And like the actual Irish, they need places to drink!
Rather than just round up a bunch of loosely Irish bars, we decided to ask some guys named Sully for their opinions on the best Irish-ish pubs for tippling, as they seemed like the ideal source. However, this not being Boston, Sullys proved to be in short supply. But we DID find Kuhnhenn Brewing Company head brewer Phil Sullivan, who may not actually go by Sully (hence the asterisk), but who is of a full 50% Irish descent (which puts him at a higher shamrock percentage than most Detroit St. Paddy's Day revelers). Besides, who better to trust with the question of where to drink than the man behind one of Michigan's finest breweries?
Greektown
"It's OK." Pretty much. It's a thing that people do, like drinking Hand Grenades on Bourbon Street during their first visit to New Orleans, or paying $200 to get into an asses-to-elbows superclub on the Las Vegas Strip on a Saturday night. It's guaranteed to be an absolute train wreck of humanity, and you'll probably hate it and hate yourself for doing it, but you kind of just have to experience it once. But probably only once.
Downtown
"This would be my No. 1 for sure -- but is it even Irish anymore?" Well, Phil, it did indeed drop the "Foran's" from its name a few years back, in effect dropping whatever overt Irish-ness the name entailed. But as soon as March rolls around every year, Detroit's first all-Michigan craft beer bar, the Grand Trunk, becomes as Irish as anywhere else -- and we can confirm that the bar is always fully stocked with Jameson, which is all you really need anyway. And who needs Guinness when there's New Holland's The Poet stout on draft?
Corktown
"This is my No. 2 spot. We [Kuhnhenn folks] go down there all the time for St. Patrick's Day or whatever." "What makes it the best?" "The whiskey!" Indeed. It's right there in the name. As Phil says, "How can you go to Nancy Whiskey and not get whiskey?" Answer: You don't. Best you start ordering up some shots. Bonus: Nancy Whiskey celebrates "Whiskey Wednesdays" every single week with $1 PBRs and $3 Jameson shots, because there are 364 other days in the year besides St. Paddy's.
Corktown
"PJ's Lager House is pretty sweet, plus you can bar-hop down there [in Corktown]." Yep, and that is a distinct advantage on St. Patrick's Day -- or any other day, for that matter -- when having to operate a motor vehicle is less than ideal. Plus, it has tasty food and live music, because an Irish bar without live music is not much of an Irish bar at all. ("But is PJ's really an Irish bar?" IDK, is Rosie O'Grady's? It's got that whole green thing going on, and it's in Corktown. Close enough.)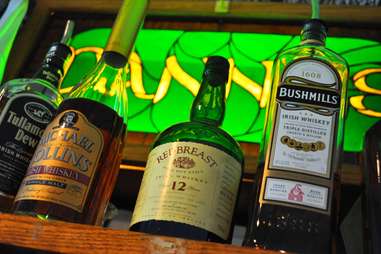 Nicole Rupersburg/Thrillist
Ferndale
"Absolutely!" Phil says when asked if he digs Danny's. This is because everyone digs Danny's. It's a hole-in-the-wall dive in Downtown Ferndale, where hole-in-the-wall dives are in increasingly short supply. Owner Dan Reedy makes the place what it is -- a totally chill spot to knock back a few beers and whiskey shots (Irish whiskey, of course) and shoot the sh*t with your fellow man. Don't miss the opportunity to engage Danny in some authentic Irish-style storytelling.
Corktown
"Nemo's is pretty cool." Yeah, it's not bad! Kinda divey, but in a charming, tin-ceiling kind of way. Good burgers. Cheap booze. Shuttles to sports games. It's a Corktown classic, and it definitely channels the spirit of St. Patrick during the Detroit St. Patrick's Parade, as does everywhere else in Corktown.
Warren
OK, so definitely not an Irish bar, but Kuhnhenn does celebrate St. Paddy's Day with the best of 'em, and since our representative "Sully" works there, we thought it only fitting to include it here. Kuhnhenn's annual St. Patrick's Day "Breakfast of Champions" blowout has become the stuff of local beery legend, right up there with its ridiculous Winter Solstice parties. It opens at 7am, serving its "Breakfast of Champions" beers, with flavors like Lucky Charms, Cap'n Crunch, Cocoa Puffs, etc. With its new and MUCH bigger Clinton Township location finally open, Kuhnhenn is doubling down on the firkin good fun!