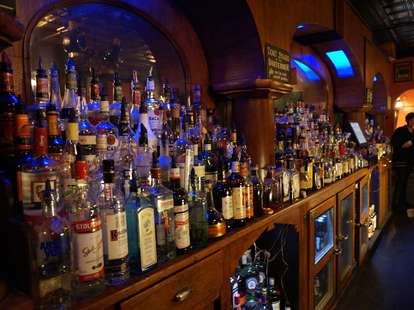 Courtesy of Painted Lady Lounge
Courtesy of Painted Lady Lounge
Detroit's drinking history is a storied one. Once the Midwestern hub for illegal booze-peddling during Prohibition thanks to the infamous Purple Gang, the city has plenty of whispered rumors of basement bars, third-floor brothels, and barstools specially reserved for the most notorious gangsters of the time. One would think that with all of the passing crime, the drinking establishments that housed the infractions would have gone by the wayside, but no. These are now perfectly legal establishments that have kept their doors open for nearly 100 years or more. You should probably be drinking in them. For old times' sake.
Southwest Detroit
Abick's is the longest family-operated bar in Detroit, now on its sixth generation of the same Polish-American family that founded it in 1907. Not much has changed: The gorgeous tin ceilings and mahogany bar welcome guests into the mellow, relaxed atmosphere. Odds are Shadow, the resident English mastiff, will startle you with a massive guttural bark when you ring the buzzer. (He's more likely to be afraid of you than you are of him, so don't worry.) Asked about its speakeasy history, Abick's former owner Manya generally gave a wry smile and said, "The boys took care of us," and nothing else. The bar likely saw some significant boozing, though: Recent renovations have unearthed some Prohibition-era bottles and two giant whiskey barrels (one still partly full) in the basement that predate 1920.
What to check out: Other than Shadow? If the bartender has a moment, ask to see the Kil-a-Kol crate and old bottles, and the barbershop-turned-cigar lounge off to the side.
What to order: Stroh's, new or old-style. The bar was funded by Stroh's to sell their beer exclusively over 100 years ago.
University District
Seeing the ramshackle exterior and topsy-turvy floors, you'd think there's no way Tom's Tavern has been in business since 1928. It was built by Greek immigrant Tom Lucas as a lunch counter, but mostly what was on the menu was booze, however Tom wanted to pour it. There are plenty of rumors that the Purple Gang, the premier booze distributors during Prohibition, itself supplied Tom with his hooch, although at this late a date it's pretty tough to prove. Tom's has been a longtime hangout for university and journalist types, so you'll find plenty of folks willing to speculate with you.
What to check out: The fantastic live music. On nights when Detroit Pleasure Society plays or on Honky Tonk night, the raucous cheer looks like it's likely to literally bring down the house. Don't worry, Tom's has survived this long; it probably won't fall down when you're there.
What to order: Jack Daniel's on the rocks, in honor of the bar's new (well, since 1991) proprietor, Ron.
Northeast Detroit
When Colonel Philetus Norris built himself a general store, stagecoach inn, and jail at what was then the hinterlands of Detroit in 1876, he might not have had any idea of the carousing that would still be going on at the Two Way Inn 140 years later. And the teetotaling Colonel might not have wholly approved of the rumored activities during Prohibition: Since doctors were legally allowed to prescribe "medicinal" alcohol, the dentist who rented the building in the 1920s likely kept the business booming. There are also significant rumors that the second floor "boarding house" did double time as a brothel during Prohibition.
What to check out: The recently recovered tin ceiling, the photos of Norristown in the streetcar days. And ask about the lucky coin toss.
What to drink: Medicinal whiskey, of course! Preferably something old-school to match the Wild-West looking environs.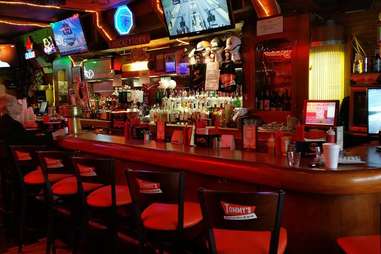 Downtown Detroit
If Wayne State's archaeology department spends a whole summer collecting stories, digging up artifacts, and finding a freaking hidden tunnel, you know this must be the real deal. All that fun stuff is down in the basement of Tommy's -- of course, if you have a bar full of Purple Gang gamblers and drinkers, you probably don't want just anybody to see them. If you ask nicely, and it's not a Wings home game (it's across the road from Joe Louis Arena), you can probably persuade someone to take you on a basement tour.
What to check out: The basement. And all the sporting memorabilia from decades past.
What to drink: Beer and a shot, preferably some variety of Crown Royal. It's become the de facto house whiskey.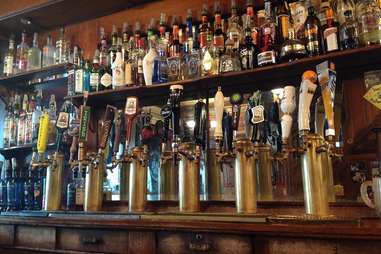 Downtown
Jacoby's is an old-style German biergarten tucked in the heart of Downtown Detroit. It opened in 1904 and has served generations of movers and shakers, politicians, and other shady sorts. While we can't prove beyond the shadow of a doubt that Jacoby's served alcohol during the 1920s, it's pretty hard to imagine that it didn't skirt the laws in some fashion with a crowd like that. Plus, it has one of the very oldest liquor licenses issued in Detroit, so that's gotta count for something, right?
What to check out: The gorgeous stained glass upstairs and the beautiful wooden staircase.
What to order: You're on your own here. Jacoby's has dozens of German beers, each one as delicious as the last.
State Fairgrounds
After a recent closure, Stonehouse is back up and running with extended weekend hours. That's a good thing, because every Detroit bar lover should see this former farmhouse that's been acting as a bar as long as anyone can remember. The original two-story house, within spitting distance of Ulysses S Grant's old house, held farmhands, seasonal laborers, and more than a few prostitutes in the upstairs rooms. Not much has changed in the friendliest biker bar in town.
What to check out: The stunning front porch with a view of the old State Fairgrounds.
What to drink: Bud, High Life, or Coors will earn you an approving nod from the bartender. A rocks pour of cask-aged rum does the trick too.
Hamtramck
Hamtramck's reputation as a paradise for the lawless has been around for a while, and its heady Prohibition days are no exception. This is the town, after all, that sent two mayors to prison for various drink-related charges over the course of Prohibition, so it's no surprise that there were plenty of speaks there. This bar's owner has a deed from 1911 in which the Victorian bar is dated simply as "very old." And there's ample evidence in the (employees only, sorry) basement that a separate bar functioned down there at one time, most likely a private card room.
What to check out: The vintage beer signs and the bathroom graffiti.
What to order: Painted Lady carries some pretty swanky whiskies for a supposed dive bar. Try one or three.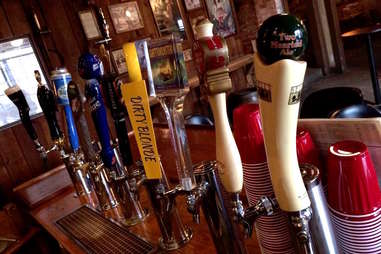 East Detroit
Ye Olde Tap Room's been serving frat boys on college break for some time, but long before that it was a comfort station for the nearby trolley line. All three floors of the place hummed with illegal activity during Prohibition: from the ground floor comfort station to the second floor gaming room and third floor -- you guessed it -- brothel. A dumbwaiter went from the basement (which, of course, also had its own bar) to other floors. At the same time, part of the building housed the first Pigeon Club in the US. Yes, a pigeon club, which is precisely what you think that it is. The vibe at Ye Olde Tap Room is still convivial, with old friends returning and mixing with newcomers.
What to check out: Owner Russell Mack's truly prodigious collection of vintage tap handles.
What to order: Beer. They have dozens; you pick.
Corktown
The story of Nancy's might as well be the story of That Detroit Bar. It started as a corner grocery for the Irish neighborhood, only to discover there was far better money to be made selling non-perishable booze. So after opening as Digby's grocers in 1902, it became Digby's saloon in short order. It's been slinging Irish whiskey ever since, through ups and downs in the economy and neighborhood, through Prohibition, Jimmy Hoffa's frequent visits (rumor has it he used the phone booth as his office on more than one occasion) and a devastating fire in 2009. Nothing holds Nancy down.
What to check out: The phone booth and the newly renovated back patio.
What to order: Tullamore Dew, especially if it's your first time. It's a tradition at Nancy.
Rivertown
Here's another Prohibition-era "lunch counter" opened by a Greek immigrant. Gus Andreakos and his brother set up shop in 1918, although the building was older than that, operating as a grocery store at first. Tom Woolsey, Andrew's current owner and Gus's grandson, happily recounts family legends of Hiram Walker (of Canadian Club fame) customers and even Walker family members stopping into the bar at the corner of Atwater and Joseph Campau on their way to catch the ferry that left from the foot of Walker St over to the CC distillery. Alas, the ferry stopped regular service in 1942; you'll have to take the bridge over to Walkerville these days. But in the meantime, pop into Andrews for some Rivertown memories.
What to check out: The hockey memorabilia, cultivated over decades of Tom's love of the sport.
What to order: Canadian Club. Order the Dock 57 if it's in: It was the Walkerville dock that saw the greatest volume of Canadian Club heading over to the American side in Detroit, despite it being technically illegal. If that's not in, no worries: Americans drank more than their share of CC of all kinds during Prohibition, so you're in good (historic) company.
Sign up here for our daily Detroit email and be the first to get all the food/drink/fun the Motor City has to offer.