Jason Hoffman/Thrillist
Jason Hoffman/Thrillist
This is Part One of a two-part series on Detroit's burgeoning cocktail scene. Read Part Two here.
The cocktail capitals of America are as follows: New York. San Francisco. New Orleans. Chicago. Portland. End of list. There are certainly other cities with mighty respectable cocktail cultures of their own, but as far as The Ones That Really Matter, those are it for most people.
And... Detroit? Many of those same people might find this claim insane, superfluous. But to understand Detroit's subtle ascent, it'll take some considering of the national trends that brought us to where we are today. A lot happened in the early to mid 2000s, culinarily-speaking. The Food Network got big. Top Chef happened. Anthony Bourdain's No Reservations. The "foodie" movement. The Slow Food Movement. The maker movement (which included food entrepreneurs starting their own bread/pastry/pickle companies out of their home kitchens). Instagram. The popularization of all things craft. The recession.
Yes, the recession
The colossal economic downturn created a wave of "accidental entrepreneurs," people who were pushed out of jobs, forced to take buyouts, cash in 401(k)s, and otherwise hustle up their own line of work because no one was hiring. The scrappiest amongst us took it as an opportunity to follow our passions and do the things we always wanted to do: make salsa, open a brewery, become an urban farmer, run a food truck.
For many, food-related businesses had the lowest barrier to entry for startup, and for many more, food was the last indulgence left at a time when all other superfluous expenses had been cut. People still need to eat, right? And drink! Because apparently, we drink even more during a recession.
The recession also fueled the "Buy Local" movement, a focus back to a micro-scale, community-level brand of economic nationalism that evolved out of the widespread epiphany that spending money within the local economy keeps money in the local economy, and supporting locally owned businesses and entrepreneurs is not just good in a blind boosterism sort of way, but quantifiably good in a recession-fail-safing sort of way.
Apparently, we drink even more during a recession.
This cultural milieu -- a found awareness and interest in food sourcing, in handmade artisanal goods, in supporting the local economy -- gave rise to a number of "homegrown," "locally sourced," "handmade," "from-scratch," "sustainable" culinary trends. Artisan pickles. Artisan jams. Farm-to-table restaurants. Craft beer. Craft cocktail culture around the country, then still very much in its infancy, only stood to benefit.
Places like Milk & Honey in NYC, Death & Co. in NYC, and PDT in NYC (fine, New York, you win) began experimenting with old classic-cocktail recipes that had been all but forgotten, espousing the ideals of artisan craftsmanship, high-quality products, non-alcoholic ingredients made in-house, utilizing local purveyors as much as possible, culinary creativity and playfulness, and preserving a piece of the American past while also looking towards the future. Et voila -- a trend was born.
Which brings us to New York. San Francisco. New Orleans. Chicago. Portland.
And... Detroit?
Booze is in our blood
Believe it -- it should come as little surprise that Detroit is a hotbed of alcoholic arts. Its brewing history pre-Prohibition was stronger than even today, if we're speaking strictly in numbers of active breweries within city limits (40 in 1862; now, there are seven that brew on-site). During Prohibition, Detroit's illegal alcohol trade was one of the most active in the country, serving as America's gateway state -- upwards of 75% of the alcohol distributed in the country came through Detroit, making legends of the notorious Purple Gang.
In 1916, the cocktail The Last Word was created at the Detroit Athletic Club. A classic cocktail of that golden era, this gin-and-Chartreuse drink was all but forgotten until recently, when the surge of interest in classic cocktails called for its rediscovery. A bartender in Seattle, of all places, dug the recipe out of Bottoms Up!, a cocktail book published in 1951. In 2009, when a drink writer called up the DAC to ask about this drink that had become so huge in Seattle, even they didn't really have an answer. Now it's on the lips of every liquor nerd in any big city.
Detroit's cocktail culture was restarting quietly, the result of a perfect shitstorm.
As the classic cocktail revival was rocketing to one of the hottest national culinary trends in major cities in the late aughts, Detroit's cocktail culture was restarting quietly, the result of a perfect shitstorm.
In 2008, Detroit was tumbling deep into the recession, harder and faster than the rest of the country. The flailing economy led to people leaving (or, more likely, fired from) their 9-to-5 industries to start their own ventures, many of them digging their heels into a would-be progressive food and drink scene that really just didn't exist yet. Detroit's talented chefs and drinking sophisticates wanted to see those kinds of envelope-pushing bars and restaurants in Detroit, not just in New York and San Francisco and New Orleans, et al., and they had nothing left to lose anyway. They drained their savings, borrowed from friends and family, cashed out their 401(k)s, took advantage of development incentives and grants, and opened the bars and restaurants of their dreams because, well, fuck it.
And if there's something that's recession-proof, as mentioned, it's booze. Which isn't to say people were shelling out for $15 cocktails (at least not in 2008; even now, the very upper echelon of cocktail prices hovers around $13). It was never about a $20 drink as the price climbed in other cities. Anyone who was spending $8 on a vodka soda could now just as easily spend that $8 on a Manhattan instead.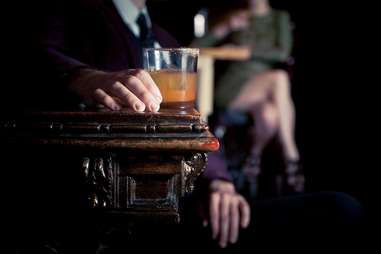 Rebuilding the city (and a cocktail scene)
Of course, there was also a fairly strong undercurrent of the need to prove ourselves -- a desperation to show the world that Detroit was not the bombed-out post-apocalyptic third-world nightmare hellscape depicted in the national media.
Right as Detroit began pulling out of its economic nose-dive, ex-pats and transplants began moving into town in droves because of the cheap real estate; they had "heard Detroit was happening" and wanted to get in on the ground early and take advantage of low, low prices and the promise of a "blank slate" -- a phrase used by folks blissfully unaware of the privilege that allows one person's crumbling decline to be another's Columbusable opportunity.
But those same folks brought money with them. And money is what made craft cocktail bars and gastropubs sourcing exclusively from local urban farms and Fair Trade coffee roasters and raw juice pressers and $300/square foot converted warehouse lofts and Shinola possible.
Detroit was not the bombed-out post-apocalyptic third-world nightmare hellscape depicted in the national media.
Tax credits on purchased and rehabbed buildings and "live downtown" incentive programs only sweetened the deal. The low barrier to entry, even with minimal means, and a high interest in experimentation with a huge amount of un- and underemployed talent waiting to be mined all fanned the Blue Blazer flames.
"The short answer is that when Detroiters nerd out on stuff, they don't fuck around," jokes Sandy Levine, owner of the Oakland Art Novelty Company in Ferndale and Chartreuse Kitchen + Cocktails in Midtown. Back then, he oversaw the adventurous, ahead-of-its-time cocktail program at the now-shuttered Atlas Global Bistro -- one of a handful of flopped pre-2009 forays that were a bit too progressive for Detroit's palate.
"I think nobody outside of Detroit realizes it because we don't care whether they do or not; we just do what we like doing," Levine continues. "Same with Kevin Saunderson, Juan Atkins, and Derrick May in the '80s, Jack White in the '90s, and everyone else doing interesting things then and now."
In other words, Detroit's gonna Detroit, whether the rest of you have figured it out or not. And thus, the post-recession groundwork was set for Detroit to build upon its very own, very nascent cocktail movement.
Sign up here for our daily Detroit email and be the first to get all the food/drink/fun the Motor City has to offer.
Nicole Rupersburg drank a lot of cocktails while writing this because it made her. Follow her on IG @eatsdrinksandleaves for pictures of beer, cocktails, mountains, and occasionally other things.