Jason Hoffman/Thrillist
Jason Hoffman/Thrillist
This is a two-part series on the making of Detroit's ambitious and underrecognized cocktail scene. Read Part One here.
Before Detroit became the underdog cocktail capital it is today, it had a huge early hurdle to jump: educating the consumers on what the hell a "craft cocktail" was anyway.
The Oakland in Ferndale and The Sugar House in Corktown, which both opened in 2011, faced the unenviable challenge of having to teach customers who considered a Cosmopolitan to be top-of-the-line why, exactly, they would open a "craft cocktail bar" that had rules about standing and charged $10-13 for a drink. All of this occurred in the middle of a massive recession when the city was hemorrhaging residents and employers were hemorrhaging jobs.
"When I described the concept of The Oakland to people, 99% were either really confused or thought I was really, really stupid," Sandy Levine, the bar's owner, remembers.
"When I opened The Sugar House, no one had any fucking idea what I was talking about," says Dave Kwiatkowski, a partner in the Detroit Optimist Society, which also operates Wright & Company, Cafe 78, and the spanking-new Peterboro, of the stalwart "top cocktail bars in America" listicle mainstay. "Now every restaurant has a craft cocktail or house cocktail menu. That has made it more accessible. The consumer education is better. People get it now and it's not as hard a sell anymore. Now when people come to The Sugar House, they know why they're there."
"99% of people were either really confused or thought I was really, really stupid."
Bartenders had to work hard to educate a Jack-and-Coke drinking public that had never heard of things like Detroit's own Last Word, and explain why their bars didn't stock any vodka. Detroit headed straight for the deep end with its cocktail bars, but the bold (dare we say brash?) insistence on "this is the way it's going to be" ultimately paid off.
The city's cocktail scene is now light-years ahead of anywhere it feasibly could or should be if you compare it to 10 years ago, when the hottest bars were places like Centaur and (Proof), where DJs spun techno while bartenders slung candy-flavored vodka martinis. A down economy is a discerning drinker's best friend, it would seem.
In hindsight, those early cocktail crusaders Levine and Kwiatkowski probably were really, really stupid. But now they're also successful business owners with multiple concepts under their stylish belts and loads of national press to brag about. It's such a fine line between stupid and clever.
A toast to Roast
The Sugar House and The Oakland were Detroit's first true dedicated "cocktail bars," but we could credit the opening of newly crowned Iron Chef Michael Symon's Roast in 2008 as the turning point for the citywide cocktail renaissance.
It was here that the city discovered mixed drinks in a serious way. Using spirits most native Detroiters had never heard of mixed with house-made bitters, shrubs, and tinctures, in combination with happy hours that quickly became the see-and-be-seen scene for a good several years, Detroiters started to learn about "craft" and "classic" cocktails, and quickly discovered how much they liked them.
Many of Detroit's top bartenders have put in time at the Roast bar over the years, but the first push was largely due to Travis Fourmont showing up fresh from Portland's exploding craft cocktail scene with his bottle of Peychaud's bitters in hand, wondering why no one knew what the hell he was doing. A few years later, Fourmont became the first Detroit bartender to make national booze news when he took home Woodford Reserve's "Master of the Manhattan" title in 2013. He now leads the corporate mixology program at Michigan's largest alcohol distributor, Great Lakes Wine & Spirits -- a position previously unheard of in Michigan.
The national narrative of Detroit shifted to the new "It" city, defining Rust Belt revivalism and "gritty" from-the-ashes rebirth.
"I was lucky enough to experience a similar growth in Portland's cocktail scene from 2000 to 2008. But I feel like Detroit's cocktail community developed even quicker," Fourmont says. "The biggest thing for me was when the light went off: 'Oh wait, this is the same thing that happened in Portland; I'm not going to let this cocktail bartending scene pass me by again.' It only takes a handful of legit bartenders who are really passionate and excited about it, and then it just spreads."
Roast opened inside the remodeled Westin Book Cadillac Detroit, probably the most high-profile historic preservation project at that point. The $200 million mid-recession restoration ushered in an era of breakneck development still going on today, including Dan Gilbert "saving" Detroit, that in turn shifted the national narrative of Detroit to the new "It" city, defining Rust Belt revivalism and "gritty" from-the-ashes rebirth. Resurget cineribus, etc.
That shift brought with it a whole lot of positive press, from which Detroit's burgeoning cocktail scene also benefited greatly -- the opportunity to wax romantic on the fallen, once-great American city giving rise to sophisticated Brooklyn-esque culinary trends was not lost on a single outsider journalist, much to the chagrin of every Detroiter who cringed at each mention of Detroit being the new Brooklyn.
There certainly is a kind of romanticism to the craft cocktail trend in Detroit: it is a long-forgotten art that had been recently rediscovered and reborn. There is an artisan craft to it; maybe not the same kind as furniture made from reclaimed wood from deconstructed Detroit houses, but a craft all the same. It highlights locally grown and made ingredients, in turn supporting the local economy, and pays homage to a long history while reinventing itself for the future. We love that kind of stuff.
House rules and fancy vests: The first wave of cocktail bars
There were a few other critical moments in those early years: Rifino Valentine launched Valentine Distilling in 2008, the first Michigan-based micro-distillery to make national headlines and win international awards for its vodka. Valentine's own oft-told story of leaving Wall Street to open a distillery became another gold standard of the "hand-crafted in Detroit" recession-driven revival narrative.
2011 was a watershed year for cocktails in Detroit. That year, Valentine expanded to open a Ferndale tasting room. Not too far from Valentine's tasting room, The Oakland in Ferndale also opened, which has cultivated national award-winning talent, including one of The Daily Meal's 25 top bartenders in the country, while also accumulating nods from GQ, Esquire, and Serious Eats.
That same year Kwiatkowski opened The Sugar House in redeveloping Corktown, now arguably Detroit's hippest, densest, booziest neighborhood, just a couple of doors down from the anchor food and drink institution, Slows Bar BQ.
Within what felt like minutes, Sugar House was blowing up on the national radar, popping up in national magazines like Esquire, Bon Appetit, New York Times, Food & Wine, Martha Stewart Living, and this little site right here for its extensive 21-page cocktail list of their own unique creations, seasonal cocktails, punches, and a classics list 100 drinks deep, complete with a glossary of terms.
"From the get-go at Sugar House we knew that in order to be taken seriously we needed to have a national-level-quality program," says Kwiatkowski.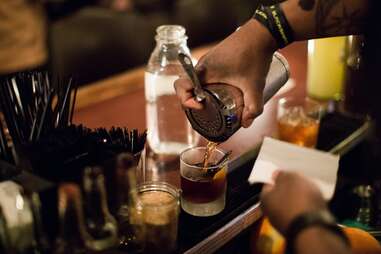 2013-2014: Those that followed
In 2013, Two James Spirits opened in Corktown as the first distillery in the City of Detroit since Prohibition. With the Detroit media machine running full speed ahead, Two James received loads of national accolades from the likes of Food & Wine, Fodor's, Eater, and us, all in their first three months of operation.
Detroit City Distillery, which prides itself on making spirits using Michigan-grown ingredients, followed in Eastern Market in 2014, as did the "controversial" Our/Detroit in Southwest.
Now Detroit wasn't just making killer cocktails; it was doing so with exclusively Detroit-made products, a nice dovetailing with the local foods and "Buy Local" movements that gained relentless momentum post-recession. Cocktail-related local food businesses like McClary Bros. drinking vinegars, Wolf Moon Mixers, Mary Ann's Soda Co., and McClure's Pickles Bloody Mary mix also took off.
In 2013, Robyn Cleveland, then of The Ravens Club cocktail bar in Ann Arbor about 45 minutes west of Detroit, succeeded in launching the Detroit chapter of the United States Bartenders' Guild, the professional association of American bartenders. The presence of a local USBG chapter meant a significant increase in the opportunities for Detroit-area bartenders to compete in national competitions and have access to more educational and professional resources, which catapulted them onto the national stage.
Detroit wasn't just making killer cocktails; it was doing so with exclusively Detroit-made products.
Also in 2013, Roast bartenders Travis Fourmont and Joe Robinson formed cocktail event production company Bailout Productions for reasons of "boredom and a need for better drinks in the city." Bailout directly produced or inspired several cocktail-focused events held throughout the year, including Whiskey Rebellion, Detroit Cocktail Classic, Whiskey Business, and MI Cocktail Culture, and the company was integral to bringing the cocktail experience to hotter-than-hot events like the now-defunct Guns + Butter pop-up, which got some prime TV real estate on Anthony Bourdain's Parts Unknownwhen the show steamrolled through Detroit.
At this point, Detroit's food and beverage scene wasn't hurting for lack of national press, but another major turning point happened after Fourmont's "Master of the Manhattan" win, which very likely inspired Esquire's esteemed booze expert David Wondrich, a judge in the competition, to visit the Motor City and hail it as "Bar City of the Year" in 2014.
Suddenly, national writers were name-dropping our local bartenders-turned-startenders seemingly overnight. These men and women of mixology were competing in national contests and winning; Shane McGrath, Yani Frye, and Will Lee among them. They were heading down to New Orleans for Tales of the Cocktail every year and getting international recognition from people who had heard tell of what Detroit was up to.
These days in metro Detroit, you can expect a high-quality cocktail at just about every establishment you should happen to wander into.
"Detroit is such a weird city in so many ways, but I think there are numerous examples of it getting a great reputation for things kind of after they'd been going on for a long time," Levine says. "Basically a bunch of friends and like-minded people get together and do things they're more or less obsessed with, nerd out for a few years, then all of a sudden we have an [insert the blank] scene. Motown, garage rock, techno, street art, cocktails, whatever. The idea that the city's financial issues combined with our shit weather contributes to people cultivating hobbies and expertise in those areas isn't really new, but it does find new avenues all the time."
Now it isn't just fashionable for every new restaurant and bar to have a craft cocktail program (and for established joints to retrofit their martini menus with house cocktails): it's mandatory.
Take it from Fourmount: "As our area continues to grow, serving a proper drink is becoming essential."
These days in metro Detroit, you can expect a high-quality cocktail at just about every establishment you should happen to wander into, from places that self-identify as cocktail bars like The Sugar House to shot-and-a-beer dives like the Bronx Bar and Bumbo's. And there are dozens of them, like subterranean second-wave cocktail bar The Keep; the stylish James Beard Award semi-finalist restaurants Selden Standard, Mabel Gray, and Wright & Co.; deli-turned-sexy cocktail lounge Mudgie's; and legit $3 cocktails at Rock City Eatery and Green Dot Stables. The list goes on and on and on.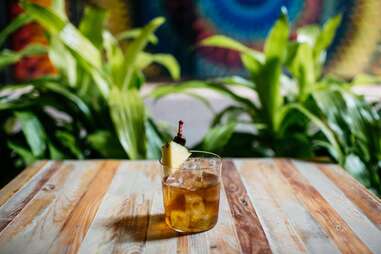 Detroit's cocktail scene is killing it; where's the love?
The latest spate of bar and restaurant openings continues to raise the bar on Detroit bars. Hell, they haven't just raised the bar; they broke it.
In the last few months alone, Joe Robinson and his business partners opened Standby and The Skip, the former boasting a cocktail list of 50 (mostly) unique creations (four pay homage to that first wave of early 2000s NYC cocktail bars), and the latter offering next-level frozen drinks -- think frozen Negronis and gin & tonics -- and boilermakers, showing the more playful side of craft cocktail culture.
Kwiatkowski's latest, The Peterboro, opened with a cocktail, sake, and sherry menu that complements its contemporary-American-Chinese-by-way-of-Detroit concept courtesy of Brion Wong. Katoi also opened, with a bar straight out of Blade Runner and more of Detroit's top cocktail talent behind it (including resident DJ-drink maestro Drew Pompa, another Roast alum). La Rondinella carries a robust selection of amaro -- Italian herbal liqueurs like Fernet, Cynar, Averna -- which serve as the backbone of their small but impressive cocktail program. Levine's Chartreuse opened about a year ago, with the Chartreuse-driven Last Word front-and-center on its cocktail menu.
Incidentally, Levine says Chartreuse sales in the Detroit area have been going up the last five years and skyrocketed last year, prompting a visit from the President and CEO of Chartreuse, Jean-Marc Roget, who had never before visited the city where the Last Word was invented. Levine himself recently returned from a visit to the Carthusian Monks in France, the makers of Chartreuse, courtesy of Roget & Co. Not just anyone gets to visit the Chartreuse monks on the Chartreuse dime. You could safely say that this is kind of a Big Deal.
In the meantime, back in Detropia, cocktail recipes from Standby (in Playboy), Sugar House (Food Network), and Mabel Gray (Eater) have all recently been published for national audiences.
Yet all of this attention Detroit's cocktail scene has received has been tinged with a sort of gawking at those managing to make great cocktails despite everything else -- certainly not because of it. When the talk shifts back to the "serious" American cocktail cities, New York, San Francisco, New Orleans, Chicago, and Portland still dominate, with nary a whisper of Detroit's renaissance.
"One thing I've been scratching my head about is the lack of national press our cocktail scene is getting," says Fourmont. "Sure, we have gotten a nod or two, and a couple cocktails published nationally, but compared to other comparable areas, we often get overlooked. I feel we already have some of the best cocktail bars in the country, and with the addition of places like Standby and Katoi we will no longer be denied."
"Detroit's kind of always been bubbling under the surface, and I kind of like it that way."
Kwiatkowski and Robinson both offer more logistical reasons for the semi-snubbing: for Kwiatkowski, the Barney Stinson-esque "new is always better" national media mentality that tends to focus only on the hottest and newest and shiniest of things is great for cities like Chicago, where concepts flip on a weekly basis as one bar closes and another opens in its place. There they don't have the $1 million startup cost of building out an empty husk of a building, but in Detroit, there are no such turnkey operations (... yet, and that unfortunately means some places will have to close for others to open), so the excitement over all things new is drastically limited. Basically, from an outsider's perspective, Detroit doesn't yet have the strength in numbers, though mighty the few may be.
"Here we kind of just put our head down and work in our own bubble to some degree, which is kind of why I think the product we put out is really good -- we're more focused on the work than the recognition," Levine offers.
Robinson also points out that there is a simple issue of allocation -- Detroit gets product a year or two after the big cities do. When something like Ancho Reyes comes out in all the major markets, it's already been used in cocktails, with the most natural pairings already thoroughly explored, by the time it finally shows up in Detroit. The challenge for him, then, is using it in a different way.
"The attention is on the larger markets, which it deservedly should be," he says diplomatically. "That's where this cocktail renaissance really took off and what inspired us. Moving forward, we can't do what they've already done; we need to make it our own. Detroit's kind of always been bubbling under the surface, and I kind of like it that way."
Detroit's cocktail scene is the kind only possible when people have the freedom to do whatever the fuck they want to do because they had nothing left to lose anyway. Down economy? Fuck it, let's open a bar. No one knows what the hell we're doing? Then we'll teach them, and they'll love it. Oh, now all of a sudden Detroit is the hottest of the hot places for somewhat-moneyed millennials to move? Sure, we'll take your money. Here, have a drink, and please enjoy our custom-welded bike racks out front for your Detroit-made fixies!
The city gets a lot of buzz for its culinary scene, and that's fine. It is at times a bit (sometimes a lot) generous, but it's cool. What people really need to pay attention to, though, is the cocktail scene. In less than a decade, it has exploded from being entirely negligible to one of the most comparatively bold and dynamic in the country; maybe not quite New York/San Francisco/New Orleans/Chicago/Portland-level just yet, but closer than most.
Detroit is gonna Detroit, after all.
Sign up here for our daily Detroit email and be the first to get all the food/drink/fun the Motor City has to offer.
Nicole Rupersburg drank a lot of cocktails while writing this because it made her. Follow her on IG @eatsdrinksandleaves for pictures of beer, cocktails, mountains, and occasionally other things.