Bourbon, handmade cocktails, local craft beers... they are NEW. They're FRESH. They're EXCITING. (Technically there's nothing new about them at all, but the way they're sometimes talked about makes it sound like small batch distilleries with minimalist and typographically hip logos are the second coming). You know what isn't new? Wine. Wine is old. It's fussy. It's stuffy. It's for rich old people who are old and rich and also boring and not at all young and fun, etc. But the assumption that wine is only for the upper echelons of society is wrong. So, so wrong.
In the interest of reminding everyone that wine is indeed a thing, and a great one at that, we assembled a list of the best wine bars in Detroit -- not according to Wine Spectator or AAA rankings -- just badass places to get some vino. You can thank us later...
Midtown
It must be pretty damn great to be Andy Hollyday right now. After leaving Roast, a restaurant that everyone in Detroit unanimously and unequivocally loved, he went out and opened Selden Standard, a restaurant that everyone in Detroit arguably loves even MORE unanimously and unequivocally. His refined rustic cuisine is a large part of the reason, as is the sexy, sexy space, but we simply cannot overlook the beverage selection: from a small but strong craft beer and cocktail selection, and even a couple of sakes for good measure, the booze game is strong here, right down to the unexpected bottles, like an Austrian Blaufrankisch, on the short but impressive wine list. Also: sexy, sexy space.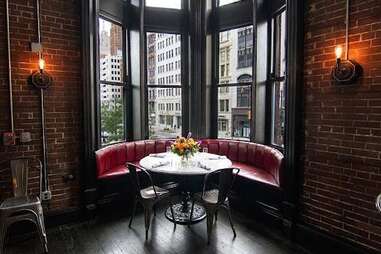 Downtown
Christian Stachel is the guy who made Café Muse a dinner destination not just for the food, but also for the stellar wine, beer, and cocktail program. He is now the Beverage Director at Wright & Co Downtown, so it's not surprising it has one of the most interesting beverage programs in Detroit, thanks to his obsessive dedication to excellence in both product and service. We could yammer on about the beer and cocktails but those get enough attention already; this is all about the wine, and at Wright & Co you need to take advantage of the German Rieslings available to you, a particular passion of Christian's.
Midtown
Bars that serve both coffee and booze are becoming the norm in cities all throughout the country, but nowhere in Detroit does it better than Great Lakes Coffee's Institute for Advanced Drinking, a Midtown coffee/cocktail/beer/wine bar, where the vino selection is ever-evolving, featuring natural wines from Old World small producers practicing organic or biodynamic farming, and highlighting uncommon, indigenous grape varieties you won't find anywhere else. Plus, IFAD is yet another sexy space to drink in, with the added bonus that it is also a central meeting place for Detroiters from all corners (Macbooks optional).
Corktown
Dave and Melissa Armin-Parcells opened the little wine-bar-and-bottle-shop that could in the space above Grand Trunk Pub back in ought-ten after fighting for a liquor license for nearly a year. But their patience paid off and now they have a sweet spot all their own in Corktown with a kick-ass patio, an outstanding wine selection, "Sundaylicious" dinner pop-ups, and live music ranging from jazz to techno to Motown. It is Corktown's requisite wine bar, as Corktown has precisely one of everything, and speaking of rosé, they celebrate "Drink Pink" Sundays. Since MCW is also a bottle shop, their selection runs deeper than most, and includes a sparkling Txakoli rosé, now available in magnums if you're going all in on Sunday Funday. Plus, every bottle in their store is available to drink on premises for just an $8 corkage fee, saving you from that extra restaurant markup.
Downtown
If it weren't for Roast we would basically all still be savages reduced to eating each other. We kid, of course, but... do we though???? Game-changing restaurant and happy hour aside, Roast general manager and sommelier/wine wunderkind Joseph Allerton is behind a beverage program that revolutionized Detroit's drinking scene, from the beer menu categorized by flavor profiles years before people knew what the hell that even meant, to the cocktail program that made guys like Travis Fourmont and Joe Robinson local startenders. And then there's the wine: the list is long and expansive, hitting a wide range of regions, varietals, and price points, but keeping things interesting without relying on the usual big, splashy producers to pad the list just to earn a Wine Spectator award. There may be a lot of restaurants in Detroit that are newer and shinier than Roast, but this is still one of the best places in the city to enjoy a beverage in the plush, still-stylish bar.
Midtown
Rosé, rosé, rosé! La Feria has a nice wine list that covers some Spanish territory otherwise largely untouched in Detroit, but let's talk about rosé! No longer the girlie, fruity, pink drink that wine snobs sneered at and dismissed as strictly vagina-wine ("brosé" is now also a thing), rosé is the perfect go-to for everything and everyone 100% of the time. Not a fan of white wine? Rosé! Most reds too heavy for you? Rosé! Not sure what to pair with your pizza or BBQ? Rosé! You ordered fish but your date ordered pasta? Rosé! Splitting a charcuterie plate... you get the idea. You really can't go wrong, and this is best place in the city to swill 'em: there are two selections -- a Tempranillo/Garnacha blend from Rioja and a Garnacha from Navarro -- aren't earth-shattering rosés, but something about drinking them in that colorful, sunny space paired with food from that pork-and-seafood-forward menu just feels so right we don't care if we're wrong.
Downtown
We've said it before -- Angelina Italian Bistro has one of the most underrated wine lists in the city -- and we'll say it again: Angelina Italian Bistro has one of the most underrated wine lists in the city. Whether you're in there for a full five-course meal before the opera or just grabbing a drink before the Tigers game, this sexy urban industrial space with the exquisite Chihuly-esque glass chandelier (by Detroit artist Lucy Olechowski) and wall-to-wall windows overlooking Grand Circus Park is an all around great place to relax and enjoy a glass of wine.
Downtown
Whisky Parlor beverage director and manager Tony Klee is a wine savant. Also an idiot. LOLOLOL JUST KIDDING KLEE!!!! But in all seriousness, he really knows his stuff without being stuffy about it, and the newly-opened Whisky Parlor, in a beautifully renovated space upstairs from Grand Trunk Pub that was once home to Motor City Wine, is as much about wine as it is about the brown stuff. He's happy to help you find a wine to suit your palate. Also he does stand-up comedy when he's not wine guying and you should definitely ask him to tell you a joke. Tell him Thrillist said it was cool.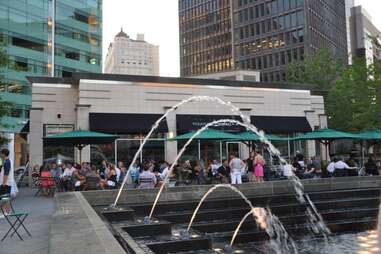 Campus Martius Park
Anything that's going to put you ringside for the fountain show is bound to be pretty terrific by default, but Fountain Bistro doesn't just phone it in with generic $5 retail California cabs they will happily charge $45 a bottle for. (Like, Apothic. Or Ménage à Trois. Or whatever other California red wine blend cast-offs with million-dollar marketing budgets are of the moment right now). Dig into their wine list for interesting bottles that span the major wine regions for every budget -- with a fair bit of Michigan thrown in not just for pity or appearances but because the labels offered are actually quite good -- order up one of those bottles then sip on that bad boy as you gaze into the fountain and… um, that's it actually. What more do you need?
Sign up here for our daily Detroit email and be the first to get all the food/drink/fun Motor City has to offer.
Nicole Rupersburg drinks wine when she's not drinking beer or cocktails. You can study, analyze, and judge her drinking habits on IG at @eatsdrinksandleaves.