Nothing stays a secret for very long in Detroit, but with more than 138 square miles of space -- there are plenty of hidden treasures. And if the treasure you seek happens to be booze, you should probably head to one of these 15, if not quite secret, then at least hidden bars.
Recommended Video
Sriracha Bacon Onion Rings Bring the Heat Like Never Before
Downtown
Not exactly as hidden as it was when it first opened in winter 2015 in the basement of the currently defunct Tokyo Club, but even its new space with a patio can't hinder this spot's laid-back speakeasy vibe. Don't let the construction on Woodward Ave deter you from finding it, and expect crafty cocktails and plenty of dudes with well-groomed facial hair from the hip new barbershop above, once you do.
How to get there: It's easy nowadays, but that's OK; it's on the same strip as a chic cigar bar, an Irish pub, and one of Detroit's beloved dive bars. 
 
Downtown
The Leland Hotel has one of the most schizophrenic histories in town. What was once a four-star hotel and was frequented by the Purple Gang and later by teamster Jimmy Hoffa now features residences with the amenities of a hotel. But we are not talking about these fancy-pants New York-style loft apartments all the kids are moving to the city for. Oh no. This is the real deal, down-on-your-luck, or at least living like you are, room rental on a monthly basis kind of place. But you can still have a drink, just keep your mouth shut or sleep with the fishes.  
How to get there: Pretend it's still a hotel and enter as though you'd like to rent a room. You can't miss the bar. It's the reception desk.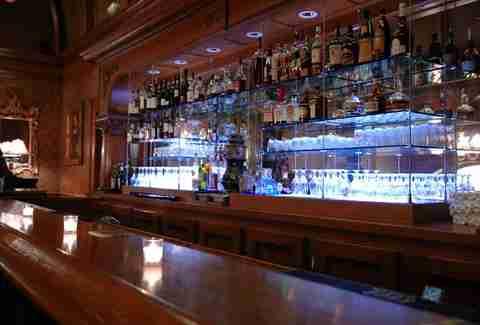 Midtown
The owners of the storied Whitney restaurant wised up and figured out a way to monopolize on the fact that the mansion it resides in is indeed as haunted as… err, something really haunted. Any patron who has ever ascended the stairs to use the bathroom has come back to their table and announced this fact. Brilliantly, the haunted upstairs is now one of the most atmospheric watering holes in town.  
How to get there: Don your favorite protection amulet and brave the staircase at the Whitney until you get to the third floor.
 
Southwest
Everyone loves a neighborhood dive bar. Even better is a neighborhood dive bar that doesn't make its presence known. Abick's is such a place. Expect friendly bartenders, cheap cocktails, and cold beers. And expect to possibly get lost trying to find it. 
How to get there: If you aren't looking for it, you'll never find it.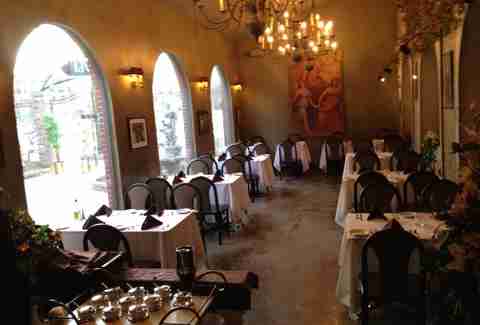 Palmer Park
Palmer Park is lovely. Palmer Woods is lovelier. But the east side of Woodward Ave in that region is largely devastated. LDV is a bit of glamour in a neighborhood that has for decades been hard hit by blight and crime. The patio has a bar where you can sit among the greenery and sip Chianti, or head inside for a full range of delicious cocktails. 
How to get there: It's easy to miss if you don't see the neon "ldv" sign that illuminates the front of the building. Park on the side streets or use the valet service.
 
Poletown East
Michigan's oldest blues bar is nowhere near Downtown. Or anything, for that matter. Head a bit east and you'll find this dark little bar with great music and excellent soul food. 
How to get there: It blends in with what remains of the other buildings on the block, but look for the sign. It's the only business of its sort for a country mile. 
NorHam
The Buddy's Pizza franchise expanded long ago to suburbia, where people wear white socks and drive SUVs without bullet holes. But the original Buddy's is still a bit of a hole in the wall with few other bar options in the immediate vicinity. For us locals, drinking pitchers of golden lager while eating famed square pizza on vinyl checkered tablecloths where the sun don't shine is absolutely glorious. Also, there's bocce ball. 'Nuff said. 
How to get there: Park in the lot with surveillance. The secret password is "Chicago style sucks."
 
Downtown
A place for heavy hitters and high rollers, "La Casa Cigar Bar" (the name of the lower level) sounds exclusive enough as it is. But alas, it gets even more nitpicky in the upper level where there's a private club with cocktails and couches. 
How to get there: First off, you'll need to dress the part. No flip-flops, cargo shorts, or Kid Rock Lions jerseys, kids. You simply will not find the upper level if you're dressed like 1999. Once you're in, just follow the intoxicating smell of fine tobacco burning and the notes of jazz.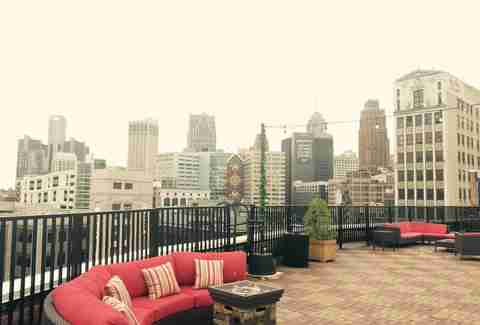 Downtown
The search for the best view of the city may well be over. The Sky Deck is ideal for pregaming before Tigers games, catching a glimpse of the Detroit fireworks display, or ogling the massive Shepard Fairey mural. It's even possible to sneak a peek into Comerica Park, no tickets needed.
How to get there: First, check the schedule of events. You'll have to sign in at the front desk of the Opera House. This means you'll need ID.
 
Warehouse District
Several picnic tables line the taproom floor, next to a small bar serving Atwater's freshest. At first glance, it might appear as a lunchroom/break spot for the brewmaster and his minions, but upon further inspection, it's one of the only places in town to drink surrounded by huge vats of cerveza. Try not to feel guilty sitting on your duff while the Atwater team busts out amazing brews while you look on. Hell, they may even join you when they're done working.
How to get there: Walk the length of the Dequindre Cut, make a left at Atwater St, arrive at Joseph Campau. Have a beer at Andrew's, then continue on Joseph Campau two blocks northwest.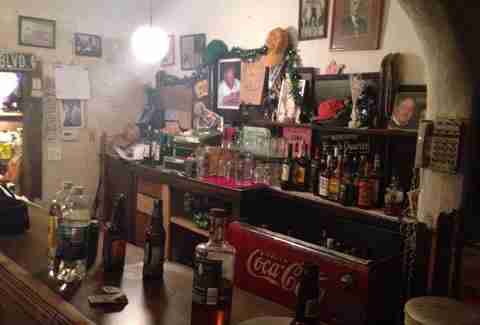 Pembroke
Good things come in small packages, especially when they're off the beaten path. Tom's turns into a honky-tonk cantina on select Sunday evenings and has been known to feature national acts on the down low. Buy a round of sarsaparillas for the whole bar and make lifelong friends, dude.
How to get there: It's the oldest and most out-of-place building in this 'hood. Knock twice, but gently -- the structure is a bit flimsy these days.
 
Downtown
One of the most beautiful and prime-located buildings in Detroit is also a private social club with everything from ballrooms to pools and of course, multiple bars that your sorry tush is very unlikely to get into. EVER. But, it's all who you know. Fred Durst allegedly once worked out here while Limp Bizkit was in town, so it can't be that exclusive, right? RIGHT?? 
How to get there: You have to be invited by a member. The process to become a member itself is one that infamous rabble-rousing attorney Geoffrey Fieger once referred to as "labyrinthine" after he was denied entrance. So, good luck with that one. 
Midtown
Literally hidden within the city's most beloved museum, Kresge Court is a good spot to grab wine or beer if you want to feel smarter than you are. 
How to get there: Wander through centuries, even millennia, of artwork until you find the giant, three-story court -- close to the cafeteria -- and across from a row of Spanish wooden confessionals from the medieval era.
Midtown
For another art and booze experience, this newish bar within MOCAD is one of the quietest places to belly up in the city. Mostly because few people know about it. And that's mostly because a lot of people just don't put visual art and booze together. That's unfortunate for them, but lucky for you.
How to get there: Go through the gallery entrance and turn right.
Downtown
Whoever said that focus drives success was… well, let's face it, they were probably a jerk. Or they were thinking of The Whisky Parlor, a brown liquor-based boozer with a name that leaves little room for misinterpretation. 
How to get there: Take the narrow flight of stairs from Foran's Grand Trunk.
Sign up here for our daily Detroit email and be the first to get all the food/drink/fun Motor City has to offer.
Megan Frye can be reached at @fryechild on Twitter, that is when she's not busy making concrete shoes or renting a room with no Wi-Fi at the Leland.