After a frustrating summer of Tigers baseball, a meaningless preseason of Lions football, and a lively but bittersweet off-season for the Wings, it's finally here. The time of year when you can turn on the TV and (pretty much) every major sport is on somewhere... and by somewhere we mean one of Detroit's 10 best sports bars.
Rivertown
This is the bar for Red Wings fans and even just plain old hockey fans. It's not the flashiest joint; it doesn't boast a million 60in plasmas, but it's home to Detroit's devoted hockey community, and that includes broadcasters, coaches, referees, and former players who have been known to pop in from time to time. Also, you should get the perch.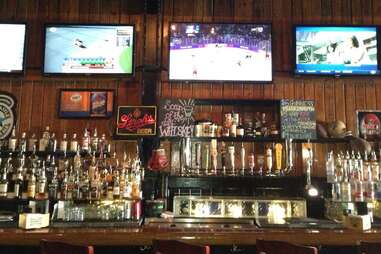 Eastern Market
Sports and beer are great together, but sports and whiskey might be even better. Thankfully Thomas Magee's doesn't make you choose (but really, pick a whiskey). Michigan sports are always on the tube, but Thomas Magee's is aware that soccer is also a thing, so also expect to watch some here -- like they do in the rest of the world.
Downtown
You know the food isn't spectacular, you know there might be something better out there, but you go because everyone from grandma to your boys from high school can eat/drink here and be happy... particularly if they like Miller Lite. Bonus points for the rooftop, the memorabilia, and being Buffalo Wild Wings, just Detroit themed.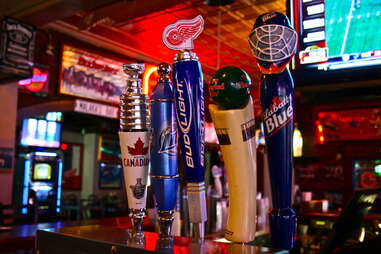 Bricktown
The Detroiter and everyone in it loves Detroit sports just as much as you do, as evidenced by the hordes of sweaty Greektown migrants awaiting the Detroiter shuttle to Comerica, Ford Field, or the Joe. The no-nonsense burgers, coneys, and other pub eats also pair well with the "one more beer before we go" attitude.
Corktown
A list of Detroit sports bars wouldn't be complete without Nemo's. Tigers games may have moved away, but Nemo's devotion to baseball never left, nor did the burgers. It's the place to get rowdy before, or after, a game, and also a wise place to catch a shuttle to/from Comerica and the Joe.
Midtown
Harry's truly is a classic Detroit sports bar complete with ample beer, TVs, and space to party on the patio deck, but the menu is why you want to be here on game day. Delectables like pickle chips and Angus steak burgers stand alongside fancy things like the smoked salmon BLT and house-made meatloaf.
Downtown
Sometimes you just need a bunch of big TVs and a bunch of beer. That's where TAP comes in handy. Get some pitchers, get something deep-fried, and watch Stafford lead a fourth-quarter comeback... or err, not.
Downtown
See above, just add BBQ.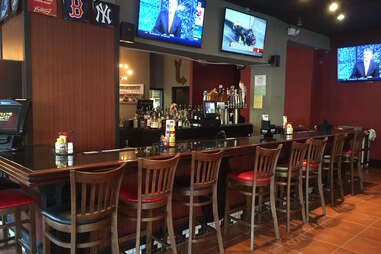 Downtown
Coaches Corner may have only been in its new digs in the Michigan Building for about two months, but that's enough time to prove that its sports/party/college-esque bar game is still just as strong. Hell, the combination of killer wings and Niki's pizza alone would make it a noteworthy pre-/post-game hangout.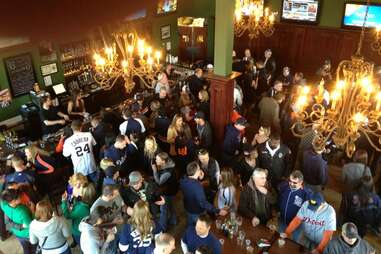 Downtown
The rooftop patio is a clutch choice for Tigers games, and the game-day specials include a choice between things like a $15 pitcher and four shots, or a bucket of Coronas for $16. It's also got giveaways and other sweet stuff during U of M away games. (Note: you don't have to be a UMich fan to obtain specials, but you totally should be).
Sign up here for our daily Detroit email and be the first to get all the food/drink/fun Motor City has to offer.
Jeff Waraniak likes to drink High Life and listen to Mickey Redmond say "Bingo-Bango." He lives in Detroit.