W
e Detroiters love our sports, with major league teams for every season and plenty of Big Ten college teams to follow across Michigan. As for soccer, well... we're getting there. The
Detroit City FC
semi-professional soccer club came on the scene in 2012 and quickly earned legions of fans, and this year's World Cup is sure to attract many of these newly minted futbol lovers, as well as the longtime die-hards -- even though the US team didn't actually qualify to play this year. The games run from June 14 through July 15 in the morning and early afternoon hours (they're playing in Russia, after all) and we've gathered together the very best places to watch in Metro Detroit, whether you're a soccer noob or a dedicated fan. Plus, we'll be updating this page with deals and specials as the bars announce them, so you'll want to stick around. Here are the D's best World Cup
bars
.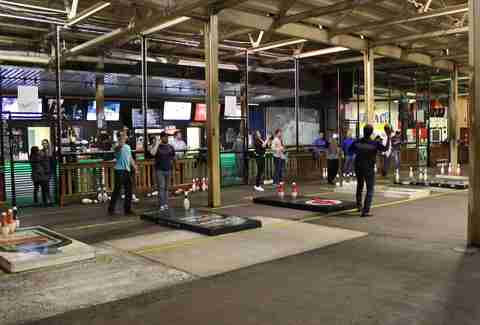 Hamtramck
Best for: Ravenous soccer fandom
The Fowling Warehouse is already one of the main stomping grounds for supporters of the Detroit City Football Club. Each home game, hundreds of fans get DCFC festivities started at this bar and fowling (the Detroit-centric football bowling pin game) venue, before marching over to Keyworth Stadium for the games. This year there's sure to be some overlap between DCFC game days and some of the big World Cup games (including June 17 and 23), but seeing as how the World Cup matches commence as early as 8am, and DCFC games come later in the evening, there shouldn't be an issue. Brews and cocktails are available for sale, but not food; guests are invited to bring their own snacks, though!
Eastern Market
Best for: England fans
If you're looking for a World Cup viewing spot near Downtown in the company of other football fans, Thomas Magee's is the popular winner. A favorite for Liverpool supporters and an official chapter of the American Outlaws United States national team, fans here can be sure to enjoy pints of Newcastle, Harp, and Guinness, as well as a variety of whiskeys.
Downtown
Best for: Poland fans
This no-frills pub is a mainstay for Tigers fans, but also makes for a good spot to hit up the World Cup games. The bar has the capacity to play three games at once and can provide sound on the main match. Beer specials are a regular occurrence here, as are lunch deals on non-Tigers days. We're told that there may be a bit of a Polish vibe here (thanks to one of the bartenders), so this may be the spot to check out those games on June 19, 24, and 28.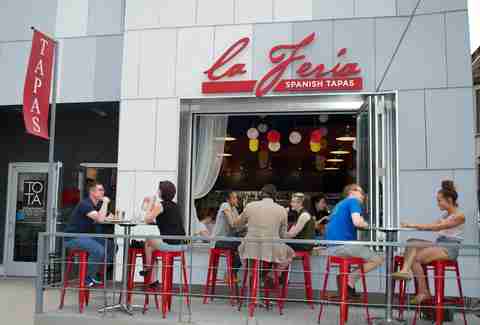 Midtown
Best for: Spain fans
Many of the bars around Metro Detroit that cater to rabid soccer fans tend to be UK-style pubs. Not here. This tapas eatery celebrates not just the Spanish national team, favored by some of the ownership, but encourages a little fun rivalry between other favorites like Senegal and Brazil. During the month-long matches, flags from the 32 participating nations will be on display and customers are encouraged to come up with country-specific drink specials depending on who's playing on any given day.
Southwest Detroit
Best for: A Spring Break vibe
Mexico fans can enjoy the games on four projector screens on display at El Salpicón Mariscos, a popular Nayarit-style seafood spot on West Vernor Highway. To eat, there's plenty of finger food on hand, ideal for sharing and munching during matches, including a variety of tostadas, seafood cocktails (with fish, shrimp, octopus, etc), empanadas, and grilled whole fish or shrimp. As for drinks, grab a bucket of Coronitas or a frosty margarita. After the game, stick around and dance the night away at the adjoining nightclub.
Midtown
Best for: All-day breakfast
Honest John's isn't strictly a sports bar, per se, but that doesn't mean you can't sneak over during a lunch break to catch an afternoon game. The no-frills spot is usually a safe bet for sports viewing, not to mention all-day breakfast and affordable diner fare and cheap drinks. If you feel like taking the viewing party home, domestic and foreign craft beers can be purchased to-go.
Southwest Detroit
Best for: Family-friendly viewing
This stalwart Mexican eatery always makes it a point to air the games, whether it be in support of Mexico's national team, the USA (maybe next time?), or any other team fans want to watch. The West Vernor Highway restaurant and bar will feature two large projector screens, in addition to its existing 12 or so TVs. In addition to its regular menu, beer buckets and taco specials will also likely be part of the festivities.
Hamtramck
Best for: A quiet, laid-back experience
For folks who'd rather skip all the game-day hype, Motor City Sports Bar is a sure bet. The vibe is usually pretty laid back, save for the lunchtime crowd drawn in by the spot's famous burgers or chevapi. Lunch crowds aside, fans can generally walk in, park at a barstool near one of the many big-screen TVs perched above the bar, and ask the bartender to tune into whatever game is on at that moment.
Southwest Detroit
Best for: Non-booze options
This Mexican restaurant and bar is already famous for its live acts, but during the World Cup, La Terraza makes room for soccer with eight projection screens and several TVs on hand for optimal viewing. The menu is wide-ranging, including seafood, tacos, fajitas, and even burgers -- whether you should be ordering a burger at a Mexican restaurant is another question, though. In addition to booze, La Terraza also carries fresh-squeezed juices and Mexican sodas in the bottle.
Royal Oak
Best for: Premier League followers
A longtime favorite in the suburbs, Rox Fox English Pub is the spot for Premier League fans. Much of the menu pays homage to British pub food, including the requisite fish and chips, shepherd's pie, and chicken tikka; matches will be shown all month long on the above-bar flat screens, and drinkers can pick from 38 beers available on tap.
Corktown
Best for: Watching the game while waiting to be seated
For those of you who need to keep an eye on a screen at all times, gourmet slider shop Green Dot has you covered. Folks are generally asked to wait for their seats at the patio area and during the games, matches will air there at all times; for the bigger ticket games, they'll show in the main dining room as well.
Sign up here for our daily Detroit email and be the first to get all the food/drink/fun the Motor City has to offer.