These days, there are many good excuses for enjoying a drink in Detroit, but that hasn't always been the case. Wait... yes it has! Detroit's been a damn fine drinking town pretty much since the get-go, and we can't imagine what the local culture would look like without a little of the good stuff mixed in. Here are 12 great booze-fueled moments in Motor City history: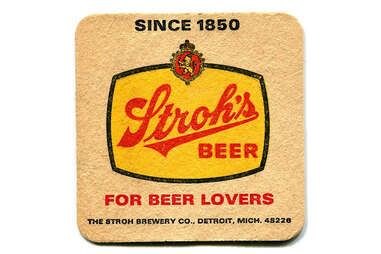 1. 1850 – The first beers are shot-gunned
In all actuality, our imbibing forebears were likely a few boot lengths classier than us, and sipped these golden suds out of a stein or an appropriately shaped glass when German immigrant Bernhard Stroh opened Stroh Brewing Company in Detroit in 1850. The brewery provided Bohemia-style lagers to the thirsty masses of the burgeoning Industrial Revolution, and laid the ground for many breweries that would follow in its das boot steps.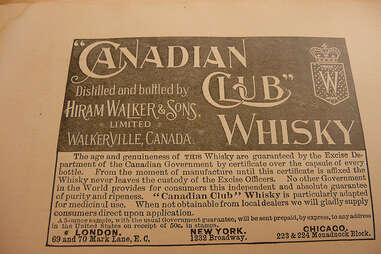 2. 1858 – Hiram Walker gives Windsor its street cred
Entrepreneur Hiram Walker followed the westward expansion from Boston to Detroit, where he began to cultivate his distilling prowess. In part of what would prove to be his wisest business move, Walker purchased land in the much more cost-effective country of Canada, right across the river from Detroit, where he effectively created his own town – Walkerville. The distillery gave birth to Canadian Club, which would go on to be one of the most exclusive brands of whiskey sold in the United States. Walker died decades before he would witness Prohibition, and never met one of his distillery's most loyal customers of that era: legendary gangster Al Capone.
3. 1920 - Detroit becomes the rum-running capital of the world
Despite the rosy history of Detroit's fabled heyday as the "Paris of the Midwest", the city has always known its fair share of crime. During Prohibition, Detroit alcohol smuggling operations were responsible for about 75% of the liquor that made its way into the country. At the time, The Purple Gang ran the town. The gang – which got its name for being "rotten... like bad meat" – had strong business ties to the aforementioned Capone, who, along with his henchmen, vacationed often in Detroit. He would bring back many souvenir cases of whiskey over the next 13 years.

4. 1933 – Michigan becomes the first state to abolish Prohibition
Yes, blame it on the harsh winters or a heavily Irish and Eastern European population – either way, Michigan was the first state to get its (legal) drink on again when the 21st Amendment was ratified in 1933.
5. 1958 – In which public drinking is condoned in the name of Irish heritage
The St. Patrick's Parade, which takes place in the city's historically Irish neighborhood of Corktown, is a well-known, annual excuse for daytime boozy shenanigans. Several entertaining incidents of note have taken place at the parade over the years, one of the most recent being local son and unconventional journalist Charlie LeDuff's 2013 arrest for public urination and fighting.

6. Nightly news in the '70s and '80s – Putting Ron Burgundy to shame
Former Detroit anchorman Bill Bonds was known to put a few back in his day. As those who were cognizant of Bonds' infamous, explicit on-air tirades may recall, his drinking was not reserved to the typical after-work cocktail (see one in all its NSFW, profane glory here). He also challenged former Detroit Mayor Coleman Young to a boxing match. Pass the whiskey, we're on in five!
7. 1974 – In which "punk" is further defined, Detroit style
What do you get when you combine a long-haired, cross-dressing, strung-out lead singer and a crowd consisting of hard-partying motorcycle gang members? A 45-minute version of "Louie, Louie", and said frontman's subsequent visit to a local hospital. During a concert at the famed Michigan Palace, Iggy Pop incited and encouraged a riot among the very aggressive Scorpions motorcycle gang. The riot ended when Iggy jumped into the crowd to confront one of the heckling gang members. It did not go well for him.

8. 1984 – The Tigers Win the World Series, and... fire
Following the World Series victory, the crowd of mostly nonviolent, mostly young, definitely celebrating young men, gave new meaning to the song "Dancing in the Streets" -- by which we mean the streets were overturned cars, and occasionally on fire.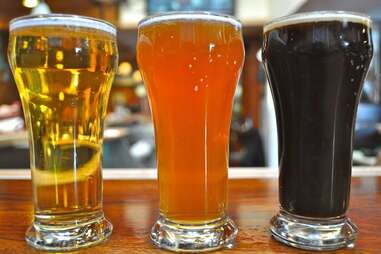 9. 1992 – Paving the way for the "Great Beer State"
Detroit's Traffic Jam & Snug becomes Michigan's first licensed brewpub, serving up hand-crafted, fermented goodness, and teasing the palates of the residents of what would become one of the most celebrated brewing states in the nation.
10. 2004 – Putting Auburn Hills on the map
Back when the Pistons were noteworthy, Auburn Hills actually had moments of relative excitement. One of the most notorious being the 2004 "Malice at the Palace" – in which a fan threw an empty beer cup at Pacers' superstar Ron Artest, leading to "the most infamous brawl in NBA history", involving players and a slew of fans. Metta World Peace has mostly kept it cool since then.

11. 2010 – Happy Sunday, and Merry Christmas everyone! Here's some booze.
Alcohol enthusiasts statewide rejoiced when in one month – December of 2010 – two incredible victories were won on behalf of booze: liquor would be sold on Sunday mornings... AND on Christmas Day (!) for the first time ever in state history. Heathens: 1, Puritans: 0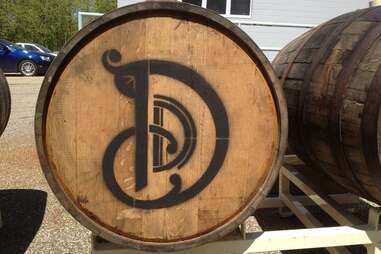 12. 2013-2014 – In which Detroiters suddenly have a new difficult decision to make. Which distillery to choose?
Between August 2013 and August 2014, THREE distilleries have opened within city limits – the first such occurrence since before that pesky Prohibition. Within a year, the distilleries – with cool names (Two James Distillery, Detroit City Distillery, and Our/Detroit) and no lack of style – have helped Detroit step into the game of artisan liquor production. There's even rumors of a fourth opening soon. Things are looking up! Blurry, perhaps. But definitely up!
Sign up here for our daily Detroit email and be the first to get all the food/drink/fun Motor City has to offer.