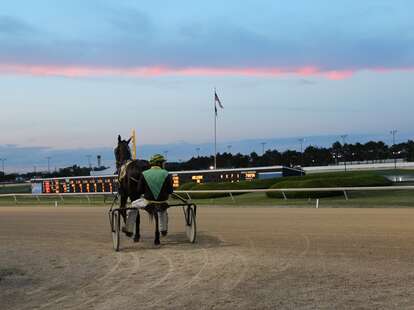 In honor of their biggest gamble, the husband and wife team behind Green Dot Stables is throwing an absolutely ridiculous beer, BBQ, and betting blowout at the Hazel Park Raceway track to celebrate the slider house's one year anniversary. To help you get primed for the party this Monday (June 10th), we hit the track for a practice betting session with GDS's co-owners.
Okay, how the hell do you do this? First, consult Moose Zonjic, a Green Dot-certified "expert in all things harness racing", for a coveted photocopy of his "Moose Notes", which detail the top drivers, trainers, and horse picks. There are three possible bets to make: win (your selected horse wins), place (your selected horse finishes 1st or 2nd), or show (your selected horse finishes in the top three). Got it?
You've got your lucky horse earrings on like GDS co-owner Christine, right? Right?!?!?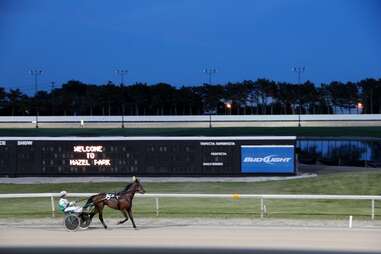 Alright, now that the drivers are taking warm-up trots, let's talk stallion strategy. For those into winning indicators, the driver's record/horse's past consistency (how many wins, week-over-week performance) and pole position (you want one on the inside, usually 1-4 in positioning) are good things to base a bet on. We completely ignore all of those and go with #4, because it's Jacques's birthday month.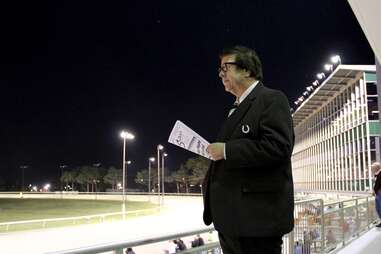 You might just wanna ask Moose. He is, after all, wearing a diamond-studded horseshoe pin.
Or Lauren in the grey coat. She is, after all...wearing a grey coat?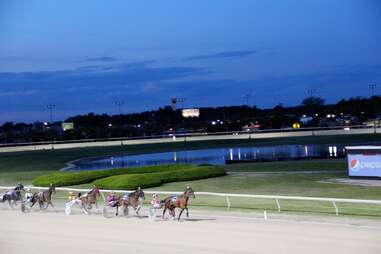 And they're off! The actual race is a quick-paced two laps as the drivers vie for a good enough position to take the lead. Riders are actually being pulled on two-wheeled, uncomfortable-looking carts appropriately named sulkies.
Despite it being a great birthday month, #4 is apparently a less-than-great horse... as in second-to-last-place less-than-great. Christine and Jacques are understandably shocked.
Fortunately, this was just a practice run for the big party on Monday, when everyone's invited out to the Raceway for the aforementioned night of free BBQ, beers, and (only free if you're more successful at it) betting. Accompanied by DJ Frankie Banks (of Plymouth's Sardine Room), the Green Dot crew will be holding court on the Pavillion (pictured) from 7p to 1130p, so the only real way to lose is not going.