There are lot of places in Detroit 2.0 to get craft cocktails in loft-like spaces with floor-to-ceiling windows and stamped tin ceilings. But what has happened to the old-fashioned blue-collar Detroit dive bar? Even the diviest of dives in Midtown (The Bronx, Jumbo's, Temple Bar) have been infiltrated with all manner of oversized glasses and possibly ironic facial hair. At that point, the inherent "divieness" becomes a decided (and marketable) aesthetic instead of a natural state of being.
Now, if you want real dives, like real low-down dumps full of old dudes smoking cigarettes (even though Michigan passed the smoking ban four years ago), you have to look a little bit further out. It's the once-promised land of Hamtramck – named a bit prematurely as one of the "15 hippest places to live" by Utne Reader in 1997, which also included Williamsburg, Wicker Park, and Los Feliz (back when they were all actually sh*tholes) on their list, and look what happened to those places.
Yet, Hamtramck remains the last bastion of unpolluted divebardom in Detroit. It's just dirty and nasty and grubby and skeezy, all crust punks and unemployed theatre rats and dudes who work manual labor jobs by day and play hardcore shows at night, where your worth as a Detroiter is judged not by how many mobile app startups you have launched, but by how many bands you have played in -- and it's brilliant. Bless you, Hamtramck, for all that you are, and please don't ever change.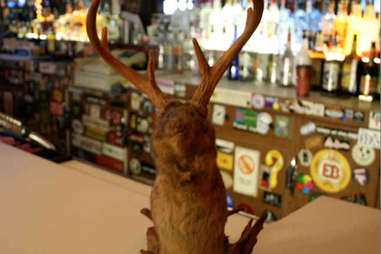 If you've never been to Whiskey in the Jar before, you get a mandatory "Welcome to Hamtramck" introductory Jezy shot. Things get weird from there. They are known to throw themed parties, like the annual tracksuit party, for no reason. There is also a "rattalope" displayed at the bar. For no reason. And if you're looking for a little bit of political activism – if by "activism" you mean sitting at the bar and talking about how you would fix the city/state/country/world, and your politics are decidedly liberal – they even have a group for you to join! It's Detroit's most politically active bar, really.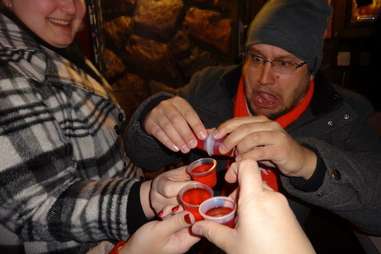 A holdover from Hamtramck's primarily Polish days, the PSL is the ultimate old-timer bar/private club that allows guests, known for their annual Opening Day and Paczki Day parties. Because people in Hamtramck celebrate Paczki Day like it's St. Patrick's Day.
One of several bars to claim the title "oldest bar in Detroit," the Two Way Inn has been open since 1876 and has been, at various points in time, a hotel, a brothel, a jail, a general store, a blind pig, and a bar. And it's haunted. Stop by for some homemade soups or Sloppy Joes, and to generally just feel like you're hanging out at your buddy's house. Which just happens to be a century-old former brothel that's haunted.

You ever heard of Panic in Hamtramck? Of course not, go back to doing pickle back shots at The Bronx and talking about your social entrepreneurship plans. Panic in Hamtramck is a punk festival that's been going on for a decade now, and it's held at the Painted Lady Lounge. Oh, you thought Blowout was the only music festival in Hamtramck? F*** Blowout. Panic was started by artist/musician/frontman/chef Tim Lampinen, aka Timmy Vulgar, aka the guy behind Timmy's Organism, aka the guy who does Timmy's Tacos on Wednesdays at the Painted Lady, which you should go and eat.
Live bands, karaoke, open mic stand-up, burgers, "the game" on TV whenever applicable. It's a neighborhood dive bar for one and all, provided the smoke doesn't bother you. (Clearly it bothers the ALL CAPS one-star folks on Yelp. Clearly those people haven't spent much time in Vegas or New Orleans, where the better the dive bar, the smokier it is).
It's a tiny little bar that happens to be the hotspot for all the local theatre rats -- of which there are surprisingly many, thanks to places like the nearby Planet Ant Theatre and the bar's comedy open mic night every second and fourth Tuesday. The walls are even lined with headshots of Detroit Famous performers, some of whom have gone on to be legit famous-famous. This isn't a place to go day drinking though; the crowds don't get going until later in the night, and the doors don't even open until 7pm.
Without incriminating anyone (including the author), let's just say there was a time in Detroit's lawless, wild-west late '90s/early '00 days when Paycheck's was reliably quite lax when it came to certain... enforcement policies. Some things have changed, but Paycheck's remains a hell of a dive, and Hamtramck's oldest live music venue, still bringing in a weirdo mix of punk bands, hardcore/metal bands, industrial bands, punk tribute bands, singer-songwriters, and whatnots, with a proper stage and everything (and not just some dudes set up in the corner of the bar).
Paycheck's might be the oldest live music venue, but Small's is arguably the most well-known. They also have your punk, your hardcore, your metal, your industrial, your '80s new wave/goth/industrial/harsh electro DJ dance parties, your occasional acoustic set, your comedy nights, your proper music stage, etc etc etc. It just celebrated its 15-year anniversary, and it's safe to say that Small's is a Hamtramck dive bar concert hall icon.
It's another dive bar (with live music and taco-pierogi!!!).

It's another-other dive bar, named Hank's.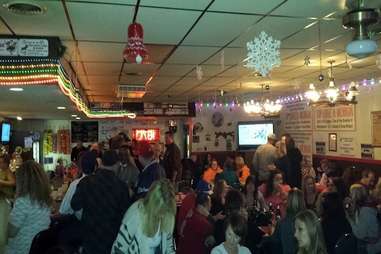 It's a dive bar that is also a Moose Lodge that does a number of community events and fundraisers (because it is a Moose Lodge) and also has fish fry dinner Fridays during Lent (because Polish Catholic) that kicks off with a big Paczki Day breakfast (because Hamtramck).
Sign up here for our daily Detroit email and be the first to get all the food/drink/fun Motor City has to offer.