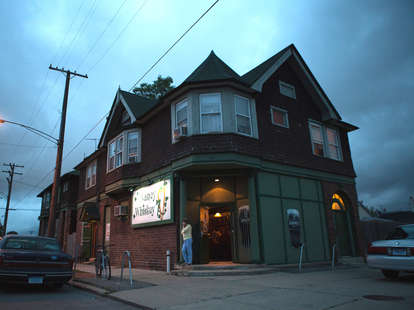 Nancy Whiskey

| Flickr/tom parr
Nancy Whiskey

| Flickr/tom parr
With a city as old as this one, you just know Detroit's got some seriously spooky spots. It's tough to stop at just a few (we have lots of deceased), but we narrowed them down to places that are accessible -- legally -- to the public, and where you can grab a drink for courage in case you run into any of the shady characters that lurk there. In fact, liquid courage might be necessary. We've found at least seven bars home to the dearly departed. We've also included two famously spooky Detroit watering holes that, whether or not they are haunted, are probably not haunted by their supposed specter. ...You'll see.
Corktown
Bartender Sheryl and other regulars at this Corktown Irish bar swear that the place is haunted by no fewer than three ghosts, all quite friendly. While no one is entirely sure exactly who they are, the old phone booth in the front corner was reputedly used by everyone's favorite Detroit gangster, Jimmy Hoffa, on a regular basis, so maybe he's still stopping in from wherever he ended up to check on things. It's also entirely possible that the Digby family who opened the general store on the site in 1902 has a family member or three sticking around.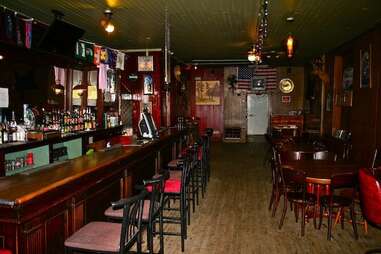 Nortown
The Two Way has its own share of mysterious occurrences and familiar spirits. Built in 1876 by Colonel Philetus Norris, a Civil War veteran and frontiersman, the building has served as a saloon, jail, general store, brothel, and speakeasy over the years. And some say that the colonel never left: a shady figure has been spotted darting across the back area from the kitchen to the restrooms. Speaking of the restrooms, one of them (we'll let you guess which) has a unique spectral malfunction: From time to time, patrons in need of relief have been either held inside or outside the unlocked single-stall room by an unseen force. If that's not creepy enough for you, there are also reported sightings of a young child and a woman in white.
Downtown
Owner Tom Burelle delights in giving basement tours of the former speakeasy and regaling guests with chilling stories of Purple Gangsters holding late-night card games. Although plenty of Detroit bars love claiming the Brothers Bernstein and others as guests, Tommy's can actually verify its case. Upstairs in the bar, items jump across shelves and mysteriously make their way to new cubbyholes when no one is looking. And in the downright-creepy basement, shadows move when no one else is around. Burelle tells of one late night: He was disposing trash outside near the bricked-in former basement entrance when a gentleman decked out in a white suit and fedora strolled casually past him, then disappeared straight through the wall as he looked on with terror.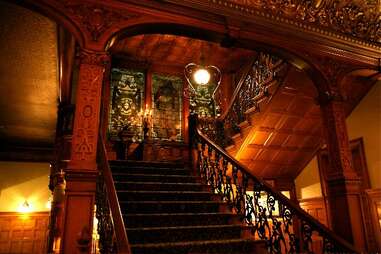 Midtown
There's a reason they call the third-floor bar the Ghostbar. It seems to host only one ghost -- that of original owner David Whitney's widow, Sarah -- but she's plenty active. Sarah is reputed to never have left her beloved custom-built home, and can be spotted admiring her reflection in the ladies' powder-room mirror. Frequent sightings also happen on the elevator which, despite frequent mechanical updates and repairs, often stops for no reason on unoccupied floors. Regardless of Sarah's presence, the mansion, built in 1894, is a stunning Gilded Age spot to sip some fancy cocktails.
East Side
The Cadieux has plenty of history to go with its famous mussels and feather bowling. Like Nancy Whiskey, the building quickly switched purposes from general store to saloon and social hall for the Belgian community nearby. One such resident, Yvonne Devos, who with her husband Robert bought the popular hangout in 1962, still causes the occasional fright by appearing in her favorite chair after closing hours. She's probably just making sure her family is still taking care of the joint to her liking.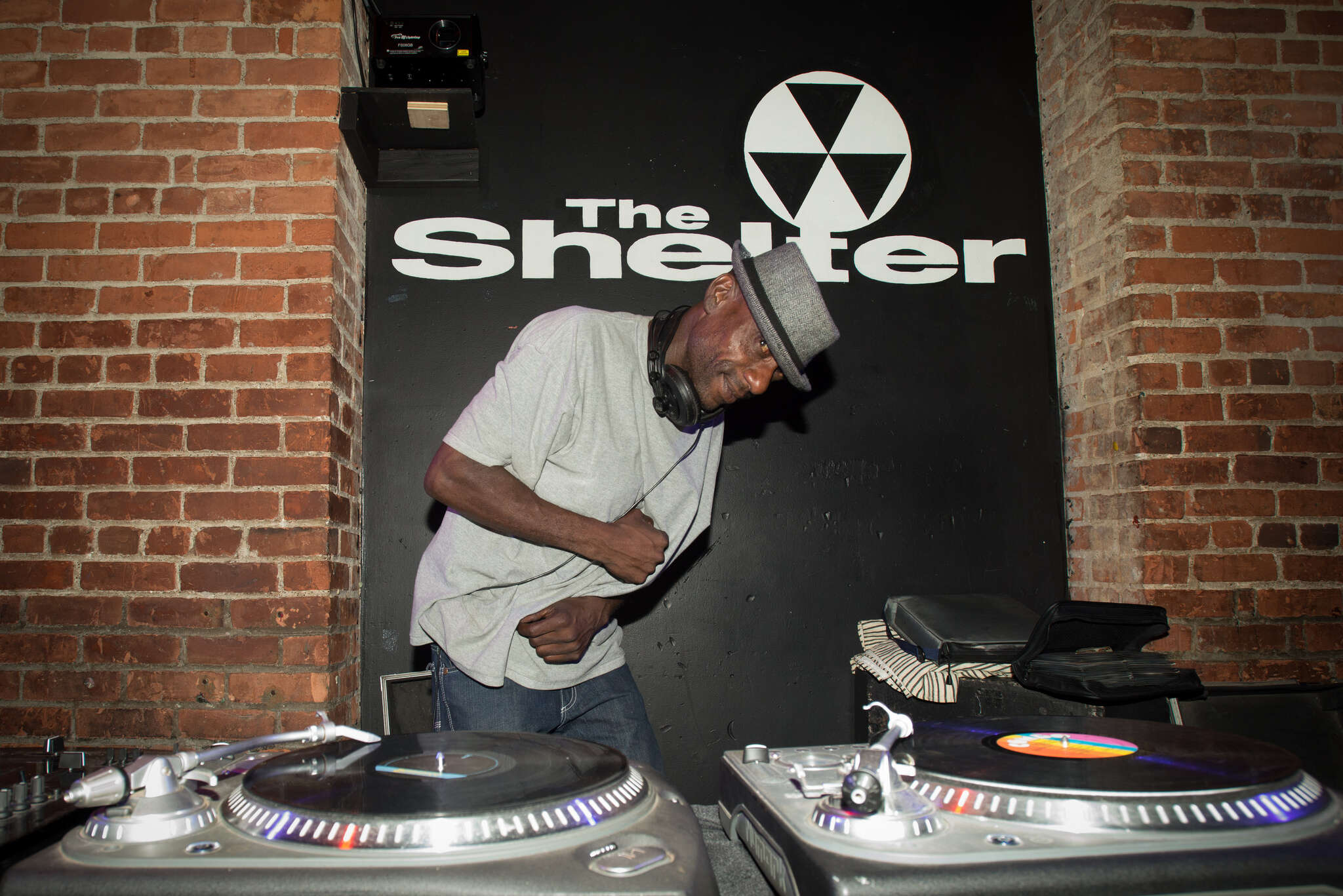 Downtown
Saint Andrews originally served the drinking needs of Detroit's Scottish-Americans, so the sound of bagpipes drifting up the back stairs might not cause too much of a stir; that is, until you realize that those back stairs have been bricked off for decades, and that the Shelter is more likely to host a ska show than a pipe-and-drums performance these days.
Downtown
At least four people were killed on-site during the Leland's construction phase, and the bodies seem to have just piled up from there. When the hotel opened in 1927, it hosted lavish parties and celebrity guests on the fourth floor. That's where most of the hauntings, or at least the noisiest ones, seem to be concentrated. Witnesses have described loud laughter and music trickling down from that floor, even though it's closed to visitors and now lies empty. The basement's Labyrinth bar hosts another bathroom resident, the "white lady of the basement," who peeks at guests.
Midtown
You've heard that the ghost of Harry Houdini still roams the halls of the Majestic because his final performance occurred there, right? Wrong. Well, at least the final performance part. Although Houdini was indeed scheduled to perform there, his actual last act was cut short on October 24th, 1926 at the Garrick Theatre after an acute fever sent him to the hospital. Houdini's last days in Detroit (he died on Halloween at Grace Hospital, and seances were held there for years after his death) are certainly tragic enough to warrant a haunting. And the Majestic has enough history to claim a ghost or two of its own, so we've no doubt odd things happen. We just needed to set the record straight on this perpetuated falsehood.
Arena District
Here's another great building with all sorts of spooky stories. The most popularly retold one goes like this: The largest Masonic Temple in the world was built by wealthy Detroit architect George D. Mason in 1926 at the height of Detroit's prosperity. But with the onset of the Great Depression, Mason fell into extreme poverty and in despair flung himself from the roof of the Masonic and plummeted to his death. It's a great tale, but the facts don't quite bear it out. George D. Mason died a wealthy and respected man at the age of 92 in 1948. Regardless, the Masonic has enough creep factor in its 1,037 rooms to get your goose bumps raised at least once a year.
Sign up here for our daily Detroit email and be the first to get all the food/drink/fun the Motor City has to offer.
Mickey Lyons loves all things spooky and historic in Detroit. She totally believes in ghosts, but also believes that those ghosts should be at least historically accurate.