30 Michigan Beers to Drink Before You Die
This is could easily have 100 (or even 1,000) beers on it, and that's because the Great Beer State produces so damn many outstanding beers that deserve a place of honor in your personal beer tank (i.e. your stomach). After consulting with numerous Michigan beer-lovers, we narrowed down the best of the best, and the most mandatory of the mandatory, to the top beers every Michigander must drink -- the most ubiquitous, the most popular, the most inherently Michigan of Michigan beers, from the white whales of national renown to the widely-available classics.
Bell's Brewery Oberon
Pale wheat ale; 5.8%
In truth, Bell's could populate this list entirely on its own, with tough scores like Hopslam and Oracle getting plenty of mention alongside favorites like Oarsman and Expedition Stout. All of those are "better" beers (according to beer geeks) than Oberon, but no other craft beer in the state of Michigan is as popular or as celebrated as this signature wheat beer. With an instantly recognizable orange smiling sun logo on a sky blue background, Oberon has become synonymous with all things summer in Michigan -- road trips Up North, sitting on a patio on the lake, jumping in a friend's boat for an afternoon of day drinking, camping and bonfires, and all other good things. We celebrate its annual release as "Oberon Day," which signifies the coming of spring more than the vernal equinox. It is the craft beer gateway for many a Michigan drinker and absolutely mandatory Michigan drinking.

Bell's Brewery Two-Hearted
American IPA; 7%
It's been named one of the best IPAs in the world to the point that Deadspin has even called it "contrarian-proof." The best part? You can get it everywhere, which just goes to show that not every "best beer in the..." whatever has to be something with an allocation of two per 300,000 people.

Bell's Brewery Hopslam
American double/imperial IPA; 10%
Oh, we PROMISED ourselves we wouldn't list more than two per brewery, but come on, in an age where every damn IPA in America has to be "Imperial Hopocalypse Cock-Punch Octuple 827 IBU FML IPA," Hopslam is the rare exception that actually tastes good. Really, really good.

Dragonmead Microbrewery Final Absolution Trippel
Trippel; 10%
Final Absolution is Dragonmead's flagship brew, a Belgian trippel (translation: strong ale) full of banana and clove notes from the Belgian yeast strain and the Belgian Candi Sugar used to brew the beer, which drinks deceptively smoothly but for the fact that it's 10% ABV and after three of these you'll be on the floor. But that only adds to its local fame and notoriety.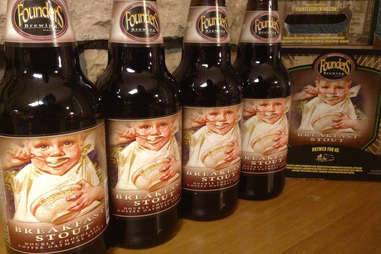 Founders Brewing Company BSes
American double/imperial stout; various %
There's Breakfast Stout, the seasonal imperial oatmeal stout loaded with chocolate and coffee. Then there's the beer-geekiest of beer geek beers, KBS (aka Kentucky Breakfast Stout prior to a little dustup with the Bluegrass state), one of the original bourbon barrel-aged trophy stouts. Then there is CBS, which is so rare and so minimally allocated and so infrequently produced that it makes for a most challenging bucket list checkoff. This one is aged in spent bourbon barrels that had most recently been aging pure Michigan maple syrup. All of them combine to help explain why so many people lose their collective s**t over Founders.

Founders Brewing Company All Day IPA
American IPA; 4.7%
A "session" IPA clocking in at 4.7% ABV, All Day IPA is meant for all-day drinking, just like it says. Because sometimes it's a marathon, not a sprint.

New Holland Brewing Company Dragon's Milk
American Double/Imperial Stout; 10%
You could be one of those people who waits in line for hours for the chance of maybe getting some KBS, or you could just pick up some Dragon's Milk, which is everywhere, and drink the shit out of it any time you want, and know that all those suckers out there caught up in the KBS hype machine are seriously missing out on what some would argue is actually the better BBA imperial stout. Hey, more Dragon's Milk for us!

New Holland Brewing Company The Poet
Oatmeal stout; 5.2%
Just as not every IPA needs to be a whiskey-strength Galactic Imperial, neither does every stout have to be bourbon barrel-aged. The Poet oatmeal stout is one of the very best regular-drinking stouts being made in Michigan. Also, pretty much everything New Holland makes is outstanding because they just don't make a bad, or even a blah, beer.

Odd Side Ales Mayan Mocha Stout
American stout; 6%
The Mayan Mocha Stout is inspired by Mexican hot chocolate and is brewed with Dutch chocolate coffee, cinnamon, nutmeg, and habaneros for a different kind of "heat" than what you're used to with the bourbon barrel-aged stout varieties. This one's not BBA, but rather a quaffable 6% ABV.

Odd Side Ales Citra Pale Ale
American pale ale; 5.75%
Brewed exclusively with Citra hops, this pale ale/IPA hybrid is loaded with grapefruit, tropical fruit, citrus, and pine and tastes like summertime day drinking.
Jolly Pumpkin Artisan Ales La Roja
American wild ale; 7.2%
Jolly Pumpkin is still one of the few breweries in the country that exclusively brews oak-aged wild ales, which is another way of saying they make delicious wild funky sour ales and wild funky sour ales alone. Every brett-head has their favorite, but La Roja, Jolly Pumpkin's flagship Flanders red style ale, is a classic and a great introduction to both the brewery and to sour beers in general. Be on the lookout for the Grand Reserve and the occasional and experimental spin of this beer, like the La Roja du Kriek released earlier this year -- La Roja with Michigan tart cherry juice added.

Jolly Pumpkin Artisan Ales Noel de Calabaza
Belgian strong dark ale; 9%
Every single Jolly Pumpkin beer is one you should be drinking, especially if you're a sour fiend, but the Christmas seasonal Noel de Calabaza is just something really, really special. With holiday-themed flavors of figs, raisins, and the faintest hints of toffee and chocolate and cinnamon and clove, this Belgian Strong Dark Ale will most definitely leave visions of sugarplums dancing in your head.

Kuhnhenn Brewing Company Raspberry Eisbock
Eisbock; 15.5%
Kuhnhenn has a cult following and is known for experimental strong ales; you'd be hard-pressed to find a beer nerd that has a bad thing to say about the bourbon barrel-aged 4th Dementia Olde Ale. But what about the experimental strong lager? The Raspberry Eisbock is consistently rated one of the best beers in the world. It tastes like a concentrated raspberry chocolate truffle and is more of a cordial than a beer at a highly deceptive 15.5% ABV.

Kuhnhenn Brewing Company DRIPA
American double/imperial IPA; 9%
Kuhnhenn's flagship and most popular beer is DRIPA, a double rice IPA that took home the gold in the IPA category at the 2012 World Beer Cup, aka the Oscars of beer. At 9% ABV, DRIPA doesn't play around, and it inevitably gets mentioned in almost every conversation about the best beers in the state of Michigan because those who know, know. Look for it in bottles (FINALLY) this year.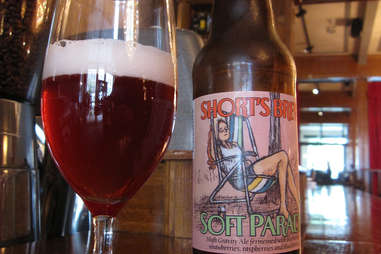 Short's Brewing Company Soft Parade
Rye ale; 7.5%
Short's makes a lot of different beers. Not all of those beers are good. Thankfully, Soft Parade is. Soft Parade is a fruit-infused rye ale that packs a powerful punch at 7.5% ABV, so definitely not a pansy, girly fruit beer by any means. It's also a year-round standard.

Short's Brewing Company The Wizard
Barleywine; 11%
To reiterate, Short's makes a LOT of beers, but the Wizard barleywine is one of the few that are truly exceptional.

Griffin Claw Brewing Company Screamin' Pumpkin Ale
Pumpkin ale; 6%
Every year, starting as early as August, the onslaught of pumpkin beers begins, and every year there are about a dozen bad ones for every good one. Screamin' Pumpkin is one of the good ones -- nay, one of the best, with a popularity that precedes it. Brewmaster Dan Rogers created the recipe when he was at Michigan Brewing Company, and after many years the recipe came full-circle back to him when Griffin Claw purchased it in the MBC liquidation after the company went bankrupt. Last year they also released a limited run of Bourbon Barrel Imperial Screamin' Pumpkin.

Griffin Claw Brewing Company Norm's Raggedy Ass IPA
American IPA; 7.25%
For standard year-round IPA-drinking, World Beer Cup champion Norm's Raggedy Ass IPA is hugely popular, favored by hopheads and those who enjoy an occasional balanced IPA alike.

Dark Horse Brewing Company Crooked Tree
American IPA; 6.5%
A deliciously drinkable dry-hopped IPA that is standard issue in bars all over the state, also available in a limited 12% ABV "Double Crooked Tree" version, because of course it is.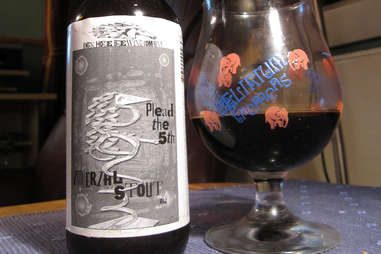 Dark Horse Brewing Company Bourbon Barrel Plead the 5th
Russian imperial stout; 11%
There are a lot of bourbon barrel-aged imperial stouts out there, but the bearded dudes of Dark Horse really struck black gold with this one.

Brewery Vivant Farm Hand
Saison/farmhouse ale; 5.5%
Brewery Vivant specializes in Belgian- and French-style farmhouse ales, and Farm Hand is a pinnacle example of this -- a slightly sweet, slightly yeasty, rustic, light-drinking beer that pairs well with everything in your life.

Brewery Vivant Triomphe
Belgian IPA; 6.5%
There are lots of IPAs on this list because there are lots of IPAs in general, but only Brewery Vivant makes what they call a Belgian-style IPA, using Belgian techniques with American hops for a "best of both worlds" hybrid style that also pairs well with everything in your life.

Arbor Brewing Company Sacred Cow IPA
American IPA; 6.8%
You can pick up a sixer of Sacred Cow for year-round enjoyment in the comforts of your home, or, if you happen to be in the Ann Arbor area, you can pay a visit to the brewery and get it hand-pulled from the cask-conditioned beer engine, which some swear is the only way to drink it.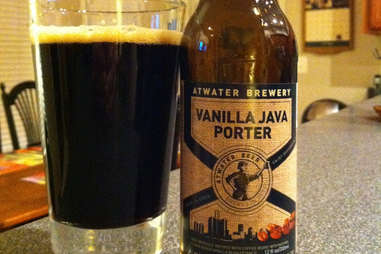 Atwater Brewery Vanilla Java Porter
American porter; 4.5%
This English-style porter is kicked up a notch with the addition of vanilla and coffee, and it is a longtime Detroit favorite.

Motor City Brewing Works Ghettoblaster
English dark mild ale; 4.2%
For many years before the dawn of everyone being a beer geek, every Detroiter drank the hell out of Ghettoblaster because it was "our" beer. Ghettoblaster is one of the few commercial English mild ales you can find and it's a real session beer, meaning you can sit down and have a pint or six and still feel just fine.

Atwater Brewery Purple Gang Pilsner
Czech pilsener; 5.5%
You know what there aren't enough of in American brewing? Pilsners. There need to be more pilsners. The Purple Gang Pilsner (the name pays homage to Detroit's Prohibition booze-running heritage) is brewed in strict German tradition, a bit lighter than its Czech counterparts, and makes for some easy drinking.

Right Brain Brewery Mangalitsa Pig Porter
American porter, 6% ABV
One of the most... well, weirdest beers in Michigan takes America's obsession with pork to a whole new level. Right Brain Brewery's Mangalitsa Pig Porter is brewed with smoked Mangalitsa pig bones (so it's totally not a bacon beer, even though it's totally a bacon beer) which gives this beer its natural smoky flavor without added smoked malt or pork extracts. But is it good? Well, not all ideas are good ideas (see: Short's Brewery's very, very large portfolio), but this one took home the gold medal for "Best Experimental Beer" from the 2011 Great American Beer Festival, for what that's worth. It's a limited release that already has a cult following and its own release party à la KBS and Oberon, and it's totally what you would serve to your bacon-fiend friends even though it's not a bacon beer (even though it totally is).

Leelanau Brewing Company Good Harbor Golden Ale
Bière de Garde; 7.5%
The Good Harbor Golden Ale is aptly-named, as it is liquid gold in a bottle. Leelanau's small production and lack of a brick-and-mortar brewery has meant that it has flown mostly under the radar in the mainstream of beer geekery, but Michigan beer nerds in the know know that these are some of the best sours being produced in the state. (As well they should be, as Leelanau has a relationship to Jolly Pumpkin.) Golden Harbor is their "Michigan Bière de Garde" aged in French oak.

Saugatuck Brewing Company Neapolitan Milk Stout
Milk stout; 6%
What does a "Neapolitan" stout taste like? Chocolate. Then vanilla. Then strawberry. It is by pure wizardry that the folks at Saugatuck have been able to recreate the experience of Neapolitan ice cream, and it makes for mandatory Michigan drinking.

Stroh's
American adjunct lager; 4.6%
It may not be made in Michigan anymore -- now it's basically PBR with a different label, but this is still a part of our state's long brewing heritage, and how exactly are you going to go through life having never drank a Stroh's? The answer: you are not.
Sign up here for our daily Detroit email and be the first to get all the food/drink/fun Motor City has to offer.