The Best Spring Beers You Can Find in Michigan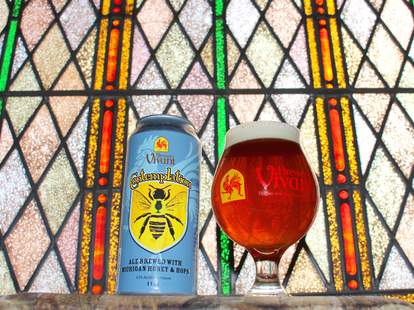 Courtesy of Brewery Vivant
Winter in Detroit this year has been kinda... meh. Not too cold, but also not that memorable -- kind of like a lukewarm can of Bud Light at a company picnic. That's why we're so stoked to move on to spring, and we have the beers that will carry us through.
A couple things before we get started: 1) not all of these brews are spring seasonals, and 2) we selected bottles that are widely distributed enough to be easily found either in your local party store or brewery (because not everyone can afford to make a beer pilgrimage to find the super secret limited release). So, onward to warmer days, filled with better beer.

Belgian ale, 6.5% ABV
Grand Rapids
This Belgian brew adds locally sourced clover honey during the boil, giving the beer its rich color. Don't expect it to be overly sweet, though; the sugars are broken down during the fermentation process. Instead, it has hints of apricot and nectarine notes, mixed with a floral aroma of northern Michigan hops.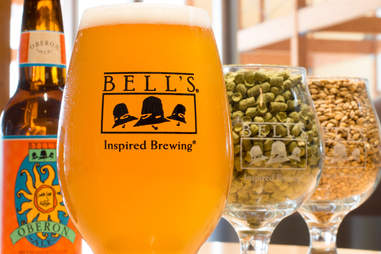 Courtesy of Bell's
Wheat ale, 5.8% ABV
Kalamazoo
One of the Mitten's most anticipated seasonals, Oberon's arrival is something people celebrate like an official holiday. What you get with this is a spicy hop character, smooth mouthfeel, and mild, fruity aromas. Available from March to Labor Day, it's like a bottle of warm breezes.
American IPA, 6.8% ABV
Ann Arbor
Another year-round classic, Sacred Cow is especially appropriate this time of year because of its tangy, citrusy, distinct ruby-red grapefruit quality. This coppery-gold brew has a full floral, hoppy aroma, and a long, satisfying finish. Just like a spring day.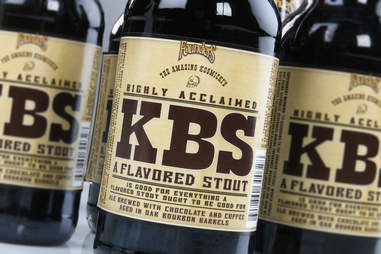 Courtesy of Founders
Imperial stout, 12.4% ABV
Grand Rapids
It's critically acclaimed and coveted by beer snobs the world over. Why? Because it is aged in a barrel, and has hints of vanilla, espresso, chocolate, and bourbon, yielding a rich, deep, full-bodied flavor. This is a beer to appreciate on a spring day that has yet to warm up. It's available beginning in April.
Mango wheat fruit ale, 4.8% ABV
Detroit
Because it's springtime, damn it, and relaxing with a refreshing, fruity cold one is ripe for the season. This wheat fruit ale is softly sweet and tropically aromatic (you know, like a fresh mango), ideal for when the temperatures start to rise and you've officially checked out on heady, filling brews until October.
India pale lager, 7% ABV
Detroit
When the IPA meets the lager, you get the India pale lager. This hybrid brew results in hoppy bitterness, but at the same time is cool and crisp. That means a nice balance for folks who find an IPA just a little too overbearing but want a little more complexity from their lagers. You'll find this scattered around town.
French saison, 6.5% ABV
Detroit
The beers at this Corktown brewpub are always on rotation, which is part of the fun for Batch Brewing fans. Making a return appearance is this French saison. More like a dry wine, this brew is made with hibiscus, giving it a pleasant and botanical tartness.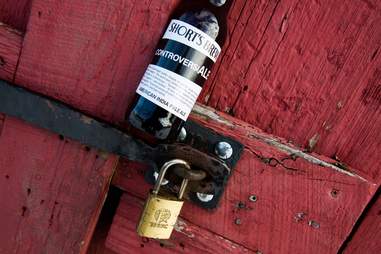 Courtesy of Short's Brewing Company
American IPA, 6.5%
Bellaire
Brewed with super limited Simcoe hops, this springtime American IPA has an earthy, citrusy, and piney aroma. The mix of toasted grains and high alpha hops make for a taste that resembles a toasty sourdough topped with grapefruit hop marmalade. Though it's an IPA, it's light and refreshing.
Session mead, 6% ABV
Ferndale
This award-winning meadery has come up with the essence of a margarita, sans the tequila. Available April to September, this medium-bodied mead is tart, with lime juice and lime zest, yet creamy and sweet, from the orange blossom honey and agave nectar. This fizzy number gives off a semi-dry finish that pairs exceptionally well with Mexican food.
Saison/Farmhouse ale, 5.5% ABV
Dexter, MI
To be released March 30th at Jolly Pumpkin's pub, this saison was brewed in December 2014 and aged in oak barrels for two months. It's been brewed with yuzu peel, lime peel, salt, coriander, and clementines -- making it highly effervescent and golden in color.
Courtesy of Detroit Beer Co.
Belgian dark strong ale, 9.2% ABV
Detroit
Detroit Beer Company has been a Downtown staple since 2003, long before the food and drink scene exploded. But that doesn't mean it's old hat. The brewpub recently underwent a facelift, and with that, a beer to ring in the season. Drop da Mic is a dark beer that has a rather light finish to it. That's because it's made with berries and a dark Belgian candy syrup, giving it a caramel hue. Rich and smooth all in one.
Belgian dark lager, 4.5% ABV
Detroit
This classic Cass Corridor establishment is one of only two breweries in Michigan that utilizes open air fermenters, which are very old-world Belgian, indeed. It's quite dark in color, but surprisingly light in flavor, so you're not weighed down by a heavy beer. Find it at the Traffic Jam brewpub.
Trippel, 10% ABV
Warren, MI
This should be on every Michigan beer lover's list all year 'round, just because it's this beer maker's signature drink. This Belgian trippel is a strong ale, but is quite smooth, thanks to banana and clove aromas that come from the Belgian yeast strain and Belgian candi sugar. Just don't let the fact that it's easy to drink (very easy) trick you into gulping this down. At 10% ABV, you'll be on your ass in no time.
Sign up here for our daily Detroit email and be the first to get all the food/drink/fun Motor City has to offer.
Serena Maria Daniels is a freelance writer and editor in Detroit who, when she's not in front of a computer, is sipping on cans of Stroh's. You can cheers her on Twitter and IG at @serenamaria36.