The great People Mover pub crawl: a night of drinking via Detroit public transit
The People Mover is Downtown Detroit's public transportation option: a 2.9-mile loop with all the charms of a lurching and creaky carnival ride, but with fewer freaks thanks to an increase in the price of each ride to a whopping $0.75.
However, it can also be a gateway to endless entertainment and debauchery, as one group of hedonistic drinkers discovered as they embarked on a People Mover pub crawl. Here's what happened: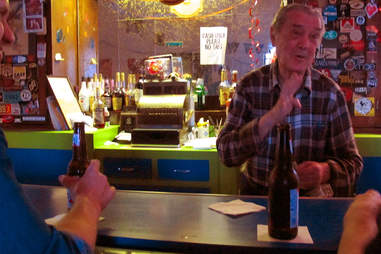 Megan Frye
Bricktown
Mr. Steven's Bar (address and info)
After a bomb threat nearly derailed (!) the plans for the evening (it was a duffel bag full of old clothes), we reach our first stop. Owned by an elderly Greek Couple, Mr. Steven's Bar truly feels like a step back in time, with a brass rail (duct-taped in some spots) and an extensive collection of rusty vintage lunch boxes. The beer is acceptably chilled and if Mr. Steven offers you a shot of butterscotch schnapps on the house, you should be obliged and down it in respect of a Detroit institution.
Renaissance Center
VOLT at the Marriott (address and info)
After our minute-long ride, we realize we've lost two members of our party. A text message reveals they've opted for lap dances rather than public transportation, and that they plan to meet up later after a supposedly brief rendezvous at the Bouzouki Club. So we press on. If you spent all your cash on People Mover tokens and are too broke for Coach Insignia, Volt makes a solid alternative at the Renaissance Center stop. Being that it's a hotel bar, try not to go alone lest you be confused for a prostitute or a potential John. If a meat market is your bag though, order a dirty martini, enjoy the views of the river, and indulge in the sweet smells of desperation. 
Megan Frye
Financial District
Foran's Grand Trunk Pub (address and info)
Still no word from team lap dance, so we roll into this dome-shaped watering hole which used to be a ticket station for the Grand Trunk Railroad, and now serves as a preferred intoxication station for seemingly all types. With more than 20 Michigan beers on tap – including the coveted Short's Hopstache – you've got your pick of tasty suds. If you're planning to coat your stomach for the night ahead – don't skip the fish & chips and the deep-fried pickles. A few people in the group throw some bombs (of the boozy variety) into the mix -- this is a bar crawl, after all.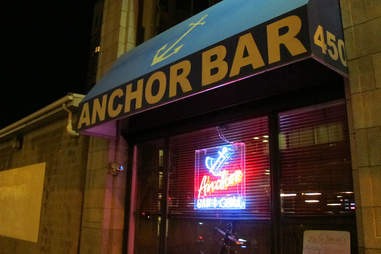 Megan Frye
Fort/Cass
Anchor Bar (address and info)
The entrance may reek of decriminalization, and you may well be invited to smoke in the boys' room of this classic rock-pumping Red Wings bar. Try to keep the pool balls on the table, and order a cold bottle of domestic and perhaps a shot of something brown. We stick around long enough for a lively discussion about the effects of coconut oil on the longevity of an erection, only to head back to the People Mover and run into a pack of 15 bachelorettes fresh from a margarita-packed dinner cruise with a Jimmy Buffet cover band (a thing, apparently), who insist on using the train's support poles in a way our wayward strip club friends likely would have enjoyed. 
Megan Frye
Broadway
Centre Park Bar (address and info)
After being denied entrance to an outdoor party in front of the Detroit Opera House (can't imagine why?!), the group collectively decides to put all our phones on airplane mode to avoid unwanted contact from the outside world. Our Bouzuki Club friends are still MIA, and, at this point, most assuredly nestled into a stripper's ample cleavage and unlikely to surface again before last call. We wander into Centre Park Bar – a newly opened joint where everyone is dressed to the nines. We discuss the musical genius of Pharrell Williams as we notice that nearly every dance hit blasting at this bar is something that he's had a hand in. This leads to a conversation of all of our guilty pleasure pop songs as we chug $3 PBR cans and pints of Stella.
Cadillac Center
The Well (address and info)
This is a good place to go if you want to relive your college years in a less intellectual setting, or dance like you're at the most awkward wedding of all time. We come across our second bachelorette party of the night, and a scene is started when one of our girls approaches the bride-to-be by strongly urging her, "don't do it". She did this to the previous bride-to-be as well. Meanwhile, the bartenders have seemingly choreographed pour moves to "I Wanna Dance With Somebody" and the lighting effects are surely inducing some MDMA flashbacks among the crowd. Our party is now engaged in uncomfortable conversations with men wearing button-up shirts who continuously bump into us on the outskirts of the dance floor. We slam some some Jim Beam and get the hell out.
Greektown
The Old Shillelagh (address and info)
The activity on the dance floor is often somewhere between a '90s prom and a crime scene, with people more interested in looking on than moving. Depending on the night, you may find booty music or traditional Irish folk being played here. Either way, be sure to order up a pint of Guinness and enjoy watching people fall down. After a couple rounds and a few unseasonable exchanges, we head back to a Detroit house and proceed to do some backyard drinking until long after the birds have started chirping.
 
Lessons learned:
Can you use the People Mover as a means to an evening of booze-addled shenanigans? Yes! Should you? Why not?! Will you? That choice is in your hands.
This list -- and all the rest -- look even sexier in our iPhone app. Get it now!