Some of you have assumed, ever since the publishing of this little piece about Metro Detroit's suburbs, that we hate the suburbs. It's just not true! Sure, we may have some fun at their expense now and again, but there's plenty to love about the area just beyond Detroit's borders, starting with these 16 bars. 
Berkley
Back before there were "beer bars," there was The Berkley Front. Opened in 1994, The Berkley Front is and always has been a beer bar, serving then-hard-to-find labels from all over the world (nowadays, you'll also find a fair share of Michigan brews) on its 43 taps alongside the live punk rock, rockabilly, and Detroit garage that The Front has been known for over the last 20 years. It's a bar that has all the look and feel of a Hamtramck dive, except it's in Berkley. 
Taylor
Filling the hole for a beloved neighborhood bar left by the closing of the Perfect Pitcher a few years back, the relatively new-ish Bierkeller gives Taylor a top-notch German-style beer hall with a large selection of German and Michigan beers. There's also menu full of beer-friendly German-inspired (or at least German-adjacent) items, weekday specials/events like $3 Michigan pints on Mondays, pub trivia on Tuesdays, karaoke Wednesdays, and live music on weekends. Taylor finally has a grown-up bar.
 
St. Clair Shores
Nothing about Boat Works Bar & Grill screams "this place is secretly awesome," but... this place is secretly awesome. It's a dive bar -- the ultimate generic suburban sports bar -- that has been family owned and operated for over 30 years and also has a surprisingly terrific craft beer list. This place has been a best kept secret of St. Clair Shores for forever, and St. Clair Shores people like it that way. Also, the nacho plate is ridiculous.
Rochester
Named one of the country's 100 best beer bars by DRAFT magazine in 2013... do you even need any other reason? The beer selection is one of the best in the state (it more than holds its own against the eight hundred and eleventy-seven taps at Hopcat), the food is excellent, the décor is welcoming, and so are the folks behind it. In fact, the only downside is the fact that it's one hell of a haul from the city, making this one of those rare situations in which we're jealous of people who live in Troy.
 
Mt. Clemens
It's a bar that was once a blind pig in the basement of a 100-year-old farmhouse with 6ft ceilings and one of the best damn bar burgers in Michigan, and it is perfection.
Royal Oak
In a city full of bro bars, Gusoline Alley still manages to be a divey mainstay that appeals in equal parts to the motorcycle crowd and the non-bro-y denizens of Royal Oak who just ended up there for reasons. Sidebar: Rock on Third almost made it on here for its surprisingly outstanding beer list, but since it cannot seem to keep every single surface in the bar from being perpetually sticky, it just couldn't happen. 
Ferndale
Tacos and tattoos, oh my! Also bacon-wrapped hot dogs and margaritas and PBR tallboys and patios and Ferndale hipsters and Detroit hipsters who wandered too far North. Oh, and young mothers in flowery dresses who raise chickens in their backyards, sell handmade stationary on Etsy, and think it's totally okay to push through here at 10pm on a Friday night with their baby strollers. Lest we forget.
 
St. Clair Shores
Seeing as how we named it one of the 21 best whiskey bars in America, it should go without saying that it's one of the best bars in the Metro Detroit suburbs. Still, we'll say it: the whiskey list at Butter Run is truly exceptional. But don't take our word for it -- just click on their whiskey list and scroll until your fingers get tired. If you don't make it all the way through, yes, it has Pappy (15-, 20-, AND 23-year). It also has its own custom blend of Angel's Envy bourbon. 
Warren
It's one of the most popular breweries in Michigan, and once it gets its production brewery in Clinton Township up-and-running, it's bound to take over the world. Or at least get a cut of that sweet, sweet feverish Founders fandom. But for now, Kuhnhenn is still "ours" -- a chill spot for locals and dedicated beer nerds where mostly everybody knows everybody and the head brewer is a dude named not-Sully.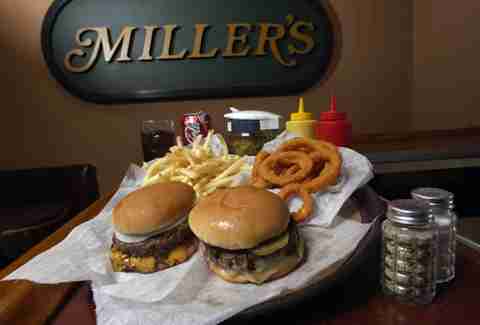 Dearborn
It's a dive bar in Dearborn that only takes cash, has a decidedly limited beer selection, and a dubious claim to being one of the "Best Burgers in Michigan," according to those who like to be contrarian. The exterior is also weirdly reminiscent of the bowling alley in The Big Lebowski.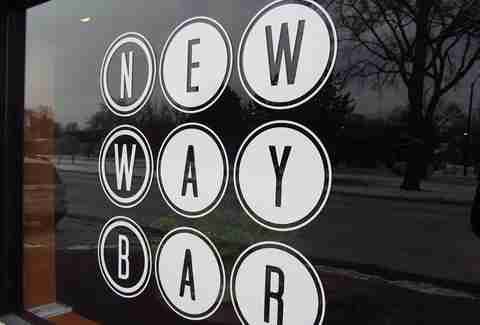 Ferndale
Founded in 1935, the New Way Bar is Ferndale's oldest and most favorite dive bar, complete with wood-paneled walls, because a dive bar just isn't a dive bar without wood-paneled walls. Its also got live music, open mic comedy nights, and free ping pong. Free ping pong!!!
 
Wyandotte
One of the oldest and best beer bars in Metro Detroit is in... Wyandotte??? Believe it. The Oak Café boasts 40 taps, two casks, and over 100 more by the bottle, plus you can get anything -- and we mean anything -- in a 22oz pour. That 10oz-pour limit on barleywines? Pfffffff. Welcome to Downriver. Just come prepared -- it's cash only.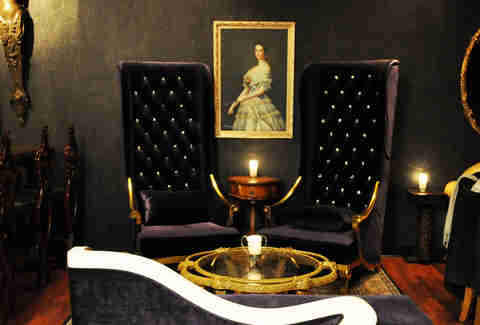 Ferndale
Home of some of the top-ranked competitive bartenders in the country (and basically a training facility for Metro Detroit's master mixologists), the Oakland in Ferndale is not just one of the best bars in Detroit's suburbs -- it's one of the best bars anywhere. (At least David Wondrich seems to think so, and who are we to argue?) While owner Sandy Levine's Chartreuse Kitchen & Cocktails in Midtown is one of the most highly anticipated openings of the year (SO SOON), let's not neglect the bar that started it all. 
Ferndale
One-Eyed Betty's is part of the new breed of beer bar -- while places like The Berkley Front and Oak Café certainly came before it by a couple of decades, Betty's was the very first of the second wave of beer bars (that also included Clubhouse B.F.D.) that began sprouting up back in 2012. Known for its awesome beer selection, whiskey selection, award-crushing burgers, and the baddest-ass Beth (as in owner Beth Hussey) in the beer business, Betty's became a neighborhood staple instantaneously from the first second it opened its doors. 
Wyandotte
While the Rockery is maybe a bit limited by today's current 100-tap beer bar standards, having a small but solid rotating tap list of local brews and tons more by the bottles and cans, cheap and delicious food, pool tables, a jukebox, clean bathrooms (that is seriously something to commend), live music, and an all-around friendly dive bar vibe, it's no wonder that this place is a Downriver favorite.
 
Grosse Pointe Park
Jack Kerouac used to hang out here and his name is carved into the wood-paneled wall. That is the one and only reason you need to go here.
Sign up here for our daily Detroit email and be the first to get all the food/drink/fun Motor City has to offer.