The 9 Most Beautiful Bars in Detroit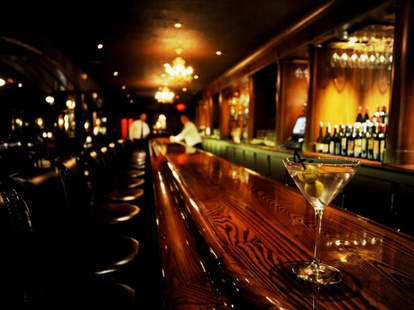 COURTESY OF LONDON CHOP HOUSE
Sure, you can get a good drink in any of Detroit's hard-scrabble, chicken wire-bedecked drinking establishments, but every once in awhile, wouldn't it be nice to do your drinking beneath a gracefully arched mosaic ceiling, or a stained-glass window? Well, you totally can 'cause those are just two of the places on our list of The D's most beautiful bars.
Downtown
Originally opened in 1938, the London Chop House retains much of its early 20th century panache and flair thanks in large part to nearly $2 million in renovations between 2010 and 2012 after the restaurant had been shuttered for nearly 20 years. Noticing a theme here? Detroit's comeback kid mentality is largely based on reinvigorating its food and drink scene with nods and homages to an earlier era.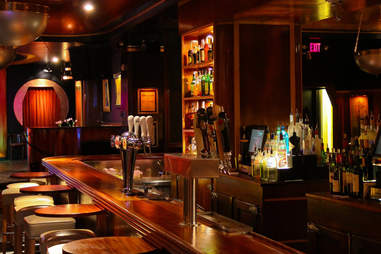 Courtesy of Kyle Mattson
Foxtown
One of Detroit's classiest music venues -- that's also known for its cocktails and elegant aliments -- Cliff Bell's holds much of its charm due to the sheer antiquity of the space; originally opened in 1935, the jazz hall was completely restored 70 years later (which includes a couple decades of sitting dormant) to maintain and update its vintage chic.
Courtesy of Selden Standard
Midtown
There are places that rely on flash in order to get attention -- and then there are the places that let the product speak for itself. That is the Selden Standard, a bar that is equal parts minimal and graceful, sophisticated and modern.
Downtown
The Guardian Building boasts arguably Detroit's most beautiful commercial interior: it's the kind of place you just wish you had a reason to hang out in and not be harassed for loitering. Fortunately, there is one excuse and it comes in the form of an espresso bar. Yup! Make sure this is a stop either before or during one of those crazy People Mover pub crawls the kids like to take these days.
Courtesy of Sal Rodriguez
Corktown
We're not sure what makes this bar more beautiful -- the exposed brick, chandeliers and taxidermy, or the impressive collection of booze from all corners of the globe. It certainly is a sight to behold, hand-in-hand with that fancy Sazerac-type thing you've got there.
Corktown
With degrees of warmth dropping noticeably and the night overtaking the day, the fact that St. CeCe's has a real, live, no-bullshit fireplace to cuddle up next to makes it beautiful enough for us, not to mention the woodwork, stone, and stained glass, which were brought in from Ireland to give this pub a homey and authentic ambiance.
Courtesy of 2 James Spirits
Corktown
Whiskey barrels and the work of local artists line the walls of Two James' tasting room where you can saddle up to the sizable, spool-shaped bar and ask the bartender to pour you a flight of the goods made on-site in what was the first licensed distillery to open within city limits since before Prohibition.
Courtesy of Great Lakes Coffee
Midtown
It's no secret that we love exposed brick in Detroit almost as much as we love booze, so with this insider knowledge, Great Lakes Coffee put it all together with artisan beers, cocktails, a rotating wine list, and of course, some very effective caffeinated gold. If you like all of the above, AND appreciate a solid man bun, this place has all the beauty you can handle.
Downtown
We've already called this place the most Las Vegas bar in Detroit, and just in case you didn't know, Las Vegas is considered to be pretty good looking, thus, this lounge is a welcome, upbeat, and airy accessory to this old Rust Belt dame.
Sign up here for our daily Detroit email and be the first to get all the food/drink/fun Motor City has to offer.
Megan Frye is freelance writer who is just happy to do her drinking on the tailgate of some old Detroit steel as she is in a beautiful bar. Follow her on Twitter @fryechild.