6 Easy Ways to Make a Cosmo Better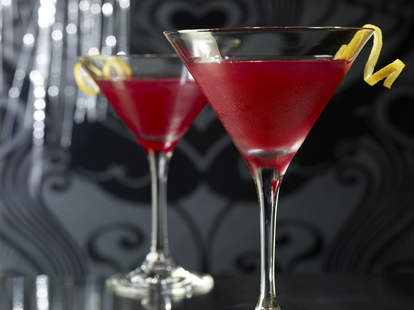 Since the mid-aughts, when the good portion of Sex and the City went off the air, the Cosmopolitan has been audibly scoffed at. People have been rolling their eyes at the vodka/orange/cranberry mixture so hard, some of them may have gotten stuck that way. But the iconic cocktail that carried America in the 21st century is much more than alcoholic pink candy. Made properly, a classic Cosmo is sweet, tart and refreshing. But if you want to dress up your Cosmo, try one of these easy upgrades.
Freeze Your Glass
A Cosmo, like a Martini or, really, any vodka drink served up, is best served frosty cold. To help the process along, put your glass in the freezer for at least 15 minutes before you intend to drink. (If you're short on time, wrap the glass in a damp paper towel before freezing it to speed things up.) And, as long as we're on glassware, you should be putting a coupe in the freezer, not one of those giant v-shaped glasses.
Dash in Orange Bitters
If you're trying to escape the Cosmo's sweet reputation, a couple dashes of bitters can help you in your quest. Bitters add just a little bit of bite to the flavor profile. We'd recommend using orange bitters because they'll pair well with the citrus vodka and Cointreau, but if you want to branch out, try grapefruit bitters or even Bittermens Tiki Bitters to get really crazy.
Add Campari
If a couple drops of bitters aren't enough of a change for you, get a little more aggressive by using Campari. Swap half an ounce in for half an ounce of the citrus vodka and treat yourself to a taste of Negroni in your Cosmo. The slightly bittersweet results will keep you coming back sip after sip.
Add Sparkling Wine
A slightly spritzed up Cosmo just makes sense. Cut the vodka by a half ounce—if you don't cut the vodka you won't have enough room for the wine. After you shake and strain the cocktail into a glass, top the drink with dry sparkling wine. Everything is more fun with bubbles, trust us.
Many of the big name citrus vodkas like Ketel One Citroen, Grey Goose Citron and Absolut Citron, as well as newer players like Hangar One Buddha's Hand, all make quite fine Cosmopolitans. But if you want to really dial in the flavors and get them just the way you like them, try infusing your own vodka with all sorts of citrus—orange, grapefruit, lemon and any others you find in season.
This is the most sophisticated of the easy upgrades, but worth it (and guaranteed to impress at least the Charlotte in your group). Flaming an orange peel as a garnish was a technique the great Dale Degroff leaned on for his Cosmos. It adds just a touch of smoky, citrusy nuance to the sweet-tart drink.