Everything You Need to Know About Mexican Whiskey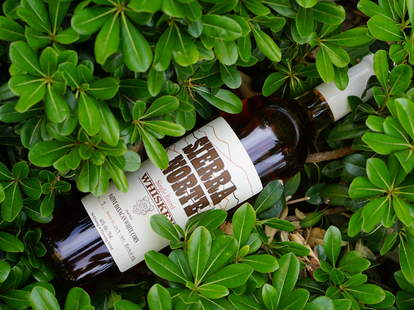 You may have heard there's an agave problem in Mexico. "The overall supply is drying up," says Douglas French, master distiller and founder of Scorpion Mezcal. "Since big players like Pernod Ricard, Diageo, Bacardi and Jose Cuervo have multiple brands now, they're sucking up the juice of the agave without a 10-15 year pre-planting time to match supply."
French has been producing mezcal for more than two decades in Oaxaca, a Mexican state recognized as the birthplace of agave. He's also one of the key players in popularizing the spirit in the United States. When the agave shortage hit about five years ago, French soon found his distillery shut down more often than it was in operation.
"There's not enough agave to keep it going," says French. "Since my livelihood comes from distilling, I have to distill something."
He gave rum a shot before turning to another crop whose lineage also originates in Oaxaca: corn. After about six months, French developed his recipe for Sierra Norte Whiskey using traditional heirloom corn, which grows in all sorts of different colors. While in the testing phase, he discovered the whiskey would taste different based on the color of the kernels used in the distilling process. The only problem—much like agave—was a dwindling supply.
"All the traditional heirloom corn is fading out because cheaper GMO (genetically modified) corn is taking over," French explains. "People don't want to pay extra for heirloom corn grown by traditional farmers, many of whom still use oxen plowing and hand techniques throughout the entire process. Heirloom corn, because it's irregular in shape, can't be harvested with machinery like GMO corn, which all looks the same."
The only reason heirloom corn was still around at all was because artisanal tortilla makers preferred the taste of it. So French took steps to revive and develop seed stock for the plantations and once again make them a vibrant part of the local agricultural landscape.
Here's the deal French makes with the farmers: "I give them the seed and ask them to plant the colors of corn I want, and I buy the entire crop," he explains. "It's something new for the farmers because they usually have to sell it one kilo at a time to the tortilla makers. I pay them a fair price so they can make a living. Obviously, it costs more because of the hand labor, but they deserve it."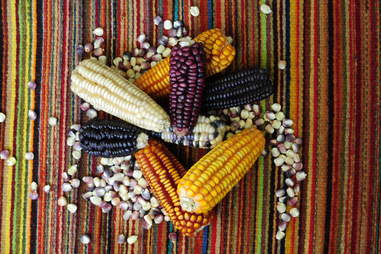 Sierra Norte
Mexican Whiskey: How's It Made?
Once harvested, the corn is sifted on screens to remove dirt, rocks and other unwanted materials. After the grain is grinded, boiled and mashed, a mix of 85 percent corn and 15 percent malted barley is then fermented and distilled twice in hand-hammered copper stills. To add character, the product is aged in French oak barrels.
"It's a simple, basic whiskey recipe," says French.
Sometimes multiple colors of corn kernels can be found in the same husk, so keeping them separate can be a tricky and labor intensive process.
"They have mixed genes," explains French. "So while the modern GMO scientist would say let's separate out the genes, an old-time farmer will separate the sheafs by color and repeat the process over the years until we have a stable seed bank for each color."
So far, Sierra Norte has been manufactured for distribution using white, yellow and black corn. Purple, red and green versions are also in the works and should be available by 2019.
Making the entire process even more interesting is this unique twist: The distillery's staff of 15 employees is all-female. Many of them once worked for a textile business run by French's mother.
"They run the day-to-day operation," says French. "I may be the master distiller, but there's at least four of them who can also be considered master distillers. So maybe this old man can retire someday."
Rob Kachelriess
Mexican Whiskey: What Do People Think of It?
The growth of the Sierra Norte brand happened relatively quickly, following the same DIY approach that made Scorpion Mezcal a success.
"Nobody would buy mezcal to import it into the U.S.," remembers French of his distillery's early days before the mezcal trend took off. "That's not a trade barrier. That's a lack-of-a-category barrier."
So he founded his own import company, Caballeros Inc., with New York-based partner Barbara Sweetman. It allowed them to keep the product in American warehouses and ready to ship within a week.
The experience put all the pieces in place to hit the ground running with Sierra Norte. Exports began on the first shipments in mid-2016 and nearly 20 distributors signed up in less than two years.
One of the believers is Mario Marquez, a specialist for Pacific Edge Wine & Spirits, a distributor based in Southern California. "Sierra Norte received a lot of backing because Douglas French has that huge experience making mezcal," he says. "He was one of the pioneers in the production and importing of mezcals. This guy knows his stuff and he's highly respected."
A top account for Marquez is Old Town Tequila, a retail outlet in San Diego that specializes in Mexican spirits. At first, Sierra Norte got lost on the shelf when stocked alongside other whiskeys. But sales took off when it was placed alongside Scorpion Mezcal and marketed as a unique spirit.
"It doesn't keep on the shelf. It's moving fast," says Marquez.
Buyers tend to include adventurous drinkers and fans of craft spirits. Even sommeliers have taken a liking to it. Bartenders also see the possibilities. "It works really well in cocktails too," adds Marquez. "Classics like the Boulevardier."
The key to marketing Sierra Norte lies in educating consumers about the history and culture behind the whiskey. That's why French and Sweetman rarely turn down an opportunity to attend beverage-focused trade shows. It's one way they helped break mezcal in the United States.
"I calculated that Barbara and I alone have given 180,000 tastings of mezcal to approximately 60,000 industry members," says French. "And that doesn't count how many tastings our distributors do for their clients."
So who is the main demographic for Sierra Norte? "Millennials," says French. "They seem to care about where things come from, what it's made from, who makes it and these sort of details. It enhances the value of the product to them."
"Another natural target market would be Mexican restaurants," says Sweetman. "A lot of them prefer to have a Mexican whiskey."
"It's a matter of pride to have their own country's products in their restaurants," adds French.
Rob Kachelriess
Mexican Whiskey: Is It Actually Any Good?
Of course, the true measure of Sierra Norte's success comes down to how it tastes. Tomas Curras seems like the kind of guy who might have a few opinions on it. The former Apple employee designed and launched
Cocktail Royale
, an iPhone app dedicated to spirits and drink recipes, making him a perfect choice to provide an unbiased opinion. First on deck: Sierra Norte's white corn whiskey.
"Oh man, that's smooth," says Curras after taking a sip. "It's really good—like scotch good."
The whiskey has some vanilla and caramel undertones. It almost tastes like whiskey for people who wouldn't normally drink whiskey. "If I were to describe this, it's clean, very smooth with a little bit of sweetness—but not much. Not harsh at all."
By comparison, Sierra Norte's yellow corn whiskey is noticeably more intense. "It smells a little spicier," says Curras, holding the glass to his nose before taking a sip. "It's got more character, more of a toasty caramel. The taste is a little sharper. It's more like a bourbon."
So far, Curras is appreciating both whiskeys, believing there's a nice balance between the two, although they each appeal to a different palate. With a taste of the black corn whiskey, however, he appears to find the perfect middle ground.
"This is good," says Curras. "I feel like it's a step up, like a blended Highland scotch. It's more complex than the other two."
Although all three of the whiskeys get a thumbs up, Curras gives a final thought: "I think I'm going to buy a bottle of the black."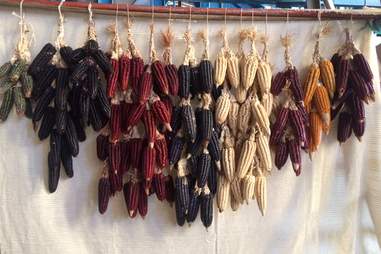 Sierra Norte
Mexican Whiskey: Does It Have a Future?
Sierra Norte could get by on gimmick factor alone, but the brand credits its initial success to the care in how it's crafted. The amazing part is there's little evidence of anyone pulling off a Mexican whiskey production on this level before. The only exception would be reports of American distillers who crossed the border to keep production alive during the Prohibition era.
As for the agave shortage, Douglas French is optimistic the same big companies who drained the supply will be the ones to reinvest in new plantations over the next few years, reinvigorating production on a new level to match demand. It may take a while to see it happen, but in the meantime, Sierra Norte is ready to carry the Mexican whiskey market and continue to break down those "lack-of-category" barriers.