Crown Royal Vanilla
Sponsored by
5 Bartenders on the Smoothest Lines They've Ever Heard
Sponsored by
When we followed up with one of our favorite bartenders about this story, he told us he'd racked his brain, but couldn't come up with any good ones, adding, "I think the smooth line might be a lost art in the age of Tinder." It's true that the art of the smooth line, and conversation in general, are in jeopardy in the digital age. But they're not dead yet! We canvassed far and wide and found examples of good old-fashioned, IRL, face-to-face quips that succeeded in breaking the ice, charming the listener, and in some cases, leading to long-term partnerships. Here a handful of the best ones.
Sometimes a Smooth Bartender is Better than a Smooth Patron
"I met my husband while working behind the bar, but the smoothness did not come from him. He ordered a cocktail from me as I was finishing my shift. When he noticed I was making two, he looked a bit confused and said, 'I only ordered one.'
'I know,' I replied. Then I finished making the drinks, came around the bar, gave him one drink and cheers'd him with the other. Four-and-a-half years, two dogs, and a wedding later, we're still together." 
—Antonia Stamper, Dram, Brooklyn, NY
Liana Cervantes
Trip to the Vet
"I saw this one used, amazingly, to much success by a regular at Avanti, and I always found it hilarious:
Skinny Dude: 'Hey ladies, how are you?'
Two women: 'Um, good, how are you?'
Skinny Dude: 'Thanks for asking, but not that good. I've been at the vet all day.'
Now the women are not just curious, but also concerned. 'Oh no, why?'
'My pythons are sick.'
Confused pause.
Skinny Dude repeats, 'My pythons are siiiiiccckk!' as he flexes his skinny biceps and looks at them adoringly.
If you have the personality to turn it into a conversation, like he did every time, it's a great icebreaker."
—Jason Snopkoski, Avanti, Denver, CO

Speaking of...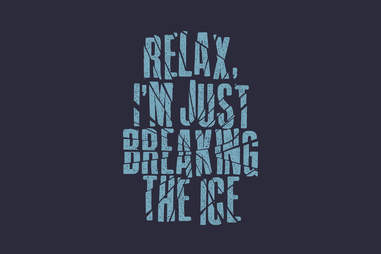 Liana Cervantes
Ultimate Icebreaker
"I saw the How I Met Your Mother's 'Haaaaave you met Ted?' one liner work in real life. That was pretty good. Another favorite came from a semi-regular, who once startled everyone in the bar by slamming a piece of ice on the bar top.
Before I could reprimand him he said, 'Relax, I'm just breaking the ice,' then turned and introduced himself to the woman next to him.
I'm pretty sure he got the idea online, but it worked, and they talked for quite a while!"
—Colin Jensen, No Anchor, Seattle, WA
Advertisement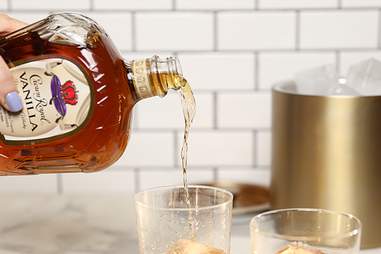 Courtesy of Crown Royal
Smoothness is important, in almost every phase of life. Whereas awkwardness just makes everyone feel uncomfortable, smoothness does the opposite. It's the ideal state. It's also ideal when it comes to spirits, and few distilled liquids in this world are as smooth as Crown Royal Vanilla, a proprietary blend of whiskies infused with Madagascar Bourbon Vanilla.
Express Drive-Thru
"At 2:05 a.m., just after closing time in Washington, a regular approached a guy she hadn't talked to all night, and said, 'Would you take me to Jack in the Box?' Direct, to the point—and effective: Off they went."
—Jenny Long, Russell's Tavern, Seattle, WA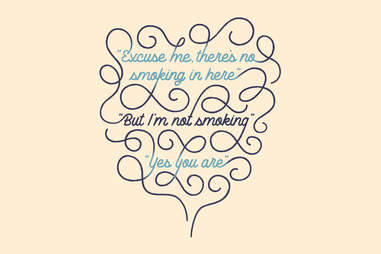 Liana Cervantes
Bonus Line:
Fire Marshal
"This was either the worst line or the best one. I'm still not sure. She approached the object of her interest, and said, 'Excuse me, there's no smoking in here.' 'But I'm not smoking,' he said. 'Yes you are,' she replied."
—Anonymous, New York, NY