Testing out the Hamptons' two new booze delivery services
You have things to do this weekend. Burgers to eat. Croquet matches to win. Women to woo unsuccessfully, despite the fact that you just won at croquet! You don't want to miss out on the fun because you were chosen for the booze run.
Enter Drizly and Minibar, two alcohol delivery apps now serving the Hamptons, vying for the chance to save you from sweating in 27 traffic just so you can pick up some spirits. Like any enterprising drinkers, we compared them.
Drizly
Delivery Zone: Minibar serves Westhampton to East Hampton, while Drizly covers Southampton to Montauk.
Minibar
So, if you're in Westhampton or Montauk, you can stop reading here. You've only got one option. But keep reading anyway, because you seek knowledge!
Drizly
Sign-Up Experience: Both apps have pretty standard sign-up processes: you fill in blanks with the answers to tough questions like, "Name?" and "Address?".
Minibar
The main difference between the two is that with Minibar, you can view the selection before creating an account, so you can make sure they have what you want before signing up. Extra points to Minibar for having "Don Draper" as the default name, rather than "John Doe".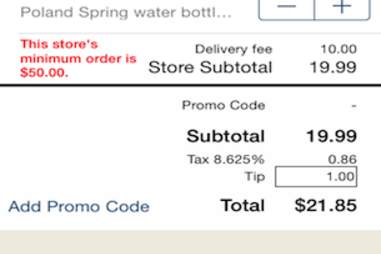 Drizly
Delivery Minimum: The apps source their inventory in slightly different ways. Both work with local stores to find what you want (see: NEED). With Drizly, you search for products and the app finds a store near you that has them. So, you might get your beer from one store, and your whiskey from another.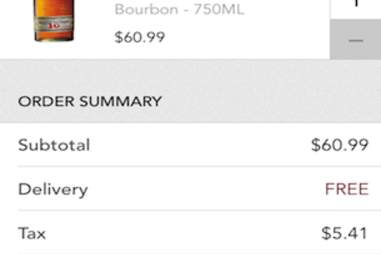 Minibar
Each of these stores has a delivery minimum of its own, so yours will be the sum of the store-specific minimums. To put it simply: your minimum might be $50 if you get everything from one store; if your products come from multiple locations, it might be more than that. Minibar's policy is simpler at a minimum of $100-worth of booze, not including tax and tip.
Drizly
Selection: Both apps have an expansive selection of wine and liquor. Drizly also delivers beer, ice, and mixers (anything from club soda to Pellegrino Aranciata), while Minibar (for now) has a fairly limited selection of non-alcoholic goods, depending on what store serves your address, though they're working on building that up.
Minibar
My options were Bloody Mary mix, grenadine, and margarita mix. If you're trying to stock a pool party, Drizly might be your best bet. Just stocking the liquor cabinet? Minibar will do you just fine.
Delivery Time: Both orders were at the door in under an hour. Drizly's order did get delayed because they neglected to reflect a delivery minimum on one of the stores that my order was sourced from. In the end, I had to cancel my delivery and start over.
User-Friendliness: Drizly's interface is a little like Friendster: blue and gray, no fancy graphics. Only some of the products are accompanied by photos. Minibar has a sleeker look, and each item has a picture. So, if you know that you like "the one in the blue bottle", Minibar is more your style. Also, Minibar's one simple minimum is much easier to wrap your head around than multiple minimums. Math is hard on Saturdays.
Extras: Minibar provides an email and phone number for you to call if you need advice on how much booze to purchase for an event.
Both apps delivered adult beverages in a timely fashion. Both served their purpose: allowing me to stay by the pool, worried only about whether I wanted to start my evening with a margarita or a beer. Prettier to look at with a less brain-teasing minimum policy, and a more seamless feel, Minibar will be the object of my Summer affections. Hey, I'm a sucker for pretty.